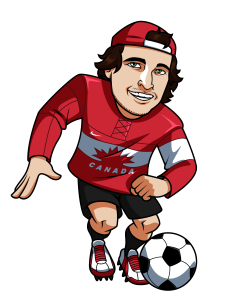 Arsenal and Barcelona are playing in game one of their Champions League round of 16 home and away at 2:45pm EST tomorrow.  Online sportsbook Bet365.com is offering a free $50 in-play bet offer on this game.
To view all the information about this free offer at the Bet365 website, click here.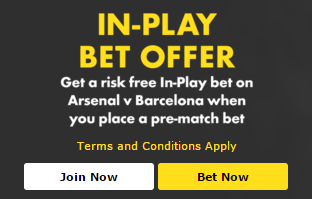 Here's the simple breakdown of the offer:
If you place a pre-match bet on the Arsenal vs Barcelona game you will receive a risk free In-Play bet for the same stake during the match.
This means you simply need to place a bet on this match before kick-off and then once the game starts you will have a risk-free bet on any In-Play wager offered at Bet365.  If your first In-Play wager loses you will be refunded up to the amount of your pre-match bet.
Bet365 has over 70 In-Play bets to choose from on this match.
I personally always take advantage of these Free In-Play bet offers from Bet365.  I generally like to just double my initial wager when the match begins so that I basically have a $100 wager in, while only actually risking $50.  Just make sure you set your alarm for 2:45pm in order to make sure you get your In-Play wager in on the match.
My Pick
I'm going to be taking Barcelona to win this game at odds of 1.70.  Barcelona earned 14 points in the group stage with 4 wins and 2 draws, and they have also been dominating the Spanish Liga this year with 63 points in 25 matches to sit on top of the table.  With a lineup that includes superstars Luis Suarez, Lionel Messi and Neymar, I just don't see Barcelona having trouble scoring goals against Arsenal.
Arsenal qualified for the round of 16 in the Champions League, but they aren't having a particularly great season in the Premier League.  They sit in third place behind Leicester City FC and Tottenham Hotspur FC.  It's a strange season in the EPL, with most of the big name squads performing poorly.
Arsenal was able to beat Bayern Munich 2-0 at home in their group stage match, so the fact this match is being played in London does give Arsenal some hope, but the way Barca is playing leads me to think they should get the win, even on the road.
My Play: Barcelona 1.70 @ Bet365.com
I've placed my $50 wager on Barcelona at Bet365, and I've set my alarm to ensure that I am able to place another $50 risk-free after kick-off.
Once again, click here to take advantage of this offer from Bet365….