The Arizona Diamondbacks and Cincinnati Reds meet again tonight for part two of their four game set at Great American Ball Park in Ohio. The Diamondbacks gutted out a 5-4 win last night on the heels of a 2-run single by stud outfielder A.J. Pollock in the top of the eighth inning. The loss was Cincinnati's sixth in a row and dropped them 17 games below .500, well out of playoff contention. With the win last night, the Diamondbacks still remain two games under .500 as they watch their playoff chances slowly slip away due to such a strong National League Wild Card picture.
Tonight, the Reds will send their rookie and leading Gas Can of the Night candidate, David Holmberg to the mound. Arizona will counter with Rubby De La Rosa whose been enjoying a stellar stretch of pitching. Holmberg was tagged for 7 runs in 2+ innings in his last start on Saturday against the Dodgers. The young left-hander gave up 3 homeruns and walked 4 batters in the short outing. Rubby on the other hand has been on a tear of late. In his last 6 starts he's gone 4-0 with an ERA of only 2.54. His last start resulted in a no-decision in which he gave up 1 run on 7 hits over 7 innings of work against a rather anemic Braves offense.
Prediction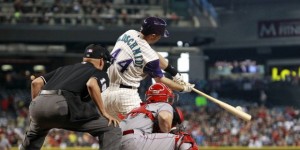 Arizona is set to face their fourth consecutive left-hander tonight in David Holmberg. This is a positive thing for the Dbacks as their sightlines will be well adjusted to the southpaw delivery. Over the course of this season, Arizona ranks 9th in the league against left-handers with a very respectable .316 wOBA. Digging deeper into this, we find that overall in the last 14 days Arizona is smoothing the ball to a .328 wOBA which is eleven points higher than the league average of .317. The Dbacks roll out a pretty righty-heavy lineup on most nights and this is an absolutely perfect matchup against Holmberg as he's touting a .368 wOBA to right handed batters, 10.2% BB rate and a huge 46.6% FlyBall rate. Although Arizona typically only slots one true lefty in their lineup (Ender Inciarte) the stats for Holmberg don't get any better. His .393 wOBA to lefties is horrid and although he improves his FlyBall percentage to 37.1%, he struggles mightily with his BB rate as it doubles to 20.3%.
Cincinnati has flat-lined against right-handed pitching all season long to the tune of a .305 wOBA and 19.5% Strikeout rate. Even worse, in the last 14 days, Cinci has dropped down to an overall wOBA of .291 which is 7th worst in the league and an enormous 24.1% Strikeout rate. As previously mentioned, Rubby has been hot for the Dbacks of late on the mound and all of this culminates into a terrible matchup for the Reds. Rubby has been flashing a 10% Swinging Strike rate so far this season and although that may not seem like a lot, let me put it into perspective. Toronto's ace, David Price, has a Swinging Strike rate of 10.8%, just .8% higher than Rubby's. We should be all over Arizona tonight.
Play: Arizona Diamondbacks @ 1.80 on SportsInteraction.com
Tagged With : Arizona Diamondbacks • baseball • Cincinnati Reds • Free Play