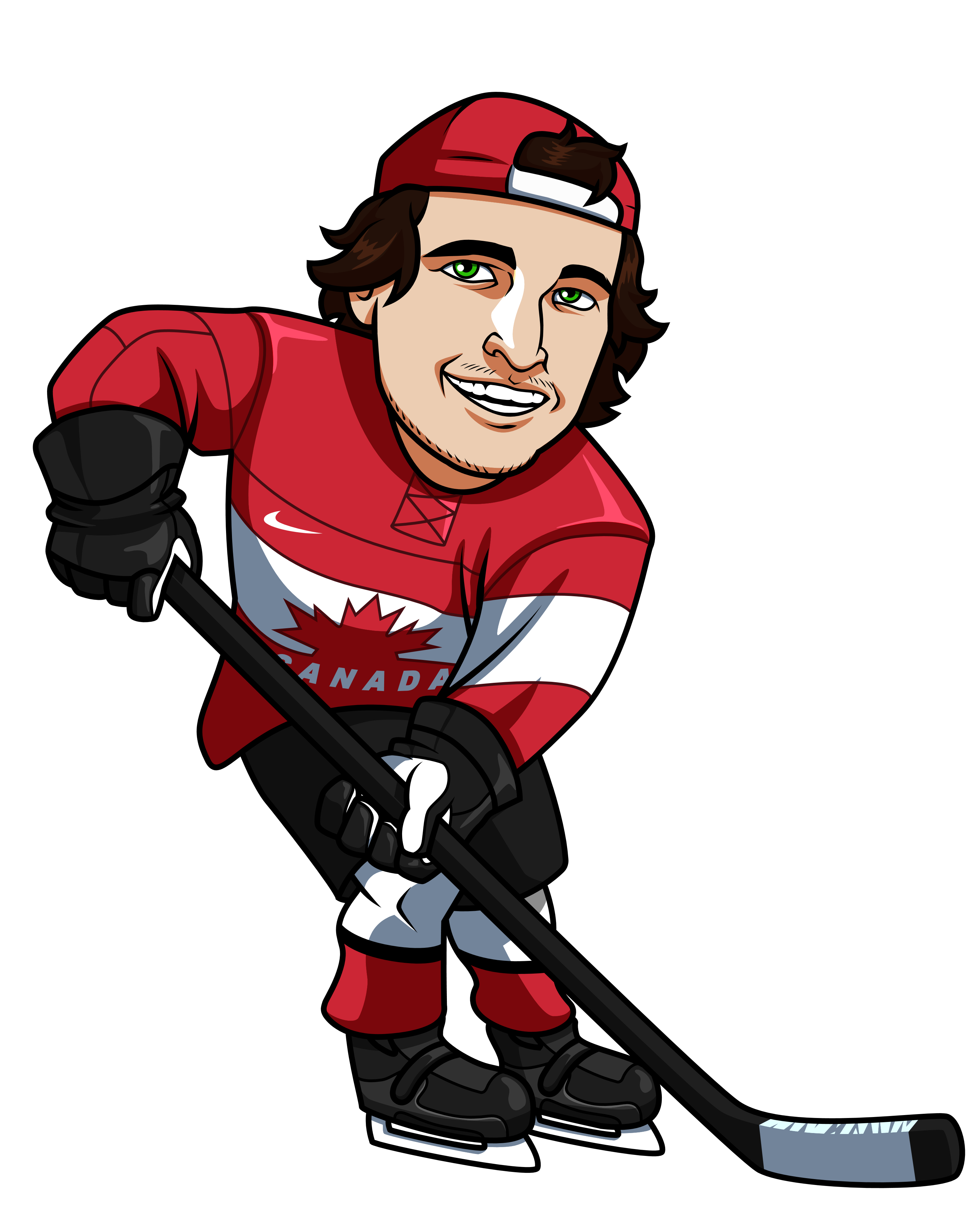 The battle for the Stanley Cup starts all over again in one weeks time as the NHL's 2017-18 regular season schedule gets underway.  As an Ottawa Senators fan I'm still wondering what could have been if the Sens had got the right bounce in double OT of game 7 against the Penguins, but ultimately Kunitz's knuckle puck from the slot found the twine over Craig Anderson's shoulder and the rest is history as the Penguins went on to beat the Preds in the finals and claim their second consecutive Stanley Cup.
Heading into this season the Penguins are the favourites again, and rightfully so after keeping their key pieces together and really adding Kris Letang who they were able to win the Cup without last year.  The other big favourite is the Edmonton Oilers out west with Conor McDavid having one more year under his belt.  The Oilers really could have won the Cup last year, but it's a a game of bounces and that's why the Pens are only 7/1 to win the Cup, while in other leagues like the NBA or NFL you will see much shorter odds on the favourites.
2017-18 Stanley Cup Winner Odds
I've given away the two favourites, now let's look at the entire list of odds heading into the season.  I've taken these odds from SportsInteraction.com, our top rated betting site for Canadians, but I suggest shopping around at all of our recommended sites to make sure you get the best odds if you do plan on making a Stanley Cup wager this season.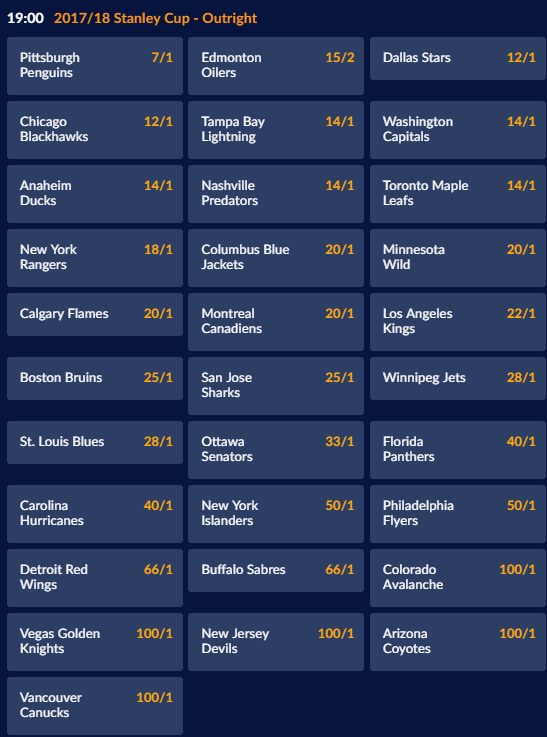 So there are the odds for all 31 teams heading into the season. I would steer clear of anyone with odds over 50/1 because I just can't see any possibility of one of those 7 teams hoisting the Cup this year.
My Picks
Out of the favourites, I like the Washington Capitals at 14/1.  I know, how many chances can you give this Alexander Ovechkin led club, especially when you know they are likely going to have to face the Pens in the playoffs at some point with this divisional players set up.  That said, they did outplay the Penguins last year and just a bounce here or there and the Caps could have very easily been the Stanley Cup champs.  People are quick to forget that Washington was easily the best team in the league last year.
Yes, they lost a few pieces such as Karl Alzner, Justin Williams, Kevin Shattenkirk and Marcus Johansson, but the only pieces out of that crew I think they will really miss is Justin Williams.  Shattenkirk was just a rental that really didn't pan out for the Caps.  I still think using John Carlson in that top PP role would have paid better dividends for the Caps, and I actually think that Shattenkirk ended up being more of a liablity for the team.  Alzner and Johansson I find to be very easy to replace pieces and Justin Williams is a year older, so although he is known as being Mr. Game 7, he didn't exactly come through for them in the game 7 against the Pens last year anyways.
With Backstrom, Kuznetsov, Oshie, Carlson and Holtby (and I guess Ovechkin), this team is still a very real threat and I wouldn't be surprised if they are favoured in their seemingly inevitable second round match-up with the Pens again next year.
Play: Capitals 14/1
Looking further down the odds, the Senators at 33/1 still jumps out at me.  The Sens were within a goal of the Cup Finals last year and they have almost an identical roster this year, except for Johnny Oduya being added when Vegas took Marc Methot in the expansion draft.  The Senators also have some promising prospects coming up the system, so I don't see why everyone is so down on their chances this year.
Yes, Erik Karlsson is going to be injured for likely the first month of the season and the team is going to have to weather that storm, but if they can stay close to .500 without Karlsson I don't see any reason the team won't make a push for the playoffs down the stretch.  And then once they are in they now have the experience to take that next step, possibly even with a 100% healthy Erik Karlsson.
At 33/1, I think the Sens are definitely in play.  Especially when you consider the other Canadian teams like the Leafs (14/1) and Canadiens (20/1) have odds far too short for their real chances.
Play: Senators 33/1
So there you have my two Stanley Cup picks for the season based on the odds.  Like I said above, be sure to compare odds at our other recommended sportsbooks for whichever team you like to make sure you get the best odds possible.
If you think you know who is going to win the Stanley Cup this year and want to place your bet, here's a simple 3 step guide to get your wager in if you're new to betting online….
How To Bet On The Stanley Cup in Canada
Step 1. Open an Online Betting Account
You'll need an online sportsbook account to place your bets through.  Our top rated betting site is SportsInteraction.com, so I'll be using them for the rest of this step by step guide.  Check out our Sports Interaction review here.
Click here to visit SportsInteraction.com.  That will bring you to our exclusive landing page where you should click on the green 'Bet Now' button and proceed to fill out the form to open your account.
Step 2. Deposit
You will need money with which to wager.  Sports Interaction accepts Visa, MasterCard, bank transfer, interac transfer and a wide variety of online wallets that you can use for deposits and withdrawals.
Step 3. Bet
Once at the Sports Interaction website, select 'Sports' from the top navigation bar and then click on the 'Hockey' drop down menu in the left sidebar.  Select 'NHL Futures' to bring up the Stanley Cup odds.
Select the team you like to win the Cup, enter your wager on the right and your bet is placed.  Now it's just time to wait and cheer while your selection makes its way towards Lord Stanley's Cup!
Also check out our how to bet on the NHL in Canada page for a more detailed breakdown of the bets you can make and the steps to place those wagers.
I think that's it.  Ready to bet?  Click here to visit SportsInteraction.com.
Tagged With : Bet On The Stanley Cup • Stanley Cup Betting • Stanley Cup odds • Stanley Cup picks