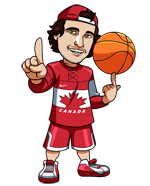 The NBA Finals will be contested between the Golden State Warriors and Lebron James (Cavaliers) for the fourth straight year.  Golden State has been the favourite each time these teams have competed, and they were able to win the Championship 2 of the 3 times, with the one misstep coming when the Warriors blew a 3-1 series lead to lose to the Cavs two years back.
This year the Warriors are bigger favourites than they have ever been.  Golden State now has an extra year with Kevin Durant added to the all-star trio of Curry, Thompson and Green, while Lebron is without Kyrie Irving this year, and possibly without Kevin Love in this series as well.  Lebron has been able to put the Cavs on his shoulders to get to his 8th straight NBA Finals, but this final challenge will surely be too much for the Cavs.
I will be using the odds from any of our top rated sportsbooks from the following table when making my pick:
Sportsbook
Features
Offers
Rating
Bet Now
1

Licensed and regulated in Canada
Easy deposits & withdrawals including Interac
Competitive betting lines
2

Licensed and located in Ontario
Entirely focused on Canadian betting market
Easy deposit/withdrawal options, including Interac
2018 NBA Finals Winner Odds
Golden State Warriors 1.125
Cleveland Cavaliers 8.50
The Warriors are huge favourites.  Last year the Warriors only had odds of 1.42 to win the series, thanks to Kyrie Irving being a big part of the Cavs, and the Warriors collapse from the previous year still in everyone's minds.  This year, there is no Irving, likely no Love, and the Warriors easily dispatched the Cavs in 5 games in 2017.
My Pick
I don't see how you can bet against the Warriors in this spot.  The Cavaliers had a very tough time getting past both the Pacers and the Celtics in this playoff run, and the Warriors are simply on another level compared to the entire NBA.  Last year with Kyrie Irving as a big part of team, and Kevin Love playing much better than this year, you could at least fathom the possibility of a Cavaliers upset, but this year that's simply not the case.
I actually see value in the Warriors at odds of 1.125.  You will have to make a large bet to get any decent amount of winnings, but I think it's basically free money unless we see some freak injuries to Warriors star players in this series.
Play: Warriors 1.125
I also like the series correct score bet of Golden State to win in 5 games.  I think Lebron can steal one of the Cavs two home games and avoid the sweep, but I just don't see Golden State losing at home, and they will be favoured in the games in Cleveland as well.  That said, it's hard to sweep a team, so I think the Cavs will find a way to get one win and Golden State will get to celebrate their NBA Finals win on their home court.
Play: Warriors 4-1 2.67
Tagged With : NBA FInals • NBA Finals betting • NBA Finals Pick