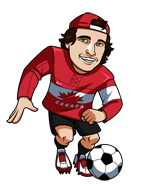 And then there were 8.  Spain, Argentina and Portugal have all been eliminated from the 2018 World Cup and there are now only 8 nations vying for the most coveted trophy in the world.  My round of 16 picks went 3-5 for -1.05 units, which brings my match betting record on this World Cup to 23-25 for +2.88.  I'm on some pretty big underdogs with my picks in the quarterfinals, so if all goes well I could be in a nice profit after this round.
I will be using the best odds available at the time of writing this article from any of our 3 recommended betting sites for Canadians.  The odds can change leading up to the match so be sure to check the odds at each of the bookies before placing your wager.
**Also check out our how to bet on the FIFA World Cup in Canada page for a step by step guide to getting your bets in on any World Cup match.
Uruguay vs France
Uruguay 4.55
Draw 3.20
France 2.00
France was able to pull out a barn-burner against Argentina in the round of 16.  They showed a lot of character with their backs against the wall, down 2-1 early in the second half, but they also showed the high end skill up front with Kylian Mbappé stealing the show and getting France into this quarterfinal match.  That said, giving up 3 goals against in the match is never the plan and France did not look dominant in that match against an Argentina team that has struggled throughout this World Cup.  It was an exciting match, but it actually did not instill confidence in France from my perspective.
Uruguay also had a hard fought battle with Portugal, but came out with the win thanks to two moments of class from Edinson Cavani and the entire Uruguay attack.  Uruguay lead for the majority of this match having scored in the 7th minute and then recapturing the lead only 7 minutes after Portugal tied it up early in the second half, so it's no wonder that Portugal dominated the possession and shot attempt stats in that match.  That said, they really didn't generate many high quality attempts on goal and Uruguay largely kept Ronaldo in check.  France poses some different problems with the pace of Mbappé and the overall quality of depth up front, but I do not give France a big edge in this match.
Let's not forget that Uruguay was clearly the second best team in South America next to Brazil in CONMBEBOL qualifying.  Uruguay have done nothing, but perform at this World Cup winning all four of their matches, but yet they are far bigger underdogs in this match compared to what Argentina was in the round of 16.  I don't buy it.  I think Uruguay has a much better chance in this match than Argentina did, and the Argentines still almost pulled off the upset.
Luis Suarez and Edinson Cavani are finding chemistry and even if the French get more chances, it only takes a few touches from these elite forwards to score on a French defense that looked suspect in that Argentina game.  I think this match could truly go either way, but I think the odds are completely out of whack.  There is value in Uruguay in this match.
Play: Uruguay 4.55
Brazil vs Belgium
Brazil 2.17
Draw 3.50
Belgium 3.75
Belgium took the hard route to beat Japan in their round of 16 game.  It was a match that should have been fairly straight forward for Belgium with Japan being the weakest team in the knockout stage, but it really took Belgium getting their backs against the wall before they really attacked the game.  The first goal against was a missed ball by a defender and then a great shot, but the second goal against was lackluster defending.  It looked the like the defense just assumed Japan couldn't possibly score again and basically allowed a shot from just outside the box.  After going down 2-0 Belgium brought the pressure and looked like the elite offensive team I expect, but if they have a slow start and don't put 100% effort on defense for the entire match against Brazil, they will be going home.
All of that said, skill wise I think Belgium matches up great with Brazil.  Belgium has just as much talent and I think being the underdog in this match will help them play more freely, which should be a scary thought for the Brazilians.
I actually think these could be the best two teams in the tournament, so it's a bit of a shame they have to meet in the quarterfinals.  Brazil is the rightful favourites because of their international success, but I really think Belgium matches up extremely well skill wise and at worst this match should be considered a coin flip.
Brazil faced adversity in the group stage and Belgium has now faced adversity in their match with Japan.  Both teams are better for it moving forward and I think whichever team wins this match will be the favourite to win the World Cup.  Based on the odds, the sharp money has to be on Belgium in this match.
Play: Belgium 3.75
Russia vs Croatia
Russia 3.90
Draw 3.17
Croatia 2.25
The Russians were extremely lucky to get past Spain in the round of 16.  Spain absolutely dominated the possession 75%-25% and it took an ill-timed bad bounce to a hand ball on Pique to get Russia the penalty shot that ultimately lead to the penalty kicks.  That said, even with 25 attempts on goal, Spain did not generate enough quality offense to really leave no doubts about the outcome.  Spain simply wasn't that great at this World Cup.  They only beat Iran in their four matches and that was a 1-0 win, and it took an extra time goal to even beat Morocco.  We really shouldn't be that shocked that Spain was unable to get the job done against the home team.
Croatia, on the other hand, has played tremendously in this World Cup, and I expect them to have the chemistry to break down the Russian defense and keep this game away from extra time.  Croatia was easily the better team in the Denmark match with Modric having a chance to win the game late in extra time.  The better team eventually won in penalties, which was nice to see.
Modric has been great controlling the action and playing great balls into dangerous spots for the Crotians.  I expect him to have yet another big game against Russia and to create 1 or 2 goals, which should be enough to get Croatia through to the semi-finals.
Playing against the home side is never a sure thing, but I do see a lot of value on Croatia at this betting line.
Play: Croatia 2.25
Sweden vs England
Sweden 5.00
Draw 3.40
England 1.90
England narrowly escaped with a win in their match against Colombia.  After 3 shooters each, Colombia was up 3-2, but the last four penalties all went England's way for the ultimate penalty kick comeback victory.  England was the better team in the Colombia match, but they definitely were not out of Colombia's league and it was actually the Colombia's who looked more dangerous in extra time.
I was shocked to see England as such massive favourites over Sweden in this quarterfinal.  Yes, the Swedes may be the less talented team, but they play a defensive style and are aggressive on the counter attack, while also posing plenty of danger on set pieces.  Their style has proven successful with Sweden advancing from the most difficult UEFA qualifying group and then beating Italy 1-0 on aggregate, as huge underdogs, to book their ticket to the World Cup.  Sweden again needed to pull out a huge performance in their final group game against Mexico, which they did, winning 3-0 to advance from arguably the World Cup group of death.  They continue to perform and earn results with their backs against the wall.  I don't know how bettors continue to doubt this Swedish side, but here we are with these ridiculous odds.
England will have the majority of possession in this match, but I think Sweden will have the better chances and they will ultimately score 1 or 2 goals to win this game in regulation time and advance to the semi-finals.
Play: Sweden 5.00
Again, these odds can change leading up to the matches, so be sure to check and compare the odds for each match yourself before placing your bets.
Tagged With : World Cup 2018 • World Cup betting • World Cup picks