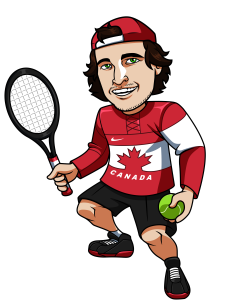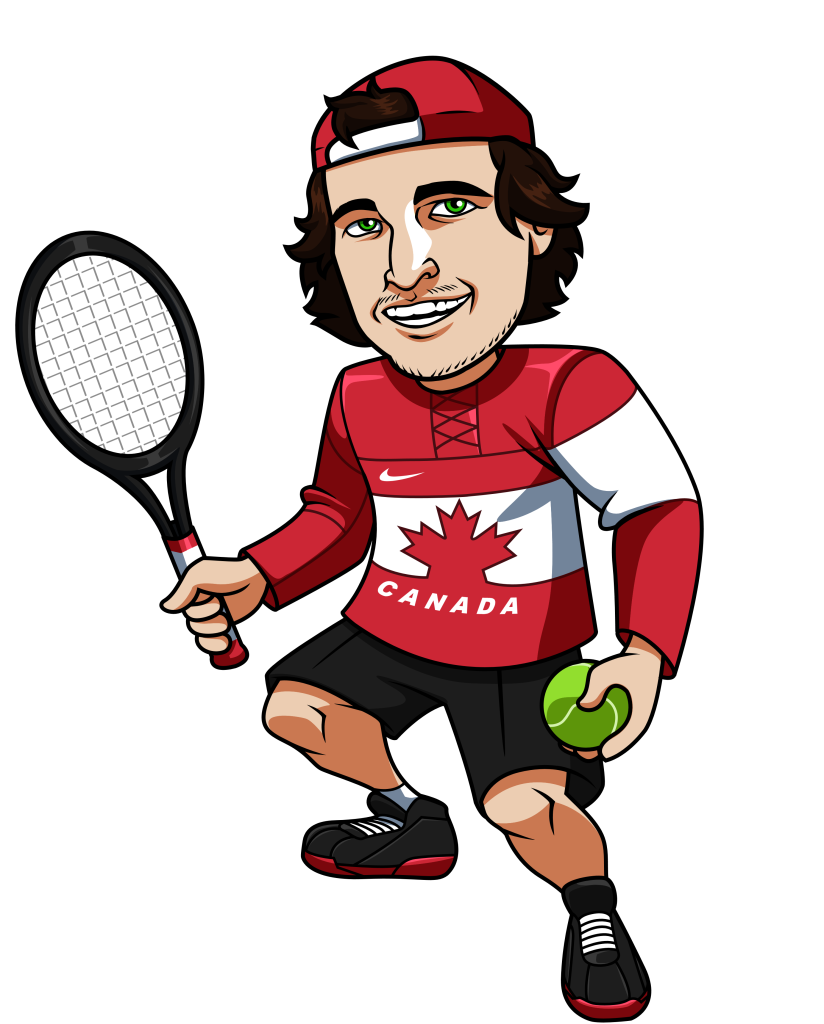 The Australian Open is always when I really consider the new tennis season to have begun.  Yes, there are a couple tune up tournaments that players take advantage up leading to the Grand Slam, but seeing as it is only a couple weeks into the season the Australian Open is really what sets the tone for the year on the ATP Tour.
For this Aussie Open it's really gearing up to be another two horse race between Novak Djokovic and Andy Murray, who simply torched the tennis world throughout 2016.  As a Canadian though, I'm proud to see Milos Raonic sitting in the third seed for this tournament and I think the Aussie Open is one of the tournaments that sets up fairly well for the big serving Canadian.
The draw for the tournament was released today (check it out here) and a quick look shows a potential quarterfinal match between #1 seeded Andy Murray and #17 seed Roger Federer.  Raonic also has a former world #1 in his quarter of the bracket with a quarterfinal meeting with Rafa Nadal potentially taking place on Raonic's road to the finals.
Now that the draw is out I feel much more comfortable giving my picks for this Aussie Open tournament.  First let's take a look at the odds for some players who I think have a chance to win the Grand Slam.
2017 Aussie Open Winner Odds
These odds are from Bet365.com, which is my favourite sportsbook for betting on tennis matches and tournaments.
Novak Djokovic 2.50
Andy Murray 2.62
Stan Wawrinka 13.00
Rafa Nadal 15.00
Milos Raonic 17.00
Roger Federer 21.00
Kei Nishikori 26.00
Nick Kyrgios 41.00
Grigor Dimitrov 41.00
Marin Cilic 51.00
Jo-Wilfried Tsonga 67.00
Alexander Zverev 67.00
Dominic Thiem 81.00
There are the odds for the top 13 players in the tournament.  If someone outside of these 13 won this tournament I would be absolutely shocked.
My Picks
The big two….
First we have to tackle Djokovic and Murray in order to figure out which, if either of them we may target in this tournament.  Djokovic did just win the tune-up event in Qatar, beating Murray in the finals in 3 sets in a match that really could have gone either way.  This may lead people to think that Djokovic is back in peak form, but let's not forget that Djokovic had to save several match points in the semi-finals against 42nd ranked Fernando Verdasco and although he did get the job done in this tournament I still don't think he's at the top of his game and I do not see any value in him at these odds in such a long tournament.  Yes, Djokovic has owned this tournament with 5 wins in the last 6 years and definitely deserves to be the favourite, but based on his current form I wouldn't be surprised if Djokovic loses at some point on his road to the finals with potential clashes with Dimitrov in the 4th round, Thiem in the quarters and Raonic or Nadal in the semi's.  Then even if he does make it to the finals I think it'd be a pick'em against Murray.
I think Murray is a better play than Djokovic in this spot, but I also find it difficult to see any value in him at these odds.  Murray has a potential quarterfinal match with Federer and although Murray has risen to another level in 2016 he actually has lost his last 5 meetings with Roger Federer.  I also don't have Murray as a massive favourite in a potential semi-final match with Stan Wawrinka and then of course the toss up with a potential Djokovic match in the finals.  I will personally be fading both Djokovic and Murray in this tournament because their odds just don't provide enough value.
My plays…
Roger Federer at 20/1 looks very intriguing to me.  He could just as easily lose to the qualifier in the first round of this tournament, but if he gets rolling and gets a few matches under his belt I could see Roger doing damage in this draw.  His third round match is probably against Berdych who he has beaten in their last 5 meetings.  He likely meets Kei Nishikori in the fourth round and Federer has beaten Kei in their last 3 meetings (yes, Nishikori is much better now, but it's still interesting).  The quarters would be the real test in Andy Murray, but as I said, Federer has beaten Murray in their last 5 matches.  In the semi-finals it will likely be Wawrinka who Federer owns a 18-3 record against including winning their last 2 matches.
As you can see the road to the finals has some big names for the #17 seed to overcome, but if Federer can find his A-game he knows how to beat each one of these opponents.  At 20/1 I think tossing a few bucks on Federer may be a sharp play.
Play: Federer 20/1 @ Bet365.com
My even longer shot for this tournament is Marin Cilic, who is the #7 seed, but has odds of 50/1.  He's in the perfect quarter of the draw with Wawrinka at the other end of the quarter and Tsonga and an slightly injured Nick Kyrgios as the other two names in this quarter.  Cilic is 5-1 lifetime against Jo Tsonga including winning their last 5 matches so I'm confident that Cilic makes it to the quarterfinals in this group.  He does have a very bad record against Stan Wawrinka, but Stan has been bounced early in tournaments in the past, so if he somehow gets eliminated early then I see Cilic coming out of this quarter.
Once in the semi's he has just as good a shot as anyone else if he's on top of his game.  He showed at the US Open that he is capable of winning Majors and this is another major that can fit his game.  Even if you don't think he has the ability to win the tournament out of the final four you can always hedge off of him, which definitely guarantees a profit after betting him 50/1.
Yes, he did lose to a 117th ranked player in his first match of 2017, but I'm not reading too much into that because at the top of his game Cilic has the ability to beat the best and that's what you need to look for in tournament winners.
Play: Marin Cilic 50/1 @ Bet365.com
I wanted to take Raonic, but at odds of 16/1 I couldn't pull the trigger.  If he was in the same half of the draw as Andy Murray I would have bet him at that price in a second, but Novak Djokovic really has the Canadians number with an 8-0 record against Milos.  If Djokovic somehow gets bounced before the semi's Raonic has a road to the finals, but you can't be too sure that Milos will even make it that far, so for that price I will just be cheering for him instead of investing in him.
Tagged With : Aussie Open • Australian Open • Australian Open betting • Tennis Betting