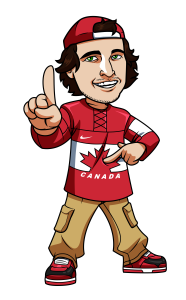 It's the first time in 24 years that Canada has qualified a Men's team into the Indoor Volleyball event at the Summer Olympic games.  In Rio, Team Canada, comes in ranked #12 in the world, with Bet365.com giving them 100/1 odds to win the tournament.  That said, if they can qualify out of their group into the knockout stage, it only takes a win in the quarterfinal match to have two chances at a medal in Rio.
Men's Indoor Volleyball Gold Medal Odds
Here are the odds to win the 2016 Indoor Volleyball tournament at the Rio Olympics from Bet365.com: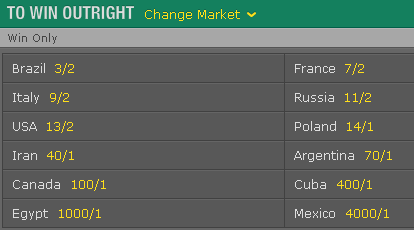 The Brazilians are the favourites to win the tournament, with France, Italy, Russia and USA all being given a legitimate chance as well.
The Canadians have 100/1 odds and are in a Group A that includes Brazil, France, Italy and the USA.  They will be in tough to finish ahead of at least one of these four favourites in order to advance to the quarterfinal round.
My Pick
I'm picking Team USA with odds of 13/2 to take down the Gold in Men's Indoor Volleyball.  I really think that any of the 5 favourites could win this tournament, and Team USA has the longest odds, which makes them a great value pick in my eyes.
Group A is definitely the group of death in these Games, but if Team USA can finish in the top 3 of Group A, they will likely avoid Russia in the quarters and be up against a very beatable opponent en route to the semi's.  At that point I can either hedge my bet off of Team USA, or ride it out.
Team USA dominated at the 2015 World Cup, winning gold and qualifying early for these Olympics.  They did leave a lot to be desired at both the 2015 Pan-Am Cup (5th place) and the World League tournament last month.  At the World League Tournament they finished 5th, after failing to advance to the semi-finals due to losing to both Italy and Brazil to finish at the bottom of their 3 team pool in the late rounds.  That said, they took 2 games off of Brazil and 1 game off of Italy in that tournament, and I really think those matches could have gone either way.  The tournament also took place in Poland, so staying in their own time zone will definitely help Team USA as they get up for the Olympics this year.
Play: Team USA 13/2 @ Bet365.com
I really like this Team USA bet on the Men's Indoor Volleyball tournament.  I've gone back and added some funds a few times because I really expect the odds to shorten in the next few days.  So get your bets in quick!
Other Indoor Volleyball Betting
Bet365.com will also be taking bets on every individual match throughout the 2016 Olympics.  To find the betting lines, visit Bet365.com and click on 'Olympics 2016' followed by any of the betting options under 'Volleyball – Olympics 2016'.
Here's an example of what the game line will look like for a volleyball game at the Olympics:

I'm really digging into these Olympic Games.  Check out all of my Olympics predictions for some great picks.
Tagged With : Indoor Volleyball • Olympics betting • Olympics Volleyball • Rio Olympics • Volleyball Betting