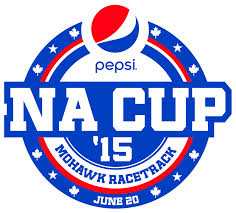 The American Triple Crown races are in the books and what a year it was with American Pharaoh becoming the first horse since 1978 to win the Triple Crown.  But that's in the past now and it's time to turn our attention towards some big races on this side of the border.
The first really big horse race of the year in Canada takes place this weekend at the Mohawk Racetrack in Campbellville, Ontario.  The top three-year old pacers in North America are set to take a run at the $1,000,000 North America Cup this Saturday.
This is the biggest race held at Mohawk Racetrack each year, so you know the town of Campbellville will be buzzing for the event.  In fact, this is the richest pacing event in the world, so eyes from across the globe will be on Mohawk this Saturday.
Opening Odds for the Horses
Here is the post draw for the race, along with the opening lines for each of the horses.  These odds are bound to change by post time, but this gives you an idea of each horses chances to win the race.
Good Friday Three 20/1
Wakizashi Hanover 5/2
Wiggle It Jiggleit 8/5
Betting Exchange 15/1
In The Arsenal 7/2
Yankee Bounty 20/1
Arque Hanover 25/1
Hurrikane Ali 24/1
Penji Hanover 20/1
Artspeak 5/1
As you can see the two main favourites to win the race are Wiggle It Jiggleit, followed by Wakizashi Hanover.  In The Arsenal and Artspeak are also being given a decent shot at the win, but the other 6 horses in the field are big underdogs compared to these four.
Here's a video of Wiggle It Jiggleit winning at The Meadows in February.
How To Bet On The North America Cup
I'm going to be doing my betting on the North America Cup through SportsInteraction.com.  They are our top rated sportsbook for betting on races at the Mohawk Racetrack.
If you're ready to bet click here to open an account with Sports Interaction.

Once you've opened an account you will be able to find the race odds by clicking on 'Racebook' in the top navigation bar.  Then select 'Mohawk Racetrack' from the 'Harness' drop down menu in the left sidebar of the Racebook.  This will bring up all of the races at Mohawk Racetrack for the day.
I can't say that I follow harness racing at all, so I'm not going to give any tips as to which horse to bet on.  I suggest doing some research and checking out each horses recent form leading into the race in order to find a horse that could pull off the win this Saturday.
Tagged With : Pepsi North America Cup