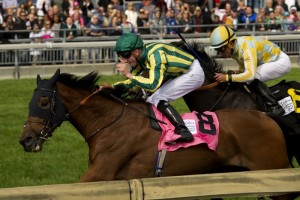 The Canadian International Stakes is the last big thoroughbred race of the 2015 Canadian horse racing season.  The race is taking place at Woodbine Racetrack this Sunday and is set to feature 11 quality horses vying for the $600,000 first place prize.  The favourite for this years race is Second Step, an irish-bred horse that comes into the race with starting odds of 3/1.
Some other horses who have a good chance at the win include Cannock Chase (7/2), Sheikhzayedroad (6/1) and Interpol (8/1).
Our recommended sportsbook for betting on the Canadian International Stakes race (and all Canadian horse races) is SportsInteraction.com (full review here).  They will start taking bets on the race tomorrow.  To find the odds click here to visit SportsInteraction.com and then click on the 'Racebook' tab in the top navigation bar.  You'll then find 'Woodbine' under the 'Thoroughbred' racetracks tab on the left sidebar.  The Canadian International has a post time of 5:40pm.  You can catch the race on TSN5 between 4:30 and 6pm EST.
Click here to place your bet at SportsInteraction.com
Canadian International Stakes Odds
Here are the post positions of each horse in the field and their starting odds.  These odds can change as the race draws nearer:
Power Ped 20/1
Cannock Chase 7/2
Sheikhzayedroad 6/1
Second Step 3/1
Up With The Birds 10/1
Danish Dynaformer 10/1
Triple Threat 10/1
Reporting Star 20/1
Interpol 8/1
Kaigun 12/1
Habibi 10/1
My Pick
I think this is Second Step's race to lose.  He finished fourth at the Irish St. Leger last month, but that was over a distance of 1 3/4 miles, which is the longest he's ever run.  At 1 1/2 miles, which is the length of the Canadian International, Second Step has won 3 of his last 4 races and he looks to have found his best over his last race at this distance two months ago in Berlin.
Cannock Chase at 7/2 just ran his first race of 1 1/2 miles last month and although he won it, his time of 2:32 is 2 seconds slower than Second Step's time from Berlin.
I do think it will come down to those two horses, but if you're looking for a horse with longer odds I like Canadian horse Up With The Birds.  This horse has shown the speed in the past to be able to compete with these two, but the problem is he may be past his prime at 5 years old.
Top Play: Second Step 3/1
Are you ready to place your bet?  If so click here to visit SportsInteraction.com….
Tagged With : Canadian International Stakes • Horse Races