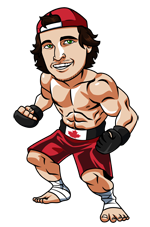 GSP's return was a massive success last weekend.  Not only did GSP win the middleweight belt by taking out Michael Bisping in the third round, but the entire card was filled with wow moments including both Dillashaw and Namajunas taking the belts from the champs thanks to impressive TKO's.  Dana White went as far as saying the card was one of the best in the UFC's history.  High praise for sure, but I'd have to agree.  I went 4 for 5 on my bets with the only loss coming on Joanna, which I'll admit I thought was a sure thing.  That said, GSP, Dillashaw, Wonderboy and Brown all hit for a nice winning weekend.
This week the UFC heads to Norfolk, Virginia for a decent looking Fight Night card headlined by Anthony Pettis and Dustin Poirier.  There are a lot of long time UFC veterans on this card including Matt Brown vs Diego Sanchez, Joe Lauzon vs Clay Guida, and Andrei Arlovski in another heavyweight fight.
I've found 3 picks that I like and I've broken them down below.  I'll be using the best odds being offered from any of our recommended bookies for each of my picks on this card.
Sportsbook
Features
Offers
Rating
Bet Now
1
Licensed and regulated in Canada
Easy deposits & withdrawals including Interac
Competitive betting lines
2

Licensed in Ontario and Malta (accepts bettors from across Canada)
Competitive betting lines
Easy deposit/withdrawal options, including Interac
Dusin Poirier vs Anthony Pettis
I wasn't impressed with Pettis' win over Jim Miller in his return to lightweight in his last fight.  He controlled the fight and won all 3 rounds, but he really didn't do a ton of damage against an ageing veteran in Miller.  Pettis should have had a significant speed advantage in that fight and been able to really put his hands on Miller, but he just did enough to get the win.
To be honest, I haven't been impressed by Pettis in quite some time.  That was Pettis' first win at lightweight since 2014.  After RDA absolutely destroyed Pettis and took his title he really hasn't been the same fighter.  The book is out on Pettis.  He's a counter fighter that you can smother with pressure.
Poirier likes to stay in your face and push the pace with solid striking.  If he is able to push the pace for the duration against Pettis I think he should win this fight.  Pettis is of course still dangerous and he could finish this fight with some impressive counter-striking, which he's capable of, but I don't think that's the most likely outcome.
Poirier should have a higher output on the feet and also be able to grind out takedowns and do work from top position against Pettis.  If Poirier doesn't get caught with some ninja stuff from Pettis he should get the win, and I haven't seen the dynamic striking from Pettis in years.
Play: Poirier 2.05
Matt Brown vs Diego Sanchez
Brown has been finished in 3 straight fights.  In his most recent fight he was doing very well in his fight with Donald Cerrone, but after he squashed the beef at the beginning of the third round, it seemed like a weight lifted off Cerrone's shoulders and he proceeded to KO Brown with a nice head kick moments later.  That said, Browns bullying style against the smaller Cerrone was working to that point in the fight and if he can fight the same way against the natural lightweight Sanchez he should be able to easily get the win.
Sanchez doesn't have the same dangerous finishing ability that Cerrone has.  In fact, Sanchez's last 8 wins have all come via decision and he hasn't finished a fight since 2008.
I expect Brown to be able to bully Sanchez and eventually use his size to get the finish, but if the finish doesn't materialise I fully expect Brown to win all 3 rounds.  Sanchez just doesn't really have a path to victory in this fight.
Play: Brown 1.33
Joe Lauzon vs Clay Guida
Guida looked very impressive as a big underdog in his last fight against Eric Koch.  Even in the previous fight, which he eventually lost via third round knockout to Brian Ortega, you could easily argue that Clay was on his way to winning a decision had he survived the final minute.  Guida is still a grinder who brings his opponents into deep water, but he has shown he isn't slowing down and he has some interesting new techniques that worked against Koch.
Lauzon is a smart fighter, but I don't think he will be able to keep up with the pace of Guida, so I expect Joe to have to finish this fight to get the win.  Lauzon has the ability to get a knockout, but I don't think it's likely.  I believe he's an overrated fighter who is really just a UFC journeyman who puts on exciting fights.  I think Guida is the more athletic fighter who has fought the better competition throughout his career.  I expect him to get a decision win in this one.
Play: Guida 2.00
Tagged With : UFC betting • UFC picks