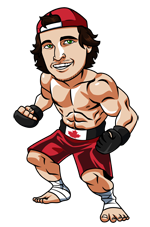 Last weeks Poirier vs Pettis fight was everything you could ask for in a main event.  The guys battled it out with a ton of interesting scrambles and the better fighter won in the end with Poirier solidifying himself as a title contender at lightweight.  My other main card bets of Matt Brown and Clay Guida also hit, so it was a solid card overall.
This week the UFC heads to Australia for a Fight Night card headlined by Fabricio Werdum and Marcin Tybura.  I'm actually impressed with Werdum for taking some difficult fights of late against fighters lower than him in the rankings because he was solely focused on fighting for the title for quite some time.  That is a solid main event, and I'm also looking forward to Belal Muhammad vs Tim Means and Daniel Kelly vs Elias Theodorou on the main card.
All in all, I've found 3 picks that I like from the main card, as well as one lean that I will include below.  I'll be using the best odds being offered from any of our recommended bookies for each of my picks on this card.
Sportsbook
Features
Offers
Rating
Bet Now
1
Licensed and regulated in Canada
Easy deposits & withdrawals including Interac
Competitive betting lines
2

Licensed and located in Ontario
Entirely focused on Canadian betting market
Easy deposit/withdrawal options, including Interac
Fabricio Werdum vs Marcin Tybura
**This is my lean on the card.  I'm not sure I will actually make this play as of yet.
I do think Werdum likely wins this fight, but based on the odds I'm leaning towards a small play on Marcin Tybura.  He's basically a 3/1 underdog and I think he has a clear path to victory if he can keep this fight standing.  Tybura is a high level striker who is much more dangerous on the feet than Werdum.  He has the ability to finish Werdum standing, but if this fight goes to the mat Werdum has a very good shot at getting a sub or at least controlling the fight.
I do think there is a good chance Werdum gets this fight to the mat and works for a submission, but at these odds I think there may be a little bit of value in Tybura who is one of the better strikers in the heavyweight division.
Lean: Tybura 3.85
Tim Means vs Belal Muhammad
I think that Belal Muhammad is the real deal.  He is 3-2 in the UFC and both losses have come to top level opponents.  I consider Vicente Luque one of the most dangerous welterweights in the world, and in his loss to Jouban it seemed he had the octagon jitters a bit in his first UFC fight, but came on strong in the third round and lost a close decision.  His recent wins over both Jordan Mein and Randy Brown showed me that he is growing as a fighter and is someone to watch moving forward.
Tim Means is a gritty, dangerous, veteran.  This fight is sure to have a lot of output from both guys and should be a barn burner.  That said, I still give Muhammad the edge on the feet from a technical standpoint and he also has takedowns that he can fall back on.  Means was taken down 6 times in his recent loss to Cowboy Oliveira and even in his recent wins over John Howard and Sabah Homasi he was taken down 3 and 2 times respectively.  Muhammad does have a wrestling game, which he used in both his recent decision wins (4 takedowns of Mein and 2 takedowns of Brown) to help him secure the decisions.
I just see more paths to victory for Muhammad and still think that Tim Means is slightly overrated, while Muhammad may not be getting the respect he deserves at this point in his career.
Play: Muhammad 3.00
Daniel Kelly vs Elias Theodorou
Daniel Kelly at plus money against a guy who is not going to knock him out.  I'll take that bet every day.  Kelly is a guy who moves forward throwing all kinds of different strikes at his opponents.  He also has his Olympic judo background to go for takedowns if he gets in tight on his opponent.
On the flip side, Theodorou is a fairly low output striker who likes to grind out his opponents against the fence, while not taking much damage himself.  I simply don't think that strategy will work against Kelly who has great judo throws from the clinch and comes throwing everything at you but the kitchen sink in the striking exchanges.  Kelly is not a traditional style of fighter and he can be tricky for some guys, especially ones who don't throw with KO power.  Theodorou does have some finishing ability, but he's not known for it and if this one makes it to the judges I believe that Kelly will get the nod in his home country based on being the more active fighter.
Play: Kelly 3.00
Jake Matthews vs Bojan Velickovic
I wasn't impressed with Velickovic in his fight with Darren Till.  Sure he hung around, but he was clearly outclassed the entire way and really just showed some toughness, not skill.  He earned a late knockout of Nico Musoke in his previous UFC fight, but that fight could have gone either way if it had made it to the judges.  Before that he lost a boring split decision to Sultan Aliev and tied Michael Graves, while beating Alessio Di Chiricho, who is not a UFC caliber fighter, in his debut (and that fight could have gone either way too).  I just don't think Velickovic is very good, but the MMA community seems to be fairly high on him.  I just don't see it.
On the flip side, Jake Matthews is a solid fighter who is coming off a couple of losses and is eager to get back in the win column.  He got knocked out by Kevin Lee a couple fights ago and then lost a tight split decision to Andrew Holbrook.  Matthews isn't the super prospect that some believed him to be after he went 4-1 to start his UFC career, but he's a very athletic kid, who is only 23 and I expect him to continue to improve.
This is mostly a fade on Velickovic, but I do believe that Matthews is better than he showed in his last couple performances as well.  I expect a big win from Matthews to get back on the map in the welterweight division.
Play: Matthews 1.65
Tagged With : UFC betting • UFC Fight Night • UFC picks