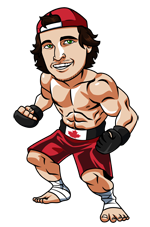 The UFC is headed back to Madison Square Garden this Saturday for what is setting up to be their biggest PPV card of the year, UFC 217.  GSP returns from a four year layoff as the headliner against Michael Bisping for the middleweight title.  Cody Garbrandt and TJ Dillashaw will also be competing for a title with the bantamweight belt on the line between these two friends turned enemies, while Joanna Jedrzejczyk will attempt to tie Ronda Rousey's record for title defenses by a woman when she takes on Rose Namajunas.  Other notable fighters on this card include Wonderboy Thompson vs Jorge Masvidal, James Vick vs Joseph Duffy and Johny Hendricks vs Paulo Borrachinha.  This is a stacked card, and I for one am very excited.
There are 12 fights in total slated for UFC 217, with the first three fights being shown on UFC Fight Pass at 6:30pm EST, the following four fights will be shown on TSN2 at 8pm and then the pay-per-view portion of the card will show the last 5 fights starting at 10pm EST.
I'll be using the best odds being offered from any of our recommended bookies for each of my picks on this card.
Sportsbook
Features
Offers
Rating
Bet Now
1

Licensed and regulated in Canada
Easy deposits & withdrawals including Interac
Competitive betting lines
2

Licensed and located in Ontario
Entirely focused on Canadian betting market
Easy deposit/withdrawal options, including Interac
Georges St-Pierre vs Michael Bisping
The line for GSP vs Bisping has moved close to a pick'em after GSP opened as a fairly significant favourite when the fight was announced.  That line movement though is great for me because I've waited to place my bets on this fight and I'm very high on GSP to get the win over Bisping.
Georges is a guy who takes calculated risks in the fight game.  He started to talk about his comeback as soon as Bisping won the middleweight belt because he saw a guy he knows he can beat, with a belt that he's never held and one that would be great for his legacy.  From that point on GSP has been campaigning for this fight with Bisping and when one of the legends of the sport, and top PPV draws asks for something, the UFC will usually give them what they want.  I know that GSP expects to beat Bisping and he hasn't been wrong much in the past.
From a technical standpoint I think GSP's wrestling will play a huge role in this fight.  His left jab and boxing work with Freddie Roach should help him compete with Bisping on the feet, where I don't really give either guy the edge, but GSP's power double leg should come into play at points in this fight and I do expect him to have the power from adding the weight over the past several months to put Bisping on his back and keep him there while he does damage.  GSP is talking like he wants to finish this fight, but I still don't expect that outcome because GSP has also stated in several interviews that he's always extremely scared to be humiliated.  This is likely why GSP has played it so safe in the last 5 years of his title reign, never taking any chances, and simply outpointing his opponents.  I don't expect anything to change in that respect because this might be one of the biggest fights of GSP's career, so I actually expect him to play it even safer than normal.
Look for GSP to match Bisping on the feet and get some well timed takedowns at key points in rounds to win this one 49-46 on the judges scorecards.
Play: GSP 1.87
Cody Garbrandt vs TJ Dillashaw
This is another fight that I'm happy I've waited to bet because Dillashaw's odds have lengthened significantly and I was already going to take him if this was a pick'em fight.
Garbrandt really has only one high level win in his career and that was over Dominick Cruz to win his belt.  And in that fight he really didn't do a whole lot.  He stood back and took Cruz out of his game plan by being the more patient fighter.  I can't even remember if he ever actually started an attack in that fight or just countered Cruz when he came in.  Cruz actually landed more strikes in that fight (88 to 68) and if it wasn't for the knockdown and domination in round 4, I'm not even sure that Cody wins that fight.  You could also argue that the win over Thomas Almeida was a big time win, but Almeida is very hittable and lost decisively to Jimmie Rivera in his last time out as well.
Dillashaw is a guy who has done everything asked of him since losing his belt to Dominick Cruz by split decision back in January of 2016.  He's gone out against the next top contender in the division and absolutely destroyed both Assuncao and Lineker over three rounds.  When Cruz fought Cody he came in and out, getting tagged both on his entrance into range and exit.  TJ is much more likely to stand in the pocket and actually push the pace up against Cody while looking for take downs or to pressure Cody up against the cage.
I'm not even exactly sure how this fight plays out.  I just believe that Dillashaw is the better overall fighter and I think he will find a way to get the win.  He just marched forward against Cruz, playing right into his game plan and still almost won that fight.  I'm expecting him to have learned from this loss and bring a more adaptive style in this fight.
Play: Dillashaw 2.55 @ SportsInteraction.com
Joanna Jedrzejczyk vs Rose Namajunas
Joanna is simply light years ahead of pretty much everyone in the women's strawweight division.  The only fighter that has given her trouble was Claudia Gadelha because of her strong takedown game, but Joanna was still able to outlast her and put on a clinic in the final round.  Rose is a tricky fight for Joanna because she is dangerous if she can wrap you up, but Joanna is so good at keeping distance that I expect her to just light up Rose from range for 5 rounds.
Rose lost to Karolina Kowalkiewicz, who is basically the poor-mans version of Joanna, so I don't see any reason to believe that Rose has evolved enough in the course of 1 year to defeat Joanna at this point.
Play: Jedrzejczyk 1.18 @ SportsInteraction.com
Stephen Thompson vs Jorge Masvidal
Wonderboy will finally get to fight a guy who actually brings the fight in this one, rather than Woodley who just backs up and blitzes, and that type of style is right up Thompson's alley.  Masvidal likes to box and to do that you have to get inside the distance of Wonderboy's Karate, which should result in Wonderboy picking off Masvidal as he tries to enter his combat zone.  Wonderboy won't have to worry about the big one punch power that Woodley had either, so he can attack more himself as well, while keeping a safe distance between him and Masvidal.
This is the perfect stylistic match-up for Wonderboy, and although I believe he won both of his fights with Woodley, it will be good for him to get an official win over another high level opponent and beating Masvidal will do exactly that and shoot him back up to title contender.
Play: Thompson 1.57
Randy Brown vs Mickey Gall
We still don't really know how good Mickey Gall is.  He was able to get the win over Sage Northcutt in his last time out, but that was with Sage coming up to 170 pounds where he's now gone 0-2 in the UFC, getting submitted in both fights.  Gall was also getting outstruck in that fight before landing a haymaker that looked to be a little bit of a lucky punch.  Either way, he was able to take Sage's back afterwards and get the win.
Randy Brown, who like Gall was also discovered on Dana White's Looking For A Fight show is now 3-2 in the UFC and he's definitely faced the tougher competition.  Brown will without a doubt have the advantage on the feet in this one.  He has finishing ability with both knockouts and submissions after he hurts his opponents.  He will likely try to keep this fight standing and although he's been taken down quite a bit so far in his UFC career, he does have decent enough takedown defense that I think he will be able to punish Gall if he forces trying to get this fight to the mat.
We will get to see if Gall's connection with the overhand right on Sage was a fluke, or if he has the stand-up game to hang with these real UFC fighters.  I personally don't think he does.
Play: Brown 1.91
Also check out our how to bet on GSP vs Bisping article for a full step by step guide to get your bets in this week.
Tagged With : Bisping • GSP • UFC 217 • UFC betting • UFC picks