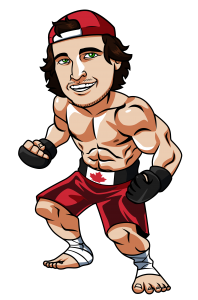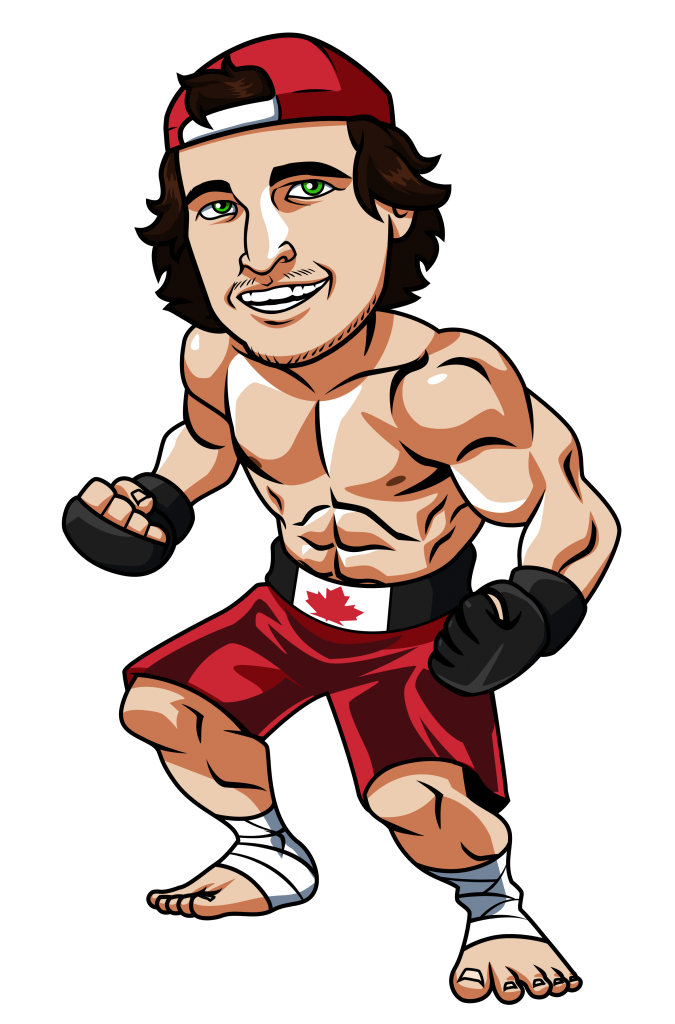 UFC 196 is still just under a week away, but I am very excited to see Conor McGregor get back inside the Octagon.  I'm disappointed that Conor will not be fighting for the Lightweight Championship against Dos Anjos after the champ had to pull out of the fight with a broken foot, but an interesting match-up with Nate Diaz is still a solid main event that will bring in a ton of viewers.  And let's not forget that we also get to see Holly Holm back in the Octagon, putting her Bantamweight title on the line against Meisha Tate.  I have a feeling that fight will be much more interesting than many think heading into UFC 196.
I'll be using the best odds I can find among our top rated sportsbooks for Canadians for these picks.
To learn more about the various MMA bets you can make, check out our MMA betting info page.
Conor McGregor vs Nate Diaz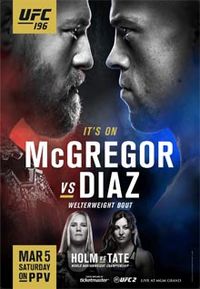 I personally always love to see McGregor inside the cage.  He brings an extra level on excitement with his trash talking, but it's really his unique fighting style and crisp movement that really get me excited for his fights.  I was on Aldo in his Featherweight title outing and he quickly proved me wrong in that one with a nice counter left that stiffened up Aldo very early in the fight.  Conor has said that he will be finishing Nate Diaz late in the first round and after pretty much all of his predictions have come true so far in his UFC career, who am I not to believe him.
I'm personally not a fan of the Diaz brothers.  I find them hard to listen to in press conferences and I'm surprised how they have built up this reputation of bringing the fight when they're in the Octagon.  Nate says he always brings the fight and looks for the finish, but yet 6 of his last 10 fights have gone to decision.  Conor, on the other hand, has finished all but one of his UFC fights, with his lone decision win coming against Max Holloway in a fight where he tore a ligament during the fight.
Conor is the show and I expect him to put on a show this Saturday with a KO victory over Nate Diaz.
Play: McGregor 1.267
Holly Holm vs Miesha Tate
A lot of people have put Holly Holm up on a pedestal after her one-sided KO victory over Ronda Rousey.  She looked great in that fight, but let's not forget that Ronda played directly into Holly's hands by pushing forward like a charging bull for the entire fight.  She got caught early and never really looked like herself after that.  We all know what happened in the second round with Holm catching Rousey up high with a kick for a devastating knockout.
I just do not expect Tate to fight as stupidly as Ronda.  She doesn't have the pressure of trying to add another early finish to her resume and she will fight to win the title by any means necessary.  I suspect that means Tate is going to try to make this a grinding fight.
Holly looked very impressive against Ronda, but I'm not completely sold on her as a mixed martial artist.  She had trouble getting decision wins over Raquel Pennington and Marion Reneau, and although her coaches say she was holding back, she will not be able to do so against Tate.  I think there are still plenty of question marks regarding Holly Holm because as impressive as she looked against Ronda, Rousey fought about as dumb as you possibly could in that fight.  Tate will not make the same mistakes.
Play: Tate 3.90
Gian Villante vs Ilir Latifi
In this fight we have a couple of tough customers in the Light Heavyweight division who can finish fights.  Villante is coming off a knockout win over Anthony Perosh at UFC 193, but a win over a washed up 43 year old doesn't do a lot for me.  I'm still wondering which Villante will show up on Saturday.
With Latifi I feel you more so know what you're going to get.  The Swede has knocked out his last two opponents within a minute.  He looks better every fight and I just feel like he has more weapons at his disposal than Villante.
I definitely expect to see a finish in this fight, but I'm leaning towards the Swede to land the big punch first.
Play: Latifi 1.526
That's it for now.  Check back this week as I will have some more UFC 196 articles and will likely be focusing on the McGregor vs Diaz and Holm vs Tate fights in more detail.
Tagged With : Conor McGregor • Holly Holm • Miesha Tate • Nate Diaz • UFC 196