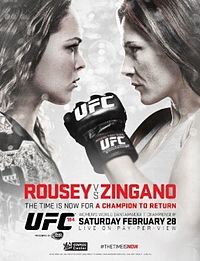 After a couple of fairly basic Fight Night events since UFC 183, we finally have another PPV event with Ronda Rousey back in the Octagon this weekend in Los Angeles.  The main event for this card was supposed to be Weidman vs Belfort (Weidman and Rousey have been sharing title fights for a while), but Weidman was forced to pull out of the fight with an injury.  That fight is now set as the co-main at UC 187, which will be a ridiculous card if everyone stays healthy.
Ronda Rousey vs Cat Zingano
It's the same story every time Rousey fights.  The media tries to pump up the fight by saying that this will be her toughest test yet.  And every time Rousey makes it looks easy.  Yes, Zingano might be the best fighter Rousey has faced yet, but that still doesn't put her in the same league.  She does have finishes of Amanda Nunes, Miesha Tate and Raquel Pennington in her last few fights, which is impressive and she does boast a 9-0 record.
All of that said, she's fighting Ronda Rousey, who is head and shoulders the best women fighter alive in my opinion.  I'm taking Rousey inside distance.
Play: Rousey Inside Distance -520 @ 5Dimes.eu
Raquel Pennington vs Holly Holm
Holm was a professional boxer with a big following, so she was a big signing for the UFC.  They are starting her off with a very winnable fight against 12th ranked Pennington.  She's a name that UFC fans will recognize, which brings some recognition to this fight, but she has lost 3 of her last 5 fights and is not one of the best fighters in the division.
Holm was a boxer, but that doesn't mean she doesn't have MMA experience.  She now has 7 professional fights under her belt and holds a 7-0 record with 6 finishes.  Pennington will no doubt be her most difficult opponent yet, but no doubt the UFC is expecting her to win the fight to continue to build her record into a possible title fight after perhaps 2 or 3 UFC wins.  I don't think she'll let the promotion down in this fight.
Play: Holm Inside Distance +146 @ 5Dimes.eu
Josh Koscheck vs Jake Ellenberger
Here are two fighters that are on 3 fight losing streaks, but a huge reason for this is that they are both big names in the Welterweight Division and have received very solid opponents.  Koscheck's 3 losses have come against Johny Hendricks, Robbie Lawler and Tyron Woodley.  That's the current Champion, #1 contender and #3 contender.  Not exactly chumps.  Ellenberger's losses have been to Rory MacDonald, Robbie Lawler and Kelvin Gastelum.  That's the two fighters who are contesting for the Welterweight Title in July plus an up and comer who was undefeated until losing to Woodley recently after having a lot of difficulty with his weight cut.
So now that we've realized these aren't your usual 3 fight losing streaks we have to figure out which fighter still has a better chance.  For me that's Koscheck primarily because he's had a longer lay off to get his head back in the game.  He's further removed from his 3 losses and for some that might be a red flag, but I think he has a good shot at out wrestling Ellenberger and for the odds I like my chances.
Play: Koscheck 2.75 @ Bet365
Tagged With : MMA betting • MMA picks • UFC 184