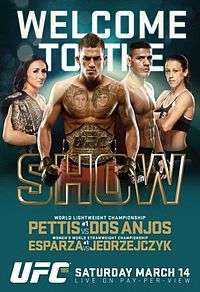 This UFC 185 card is stacked after a couple of less than ideal PPV cards.  The UFC 184 card headlined by Rousey and Zingano really didn't have great supporting fights, but this UFC 185 card has 2 title fights, along with a couple other very big fights with serious implications in a couple of weight classes.
There are a lot of knockout specialists on this card and I personally am very excited to catch this PPV at the bar this Saturday night.
Anthony Pettis vs Rafael dos Anjos
I'm excited to see Showtime Pettis back in the Octagon again just a few months after his huge win over Gilbert Melendez.  I personally am a big Pettis fan and see him as one of the most dangerous fighters in the UFC.  I think his real challenge will be against Nurmagomedov or Cerrone after he dispatches dos Anjos.
I think Pettis will actually make short work of the Brazilian.  I like the win, but I'm also tossing a few bucks on Pettis finishing in the first round.
Play: Pettis 1.22 & Pettis to win win round one 4.52 @ SportsInteraction.com
Carla Esparza vs Joanna Jedrzejczyk
Carla Esparza is the current champ and she earned it having to go through The Ultimate Fighter as the top seed and continue to pile up the wins.  It's interesting that she doesn't really get the credit she deserves as was shown as her coming into the first UFC title fight against Rose as the bookies underdog when she really dominated every fight on the show and throughout her career.
I think she's done being overlooked though because her wrestling is really a very unique skill at the level she's at for women in MMA.  Other women may have superior boxing, or muay thai in JJ's case, but if Carla can get in close and take her opponents to the mat I think she will be the UFC Champ for a long time.
Play: Esparza 1.62 @ SportsInteraction.com
Johny Hendricks vs Matt Brown
I'm glad Hendricks isn't getting a third title fight with Lawler right away.  He is known as this big knockout artist, but he hasn't actually got a knockout since 2012.  That definitely has something to do with his level of competition, but it also seems like he has started to fight more for points rather than to finish fights.  That strategy may have been his achilles heel in the last fight with Lawler, and possibly even in his loss to GSP.  I'm hoping we get to see the Hendricks who looks for a knockout in this fight.
You know Matt Brown will be looking for a knockout, which I think will give us a chance to see Hendricks once again unload his left hand.  But whether Hendricks goes for a knockout or takes Brown down to out point him for 3 rounds I think we will see a Hendricks win.
Play: Hendricks 1.30 @ Bet365.com
Alistair Overeem vs Roy Nelson
I'm surprised that Overeem is the favourite over Roy Nelson in this fight.  Overeem did tune up Struve in his last fight, but Struve had been out of action for almost 2 years and Nelson made much quicker work of Struve back in the day.  Overeem's other win was over a Frank Mir that was really not at his best.  Other than that Overeem has 3 losses in his last 5 UFC fights and each of these losses was by knockout.
Nelson may be a gatekeeper in the UFC and the UFC brass may still have hopes that Overeem becomes a star, but I don't think it happens.  Overeem has a weak chin and one overhand right from Nelson and Overeem will be out.
Play: Nelson 2.80 @ Bet365.com