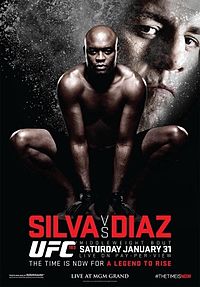 It's the fight a lot of fans have been waiting for since it was announced.  A couple of fan favourites who are huge draws are returning to the Octagon after long layoffs to see if they still have what it takes to compete at the highest level.  Nick Diaz has been away from the Octagon since getting destroyed by GSP almost two years ago.  He actually hasn't won a fight since October 29th, 2011.  I'm surprised that people still consider this guy relevant, but he sells fights and he's willing to fight if the money is right.
Silva is actually coming back from an injury rather than just not wanting to fight because the money isn't right.  Silva had that horrible broken leg in his rematch with Chris Weidman, and it's actually only been just over a year since that fight.  That was a very quick recovery and it shows that Anderson really wants to come back and continue fighting at a high level.
Those two are the main storyline of this weekends event in Vegas, but there are some other big fights as well, that I'm going to give you my picks for below.
Nick Diaz vs Anderson Silva
Like I said in the intro, Diaz is just coming back for the big payday that a draw like himself and Silva creates.  He doesn't actually expect to win this fight and he has stated that he has no goal of trying to attain the UFC belt.  He just wants the fights that make him the most money.  To me that implies that he knows he is going to be outmatched in this fight and he's willing to take a bit of a beating for a big payday.
Anderson on the other hand actually wants to come back and outdo himself by working his way back up to a title shot.
Silva is going to be much bigger than Diaz and his skills are on another level than Nick.  This fight should be very one sided and although Diaz does have a very good chin and good jiu jitsu I don't see him lasting the full 5 rounds with Silva.
Play: Silva 1.22
Kelvin Gastelum vs Tyron Woodley
The UFC is touting Gastelum as the underdog heading into this fight, but the oddsmakers see it differently.  They have Gastelum as a slight favourite against Woodley and I'm with them on that.  The guy just knows how to win fights.  He's never lost a pro fight and also won all of his TUF fights to win the show.  The kid just knows how to win and I expect him to move up the rankings even more after a win over the heavy handed Woodley.
Play: Gastelum 1.81
Joe Lauzon vs Al Iaquinta
I think people are getting ahead of themselves stating that Iaquinta is the next big thing in the Lightweight Division.  Lauzon has become somewhat of a gatekeeper in that division, but he's been fighting very well lately and I expect him to be ready to brawl with Iaquinta.  I think Lauzon can finish him with a submission as well if he is being beaten at any point in this fight.
Play: Lauzon 2.55
Miesha Tate vs Sara McMann
Miesha has had a couple good fights after losing to Ronda in 3 rounds back at UFC 168.  She's proven that she deserves to be the #2 contender in the division and I think she may be on track for one more crack at Rousey if she can win this fight and then follow it up with another good performance in perhaps a title eliminator of sorts.  Look for Tate to win this fight, but I expect it to be a hard battle to a decision.
Play: Tate 2.80
Ian McCall vs John Lineker
I like Uncle Creepy to win this fight against the Brazilian.  He just has more experience and if he can avoid the knockout power that Lineker possesses he should be able to win the fight.  It's funny that this is considered by many to be a title eliminator fight, but it's one of the early preliminary fights.
Play: McCall 1.44
It's not the most important card when it comes to title shots and rankings, but there are some exciting fights and the Diaz vs Silva main event should at least be a good show.
Tagged With : Anderson Silva • Kelvin Gastelum • Nick Diaz • Tyron Woodley • UFC 183