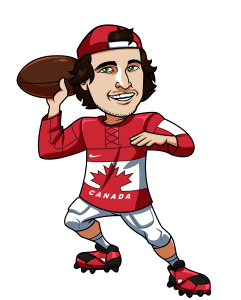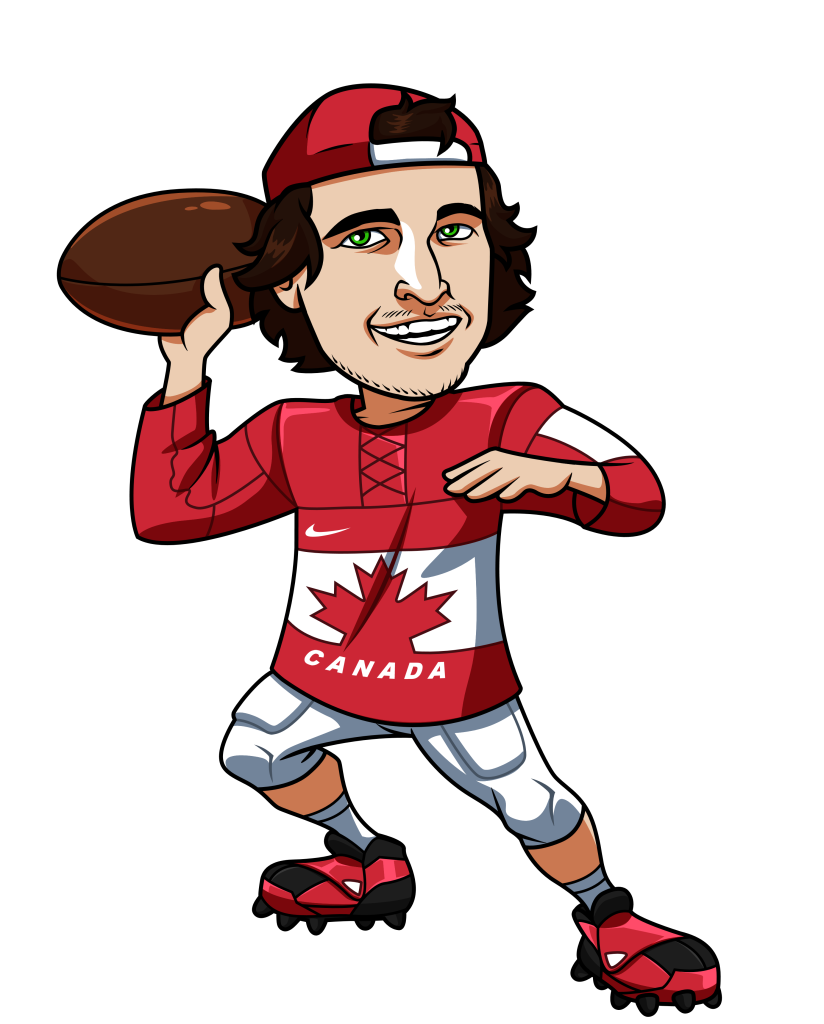 Last week 2 of my 4 stacks paid off for me.  My main stack of Andrew Luck and TY Hilton was in trouble early, but the game script ended up favouring this stack perfectly with the Colts forced to look for the long ball in the second half.  Luck connected with Hilton for two big TD's in the second half and Luck (29.02) and Hilton (34) turned out to be one of the best stacks of the day.  The other stack that paid off was a stack I had to alter, but I assume most of you were able to do the same.  With Antonio Gates not suiting up after being a game time decision I swapped him to Ladarius Green, who ended up with 18.5 points in a very respectable TE performance, especially for a guy who only cost $2900.  Rivers had the perfect game script as well with the Chargers getting behind early and this allowed him to rack up 30.44 points from the QB position.
The two stacks that didn't really pay off for me were Flacco + Smith, who had a tough time with the Cardinals defense, and Brees + Cooks who had a tough game script because the Saints built such a lead over the Colts in that game.  My fade of Palmer + Fitzgerald was definitely the right call though, with the Cards gaining committing to the run game once they had the lead.  My other fade of Stafford and Calvin Johnson also worked out fairly well because even though they had a decent game it wasn't a big enough game to really help a lineup finish high in a GPP.
Now, on to this week, where I'm hoping my top stacks work out even better.
All of the prices below are from DraftKings.com and these stacks are meant for the DraftKings daily fantasy football scoring system.
Click here to set a lineup at DraftKings.com for week 8.
***Also check out my week 8 running back targets.  I've been on point with my RB predictions so far this year.
Drew Brees ($6700) + Brandin Cooks ($5400)
Brees and Cooks hooked up for 6 receptions and 81 yards last game and it seems to me like these two are really beginning to find some good chemistry.  Last week the game script did not favour these two at all with them building a massive lead over the Colts early in the game.  Even though the Saints are 3 point favourites against the Giants this week I wouldn't be at all surprised to see the Giants get off to a lead in this one.  The Giants have been a very good early game team this year and if they are able to get an early lead against the Saints, I have confidence in Brees being able to air it out to bring the Saints back.  Brees started out priced at $8000 this year and now he's down to $6700.  I think Brees is a great play this year if the game script goes the way I think it could.
I will also be pivoting out Brandin Cooks for Willie Snead ($4300) and tight end Ben Watson ($3500) for some lineups this week.
Ben Roethlisberger ($6700) + Antonio Brown ($7800)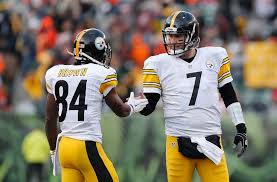 As of right now it looks like Roethlisberger will be ready to go for Sunday's game against the Bengals.  I see this as a huge opportunity in a very good spot for big Ben and company.  Roethlisberger was priced at $7200 in week 3 (his last start), so you're saving $500 simply due to him not playing games because of injury.  Antonio Brown is at an even bigger discount of $7800, down from $9200 heading into week 4.  Let's not forget that Brown had 31.3, 39.5 and 24.8 fantasy points in the first 3 weeks of the season.
Add in the fact that this is a pick'em game with the Steelers at home against a very average Bengals defense.  If the Bengals get a lead in this one I could see the Steelers main cogs going ham in this one.
I'll also have some Le'Veon Bell ($3300) stacked with these two in this game.
Andy Dalton ($6000) + AJ Green ($7600) or Marvin Jones ($4200) or Tyler Eifert ($5300)
With big Ben back I also think it makes Andy Dalton a great play this week.  If the game script goes the other way and the Steelers get a lead I could see Dalton and company going big against a beatable Steelers secondary.  I'll be mixing up my stacks with AJ Green, Marvin Jones and Tyler Eifert because it's really anyone's guess who goes off for this Bengals team on any given week.  That said, I'll probably look to Eifert quite a bit because the Steelers are 29th against tight ends.
Philip Rivers ($6600) + Keenan Allen ($7700)
The Chargers are 3 point dogs against the Ravens this week.  If they do get behind, like they have seemingly every week this season, it once again will be Rivers time where he's throwing 50+ passes throughout the game.  Rivers should easily hit the 300 yard bonus this week and seeing as the Ravens secondary has given up the most points to QB's this season, if the Chargers do find themselves behind I see Rivers going completely ham.
Keenan Allen is may favourite stack with Rivers this week.  He's going to get 10+ targets and he's due for a touchdown.  The refs screwed him out of a TD against Oakland, which would have bumped him to around 30 fantasy points for the week.
I'll also mix in some stacks with Stevie Johnson ($3200) who is underpriced after his injury and Danny Woodhead ($4500) who goes off as a receiving running back when the Chargers do get behind.
Derek Carr ($5300) + Amari Cooper ($6700)
The Jets showed just how unbeatable they are against the run last week versus the Patriots.  This resulted in Tom Brady having a huge week and I think it sets up Derek Carr to also have a big week against this funnel defense.  I think Carr has a good chance of hitting 300 yards because I expect he will throw over 40 times for the second time this season (in week 2 he had 46 attempts and ended up with 351 yards and 30.34 fantasy points).
Amari Cooper had his coming out party last week with 133 receiving yards and a touchdown on some beautiful plays, and that was in a game where the Raiders built a huge early lead.  Him and Carr continue to build chemistry and I expect more big weeks out of these two.
The Raiders will be throwing the ball regardless of whether they are leading in this game or not, which is perfect for Derek Carr and company.
Main Fades
Carson Palmer ($7000) + Cardinals Receivers
I think Palmer will once again be highly owned this year and although he's played very well, it hasn't translated to big fantasy weeks.  His biggest fantasy week came in week 1 when he tallied 28.68 fantasy points.  Since then he's been hovering right around 20 fantasy points every single week and this week will be no different because this Cardinals team should be able to get a big lead against the Browns.  Once again I expect Palmer to be fairly highly owned, but I personally will be fading him again.
Click here to set your lineup at DraftKings.com….
I realize I have quite a few QB stacks that I like this week, but a lot depend on the game script and it's very important to have one of the top stacks if you hope to win a GPP contest.
Tagged With : NFL daily fantasy • NFL targets • Quarterbacks