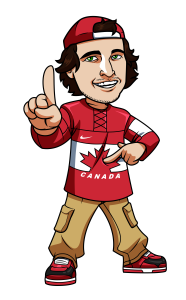 Live betting has really changed the online sports betting landscape. You are now able to bet live during a game in real time. The online sportsbook is constantly updating all of the available odds throughout the game, which allows you to place more bets based on how you see the game shaping up.
Advantages of Live Betting
There are three blatant advantages of live betting I can think of off the top of my head.
1. It's A Blast
First of all live betting is a ton of fun. Being able to place bets while you watch a game enhances the experience. For example, during a hockey game you can bet on the next team to score. This will amp you up until that next goal and win or lose you will have increased your excitement based on that wager.
2. Knowledge of Players/Teams and Feelings of Momentum Are Key
You can also turn live betting into an advantage especially if you have a good knowledge of the team or player you are watching.
I can think of a great example from tennis. I personally watch a lot of Milos Raonic and I can often tell when his game is starting to slip. His first service percentage falls and you notice his confidence cracking slightly. Luckily this hasn't happened as much lately, but it's a great example of when I could take advantage of live betting.
In tennis you can notice if a player is fatiguing vs building confidence, while in hockey you can notice if a team is beginning to scramble and lose their minds with a lead midway through the third. When watching sports live you can often get a feel for which side is going to end up pulling off the victory. Use this feeling and make a profit by betting live.
3. It Allows You To Hedge Bets
Another great thing about live betting is that it allows you to continue to wager throughout the game. This allows you to hedge bets that you made either earlier in the game or before the game all together. For example, if I bet on the Senators to win a game and they score twice within the first ten minutes of a game, I can then guarantee myself winnings by hedging my bet. Live betting allows you to hedge bets in order to guarantee smaller winnings and also reduce likely losses.
Tips for Live Betting
One important tip for live betting is to only wager if you are watching the game in real time. Things happen quickly that can change the potential outcome of the game, so if you are not watching in real time you could put yourself at a real disadvantage. Remember that TV feeds can be behind the live action, so if you notice a big odds shift and you don't know why, your feed is likely behind real time.
You should also never place live bets just based on scoreboard watching. Betting this way will not allow you to account for injuries, momentum, player changes and more.
Never put yourself at a disadvantage when betting. Knowledge is power when it comes to sports betting, which is why it's a must to be watching the game in real time when betting live.
Best Live Betting Options for Canadians
Each of the top Canadian sportsbooks I recommend offers live betting.  Some will offer live betting on more games than others or different games than each other, but they do all have strong live betting platforms.  Below you will see an example of live betting at each of the sites.  I've used a different sport for each betting site to give you a little bit of an idea of the main live betting options for a few different sports.
Sports Interaction Live Betting
Sports Interaction offers live betting on the fewest events of our three recommended betting sites, but their live betting has still come a long way and if the event is popular here in Canada you'll likely be able to live bet it at SIA.
In this screenshot you will see the live betting odds for some NCAA Football and Basketball games from a random Friday evening.
You can see they offer 15+ live betting lines for each of these games, and this amount increases for NFL, NHL or NBA games.
Live Betting on a Mobile Device
Live betting is done most conveniently and enjoyably through a mobile device. Most people who want to place a live bet won't be sitting look at their computer screen and watching the game online. Live betting is best enjoyed through a mobile device when you're at the bar with friends, watching the game in person or chilling out on the couch getting into the game.
Betting sites realize the marriage that exists between these two sports betting technologies and for this reason you will see live betting very prominently displayed on each of our three sportsbooks mobile betting platforms.