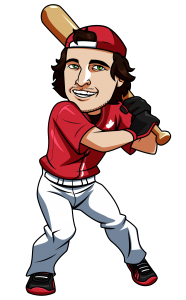 Daily fantasy baseball is a game of very high variance, where the best players are not going to put up the best numbers on every single night.  Because of this variance, lineup construction and looking for positive correlation plays becomes a very important aspect of daily fantasy baseball strategy.  When certain players have big nights, players close to them in the batting order also have a better chance of putting up big fantasy numbers because the points in daily fantasy baseball often work well for hitters near each other in the lineup.
Remember, these correlations are meant for GPP contests.  In head-to-head and 50/50 contests simply putting together the best expected value lineup in terms of points per dollar is perfectly acceptable.  But if you want to win the big GPP contests you do need to adapt your lineup construction in order to include positive correlation plays.
If you're ready to put the stacking strategy to work
click here to build a lineup at DraftKings.com.
Negative Correlations
Pitcher and Hitters from Opposing Teams
This is pretty obvious, but I felt I should include it in the article.  Never include hitters that are up against your own pitcher.  It's not possible for both a pitcher and a hitter from opposing teams to each have a big game on the same night.  In GPP contests you're looking for your players to have big nights, so this is a serious No No.
Positive Correlations
Hitters from Same Team and Close Together in Batting Order
In daily fantasy baseball players get points for hits, RBI's and runs, all of which are positively correlated between players bunched together in the batting order.  For example, say Revere, Donaldson and Bautista are all on base for the Blue Jays and then Encarnacion comes up and hits a home run.  All four of these players would benefit from this play and they'd be sitting with the following points:
Revere, Donaldson, Bautista would have 5 points each (3 points for a single + 2 points for a run)
Encarnacion would have 20 points (10 points for a home run + 8 points for the RBI's + 2 points for the run)
As you can see from that example, players from the same team that are close together in the order are positively correlated because they will often score points from the same plays.
I often used the top of the order stack from the Blue Jays in 2015 and it often paid off nicely.
Pitcher and Hitters from Same Team
This is a positive correlation play at sites where the win is worth a large portion of the pitchers potential points.  For example, at FanDuel.com a win is worth 4 points, while a strikeout and an inning pitch are worth 1 point a piece.  In this scoring format I will lean towards using the pitcher from the team of one of my player stacks because if the hitters go off for a big night there is a very good chance my pitcher will get the win.
At DraftKings.com though I don't use this strategy.  At DraftKings the win is worth 4 points, but the innings pitched are worth 2.25 points and strikeouts are worth 2, so the win is worth less than half relative to these other categories.  So at DraftKings I prefer my pitcher to be in a competitive, low scoring game, where the pitcher stays in the game as long as possible.  If the hitters from the pitchers team go off for a big game the pitcher will likely come out after the 6th inning.
My Typical MLB Daily Fantasy Lineup Stacks
Here's how I typically build my MLB lineups at the two big sites.
1 pitcher + 4 hitter stack from team A.
4 hitter stack from team B.
Highest value pitcher remaining.
4 hitter stacks from teams A & B.
2 high value pitchers from different games.
Ready to test out this lineup construction?  Click here to enter a lineup at DraftKings.com