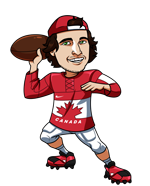 Last week started out great with the Alouettes easily beating a ridiculous 16.5 point spread in Ottawa and actually winning the game.  Unfortunately it was down hill from there with 3 losses from that point, for my first losing week in a long time.  The 1-3 week brings my season record for CFL picks to 21-12.  I will look to get back into the profits this week.
I will be using the odds from SportsInteraction.com for my CFL picks throughout the season.  They are our top rated sportsbook for Canadians.  Check out our full SIA review here.
I've also added a simple 3 step guide explaining how to bet on the CFL, so check that page out if you want to get some action on these games this week.
Ottawa Redblacks @ BC Lions
Ottawa +1.5
BC -1.5
This is a tough game to call.  I think the spread is pretty accurate.  The Redblacks will be looking to bounce back after a somewhat embarrassing home loss to the lowly Alouettes last week.  But on the flip side, the Lions are coming off a bye week and they will know they need to get some wins in these type of home games against East Division competition if they have any hope of moving up the standings in the West.
The Lions have been solid at home this season, so I'm going to take them to cover this 1.5 point spread and get the win in this one.
Play: Lions -1.5
Hamilton Tiger-Cats @ Toronto Argonauts
Hamilton -5.5
Toronto +5.5
This is close to a must win game for the Argos after last weeks loss to the Ti-Cats on the road.  Yes, the Argos were outplayed last week in Hamilton, but I'm still surprised to see them as 5.5 dogs at home against their division rivals.
Hamilton is the type of team where you never really know what you're going to get from week to week.  They have the ability to play solid football, but they are inconsistent.  For this reason, I still believe that Toronto has a chance to catch them in the standings in the East and that starts with a big home win this week.
I like the Argos to possibly win this game, but at the very least to keep it close.
Play: Argonauts +5.5
Saskatchewan Roughriders @ Winnipeg Blue Bombers
Saskatchewan +4
Winnipeg -4
In the second rematch of the week, which I got wrong last week, I'm swapping sides and taking the Roughriders plus the points in this one.  I still think these teams are extremely evenly matched, but I'm not going to give the Bombers a 4 point advantage at home after losing in Saskatchewan last week.
The Roughriders have shown they can take their game to an elite level at times throughout the season, but they have also been inconsistent.  That said, I think they can pull this win out again and set themselves apart from the Eskimos and Blue Bombers as we move closer to the playoffs.
Play: Roughriders +4
Calgary Stampeders @ Edmonton Eskimos
Calgary -3
Edmonton +3
I'm going right back to the Stampeders this week.  They only beat Edmonton by 3 points in Calgary last week, but I don't think playing in Edmonton is going to help the Eskies have more success against this powerhouse Stampeders team.
Edmonton has played solid at home this season, while Calgary has their lone loss on the road, but I still believe that the Eskimos are overrated, while in fact being the fourth best team in the West.  The Eskimos are handicapped as if they are the second best team in the league next to the Stampeders, and I just don't think that's the case.  I will gladly give 3 points and take the Stampeders on the road in this one.
Play: Stampeders -3
Tagged With : CFL betting • CFL picks