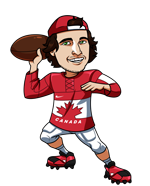 The hot streak continues.  I once again went 3-1 against the spread this past week, which brings my season record for CFL spread picks to 20-9.  I've pretty much locked in a profitable season in the CFL, but I will continue to try to hit those 3-1 and 4-0 weeks to add to the profit.
I will be using the odds from SportsInteraction.com for my CFL picks throughout the season.  They are our top rated sportsbook for Canadians.  Check out our full SIA review here.
I've also added a simple 3 step guide explaining how to bet on the CFL, so check that page out if you want to get some action on these games this week.
Montreal Alouettes @ Ottawa Redblacks
Montreal +16.5
Ottawa -16.5
Montreal is coming off a massive home win over the Argos this past week, where they snapped a 6 game losing streak to register their 2nd win of the season.  Montreal has been slowly improving, so I'm surprised to see them as massive 16.5 dogs this week.  They haven't lost a road game by more than 17 points this season, and that game was against the league leading Stampeders.  Montreal has actually been solid on the road this season and I think they can build off their week 11 home win and come into Ottawa looking for another upset.
The Redblacks have been playing some great football and they're coming off a bye, but 16.5 points is a lot to ask of any team in this league.  I would even be hesistant to take the Stampeders to cover a spread this large, so this is an easy play on Montreal.
Johnny Manziel also returned to practice on Monday and he could play this week even though Pipkin looked very solid in the Alouettes win last week.  More options will not be a bad thing for Montreal moving forward though.
Play: Alouettes +16.5
Winnipeg Blue Bombers @ Saskatchewan Roughriders
Winnipeg +3.5
Saskatchewan -3.5
This is a tough game to call between the teams I consider the 2nd and 3rd best in the league.  I'm going with the Bombers to cover the spread because the Roughriders are still an enigma.  Yes, they are on a nice two game winning streak including handing the Stampeders their first loss of the season, but I think this is a more important bounce back spot for the Blue Bombers who were really picking up some momentum before losing their past two games to the Redblacks and Stampeders.
I'm happy to take the +3.5 points in a game I think could go either way.
Play: Blue Bombers +3.5
Edmonton Eskimos @ Calgary Stampeders
Edmonton +7.5
Calgary -7.5
I preferred this spread when it was only 7 points, but I still like the Stampeders to cover at 7.5 points.  If you've been following along with my picks this CFL season you will know that I think the Eskies are overrated.  They are only 2-3 on the road and I think this could be a game where they get blown out in Calgary.
The Stampeders bounced back from their loss to the Roughriders with a 13 point win over the formidable Blue Bombers.  I think Winnipeg is the better team compared to Edmonton, so I'm thinking Calgary will win this one by about two touchdowns as well.
Play: Stampeders -7.5
Toronto Argonauts @ Hamilton Tiger-Cats
Toronto +7.5
Hamilton -7.5
The Argos lost a heartbreaker in Montreal this past week.  Toronto was starting to turn their season around with 2 tight wins over Toronto and BC, but this loss to the lowly Alouettes will really hurt.  I expect the Argos to come out in this game with something to prove after Hamilton passed them in the standings this past week.
I still believe the Toronto will make the playoffs in the East, but to do that they have to win their games against both the Ti-Cats and Alouettes.  This is a huge game for Toronto, who cannot afford to go two games back of the Ti-Cats if they hope to defend their Grey Cup win in the playoffs.
I definitely do not expect Toronto to get blown out in this one, so I will gladly take the +7.5 points and also consider taking the Argos money line straight up.
Play: Argonauts +7.5
Tagged With : CFL betting • CFL picks