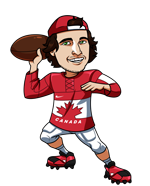 It was another profitable week for my CFL betting season, with another 3-1 record in week 11.  The 3-1 weeks are a trend this season, and I'm definitely happy with that.  Last week the Redblacks showed they are a much better team than the Alouettes, the Roughriders once again put up a ton of offense against the Bombers and the Ti-Cats got their first win of the season against the Argos, all as predicted.  My only loss was the Stamps covering the 11 point spread, which I thought might be a little bit too many points agianst the Eskies.
That 3-1 week brings my season record to 25-17 with my CFL spread predictions.
I'll be using SportsInteraction.com for my CFL picks all season long.  They're our top rated sportsbook and they are an in-game sponsor of the Hamilton Tiger-Cats this season, which shows their commitment to the CFL.  You can check out our full SIA review here.
Montreal Alouettes @ BC Lions
Montreal +7.5
BC -7.5
I'm going to continue my normal trend of taking the West Division team in the vast majority of East vs West match-ups, by going with the Lions to cover this spread.  BC is coming off a bye week and at 5-5 they are sitting in last place in the West, so this is pretty close to a must win game for the Lions if they want to stay in the thick of the playoff hunt in the stacked West Division.
The Lions lost 3 straight games heading into their bye, but those two recent losses were close losses to the Stamps and Redblacks, two teams playing some great football at the moment.  I expect the Lions to come out of their bye firing on all cylinders and to easily beat this Montreal team that is 0-4 on the road this season, and has also lost their recent four games including blow outs against both Ottawa and Toronto in that span.
Play: Lions -7.5
Saskatchewan Roughriders @ Winnipeg Blue Bombers
Saskatchewan +2
Winnipeg -2
The Riders put up 38 points on the Bombers last week, which makes their offensive production at 41, 54 and 38 in their last three games, each against West teams which shows its no fluke.  I expect the Riders to once again put up 30+ points this week and that should be more than enough to win this game, even on the road in Winnipeg.
The Bombers are 7-3, but they are only +16 in point differential and I believe they aren't quite as good as their record indicates.
Play: Roughriders +2
Hamilton Tiger-Cats @ Ottawa Redblacks
Hamilton +12
Ottawa -12
Hamilton was able to get their win last week at home against the second worst team in the league in the Argos.  Now it's back to reality, playing on the road against the best team in the East, the Ottawa Redblacks.  Ottawa put up 32 points last week, while holding Montreal to just 4 and I think this will be a similar scoreline to that game.  The Redblacks offense and defense are both finding their games at the same time, which makes this team a real threat to once again get back to the Grey Cup.
Ottawa beat Hamilton 37-18 on the road in week 9, and I don't think they will have any trouble once again winning by around 20 points, this time at home.
Play: Redblacks -12
Calgary Stampeders @ Edmonton Eskimos
Calgary -6
Edmonton +6
I'm done picking against the Stamps, even if the spread seems a little bit large.  Last week the spread was 11 points against this Edmonton team and the Stamps won by 21.  Now that the same two teams are playing in Edmonton the spread is only 6 points.  I'll give away those points and take the Stamps here all day long.
Calgary is just on another level to everyone else once again this season.  Edmonton is also not as good as their 7-3 record indicates, which their -14 point differential shows as well.  Calgary won't let their division rival off the hook and will once again get a big win on the road to cover this spread.
Play: Stampeders -6
Tagged With : CFL betting • CFL picks • CFL predictions