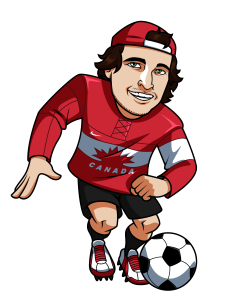 After a tough penalty kick win Argentina booked their ticket into the World Cup Finals against Germany.  The Germans had a very different semi-final game where they simply destroyed Brazil 7-1 and left no doubts in the minds of fans that they are built to win this World Cup.
The Germans are the favourites to win the tournament now, but this is primarily based on their thumping of the Brazilians.  I try not to put too much weight on one game, especially a soccer game where the losing team is forced to push forward, which can leave them susceptible to counter attacks and an uneven scoreline at the end of the game.
World Cup Finals Odds
Here are the odds for the finals from top sportsbooks for Canadian bettors:
To Win World Cup
Germany 1.66 (Bet365)
Argentina 2.35 (Sports Interaction)
My Pick
My favourite bet of those listed above is betting on a draw at odds of 3.60.  Other than the 7-1 thrashing of Brazil and the 4-0 defeat of Portugal when they were up a man, Germany hasn't been super offensive this tournament.  They beat the USA 1-0 and France 1-0 and at times they haven't looked overly dangerous.  The Argentines play a very organized and difficult to penetrate defensive system and they will be much more difficult to score on than a Brazilian team that was without their best defender.
Argentina has not conceded a goal in the knockout stage and they've only scored 2.  One against Switzerland right at the end of extra time and one against Belgium.  I could easily see this game finishing regulation time still being tied 0-0.  And if one of the teams does score both have the ability to turn up their offensive game and get back even.
I think Germany is the best team at this World Cup, but Argentina have just been squeaking by.  They were the best team against both Switzerland and Belgium, but against the Dutch the game truly could have gone either way and Holland was actually pressing more in extra time.  They were lucky to get through on penalties.  That said if you don't concede a goal you are always in the match and Argentina have almost as good a chance at winning this match as Germany.
My Play: Draw after 90 minutes 3.60 @ SportsInteraction.com.
Tagged With : Argentina • Germany • World Cup betting • World Cup Finals