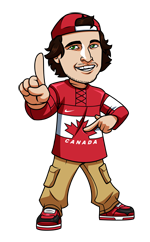 The Mayweather vs McGregor fight is less than a week away and the odds have been moving quite a bit over the past few weeks, with a lot of money coming in on Conor McGregor to tighten up the odds significantly.  Because of the amount of bets being placed on this fight and each sportsbooks liabilities on either fighter, the odds have shown to be quite a bit different between sportsbooks.
As I mention in our comparing odds article, it's very important to bet at the site that gives you the best return for your wager.  In this article I will help you do this by looking at a few of the different bets you can make on Mayweather vs McGregor and figuring out which of our three recommended sportsbooks for Canadians is giving the best return on that particular wager.
Here are the three sites that we believe all Canadians should have accounts at if they want to be profitable sports bettors:
Sportsbook
Features
Offers
Rating
Bet Now
1
Licensed and regulated in Canada
Easy deposits & withdrawals including Interac
Competitive betting lines
Ok, let's get into the bets.
To Win Fight
This will be the most common bet placed on this fight, by far, so it's the perfect place to start.
Mayweather To Win
Here are the odds on Mayweather to win at each of our top rated sites:
If you like Mayweather to win you should be placing your bet at SportsInteraction.com.  A $100 bet on Mayweather at SIA pays out $130, while the same bet at Betway pays out only $125.  That $5 may not seem like a lot, but it adds up, and if you were to bet say $1000, then the difference would be $50, which is nothing to scoff at.
McGregor To Win
Now on the flip side, let's see the odds for McGregor to win the fight:
Sports Interaction: 3.50
Betway: 4.00
As expected the flip side is true for those of you who want to bet on McGregor.  Betway is each giving 3/1 odds on McGregor, so a $100 bet on McGregor pays out $400 at each of those sites, compared to $350 at SIA.  Now that $50 difference on a $100 bet may get your attention faster than that $5 difference on a $100 bet on the Mayweather fight above, but each is the same in terms of expected value.
Method Of Victory
For this bet it will be easier if I show a screenshot of the odds for each site and then break down where you bet on each outcome below.
Sports Interaction

Betway
Mayweather Decision 3.50
Mayweather Knockout 1.72
Draw 41.00
McGregor Decision 29.00
McGregor Knockout 4.50
Alright, now let's get into where you should bet on various fight outcomes:
Mayweather Decision
A lot of people seem to think McGregor will last the 12 rounds, but Mayweather will have his way with him en route to an easy decision win.  If you are of this school of thought you should bet at Betway who have a Mayweather decision at odds of 3.50.
Mayweather KO, TKO or DQ
If you like Mayweather to get the job done via a finish then you should bet at Betway where the odds for this outcome are 1.72.
McGregor Decision
If you are very ballsy and think Conor could get a decision then place your bet at Betway.com where the odds are 28/1.  This is a massive difference from SIA where the odds are 20/1.
McGregor KO, TKO or DQ
The consensus seems to be that if McGregor wins it will be a finish.  If you like Conor to finish you should place your bet at SportsInteraction.com where the odds are 4.50 for Conor to win.
It's interesting that Conor to win odds are only 3.50 at SIA (worst odds of 3 sites), but his KO/TKO/Decision odds are 4.50 (best odds of 3 sites).  This goes to show that you need to compare odds for every different type of bet.  Just because SIA has the worst odds for a McGregor win, did not mean they also had the worst odds for a McGregor finish (in fact the opposite).
Total Rounds Over/Under
There is no set over/under on rounds for this fight.  In fact, each of the sportsbooks we are looking at offer over/under's for basically every round amount in the fight from over/under 2.5 rounds to over/under 10.5.  That said, the over/under that seems to have the most even odds is 7.5 rounds, so I'll look at that bet as another example.
SportsInteraction O/U 7.5: Over 1.72, Under 2.01
Betway O/U 7.5: Over 1.80, Under 1.90
As you can see the odds are different at each of the three sites.  If you like the over 7.5 rounds you should bet at Betway for the best return (1.80), while if you like the under you should bet at SportsInteraction with odds of 2.01.
That was a quick look at how the odds for this super fight between Mayweather and McGregor vary between our three recommended sportsbooks.  I hope this shows you that you should be comparing odds between betting sites to get the best return for your expected outcome.  There are plenty of other bets you can make on these fights (check out my props article here) so be sure to get the best return possible when risking your cash.
Good luck guys, and anyone who is new to betting online check out our three step guide to placing a bet on Mayweather vs McGregor where I walk you through the steps to get your first bet placed on this fight.
Tagged With : boxing betting • Conor McGregor • Floyd Mayweather • Mayweather • McGregor