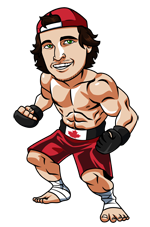 The UFC is coming back to the nation's capital this Saturday with a Fight Night card headlined by Cowboy Cerrone and Al Iaquinta. I considered going to this card, but I was underwhelmed by the fights outside of the main event, so I'll be tuning in for Cowboys vs Al from the comfort of my own home.
I'm once again using the best odds available for my picks from any of our three top rated betting sites for Canadians:
Sportsbook
Features
Offers
Rating
Bet Now
1

Licensed and regulated in Canada
Easy deposits & withdrawals including Interac
Competitive betting lines
2

Licensed and located in Ontario
Entirely focused on Canadian betting market
Easy deposit/withdrawal options, including Interac
Al Iaquinta vs Donald Cerrone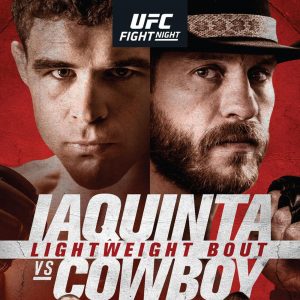 I was surprised to see Cowboy Cerrone as the underdog in this fight. I think Cowboy gets disrespected in the odds because people mistakenly feel he's washed up. The guy fights every few months, he's bound to lose a couple in a row now and then when he's fighting the best of the best 4 or 5 times a year. Cowboy is currently riding a 2 fight winning streak and he was a big dog in both fights while making the wins over Perry and Hernandez look easy.
Let's not forget that Cowboy is 3-1 in his last four fights dating back to the start of 2018 and he's 9-1 in his last 10 lightweight fights with the only loss coming to RDA for the title. That said, everyone remembers his loss to Darren Till, who probably had 30 pounds on Cerrone the night of the fight and think he's done. It's crazy to me.
On the flip side, I think Iaquinta gets way too much respect for literally 1 good win in the past 4 years. Al is 2-1 since 2015 and one of those wins was over Diego Sanchez. Yes, the win over Kevin Lee was impressive, but Lee had a horrible game plan. And for some reason Iaquinta considers it a win going all five rounds with Khabib even though he was never in that fight and it looked like Khabib was just testing his stand-up late in the fight. Al seems to get so much credit for that fight with Khabib even though it was one of the most one-sided fights I've seen and it was also a super short notice fight for Khabib. The narratives surrounding that fight are interesting to say the least.
So in short, I think Cowboy is somehow very underrated, while also believing Al is very overrated. If Iaquinta beats Cowboy as well, then I'll have to start giving him respect, but until then I see him as a guy who takes way too much pride in a loss.
I think Cowboy wins this fight the vast majority of the time and I will be betting big.
Play: Cerrone 2.20
Derek Brunson vs Elias Theodorou
This is a tough fight to call because Theodorou is a master of point fighting with kicks to keep range. He knows how to get wins, so even if it doesn't look pretty it's worked for a long time with him surprisingly having a 8-2 record in the UFC.
That said, I think Brunson is the right guy to get this win. He has big power in his hands and he will be willing to throw them in this fight because he won't have to worry about Theodorou's power. Brunson fought scared against Adesanya and I don't see any reason for him to be scared this time around. In fact, I think he knows he needs a decisive victory after his two recent KO losses.
Brunson has 6 losses in the UFC and 5 of them are via knockout. The one other loss was a decision loss to Anderson Silva where he showed too much respect to the legend and most still believed he won. Elias doesn't have the power to KO Brunson and I don't think Brunson will fight scared or with too much respect. Brunson should be back in the win column on Saturday.
Play: Brunson 1.91
Juan Adams vs Arjan Bhullar
I have not been impressed with Bhullar in his UFC career. He's 2-1, but both fights had almost no action and Bhullar basically won both by getting a single takedown. Luis Henrique and Marcelo Golm are also not high level wins. The loss to Wieczorek showed Bhullar is susceptible to submissions as well.
Juan Adams is the more athletic guy and he's not afraid to throw. I see him landing early and often on the slow moving Bhullar and eventually finding a way to finish the fight via TKO.
Play: Adams 1.83 @ SportsInteraction.com