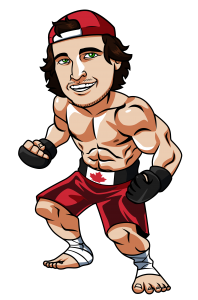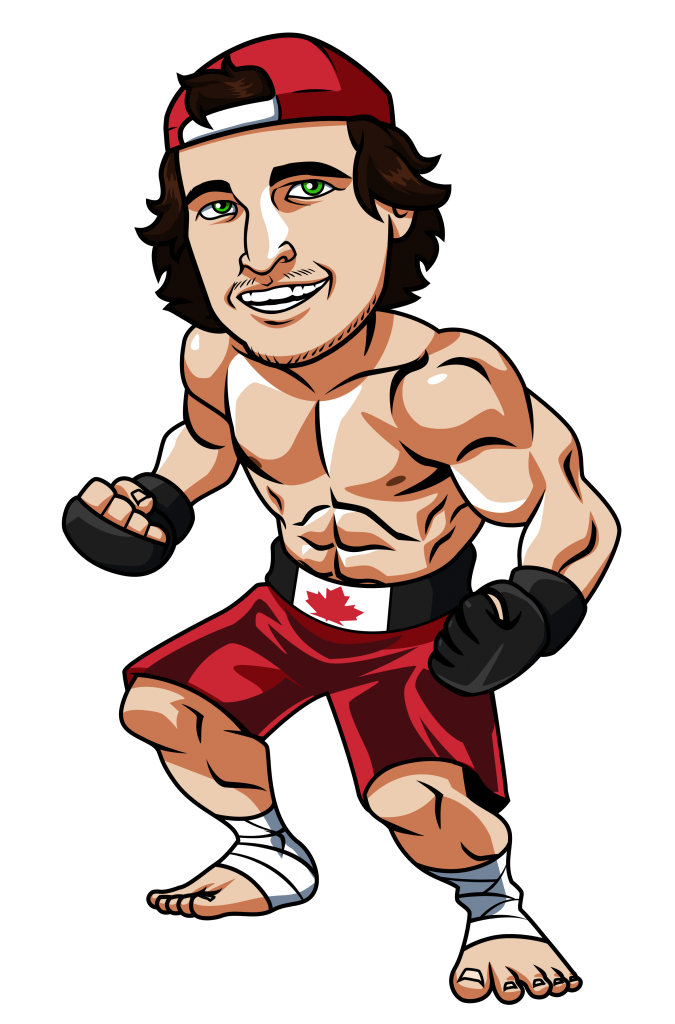 Last weeks UFC 206 in Toronto did not disappoint.  Max Holloway looked as good as ever, while Cerrone vs Brown and Swanson vs Choi both also delivered with amazing fights.  Overall, it was a great card that Toronto UFC fans can definitely be happy about.  This week the UFC continues their busy late year schedule with a very solid Fight Night card in Sacramento.  Paige VanZant is headlining the card against Michelle Waterson, but it's really the other main card fights that I'm most interested in (Northcutt vs Gall, Faber vs Pickett and Jouban vs Perry).
I'll give my picks below for each of the four main card fights.  I will be using the best odds I can find for my pick from any our top betting sites for Canadians.
Sportsbook
Features
Offers
Rating
Bet Now
1

Licensed and regulated in Canada
Easy deposits & withdrawals including Interac
Competitive betting lines
2

Licensed and located in Ontario
Entirely focused on Canadian betting market
Easy deposit/withdrawal options, including Interac
Paige VanZant vs Michelle Waterson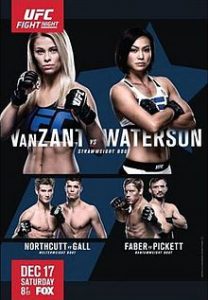 This is an alright fight, but it's definitely the star power of Paige VanZant and her exposure through Dancing With The Stars that has resulted in the UFC making this the headlining fight on this card.
I do think Paige wins this fight, primarily because she should be the significantly bigger fighter and if she reverts back to her bullying style that has been fairly successful so far in her UFC career.  In her last fight Paige decided to strike with Bec Rawlings and although she didn't look great in the first round she was able to land an impressive flying head kick technique early in the second to finish the fight.  Waterson is a far superior striker to Bec Rawlings though, so I don't expect VanZant to spend too much time striking from distance with the Karate Hottie.
Paige's path to victory is bullying Waterson and grinding out either a TKO via ground and pound or a submission.  If she employs this strategy she also has a great chance to win a decision.
It's unfortunate for Waterson that the UFC does not have a 105 pound division, but her lack of size will make it difficult for her to compete against strong wrestlers at this weight class moving forward.
Play: VanZant 1.83
Sage Northcutt vs Mickey Gall
I was very surprised that Mickey Gall was the favourite in this fight when I saw the odds.  It's not that I don't believe that Gall is a solid fighter, it's more that he has yet to fight anyone of any quality, so we really don't know how good he is.  Gall fought Ron Templeton in his first pro MMA fight, which he won easily by submission and it just so happened to be that it was a UFC Looking for a Fight show.  Gall used that win to call out CM Punk and then was given a UFC contract and asked to fight Mike Jackson for the right to fight CM Punk.  He once again easily beat his opponent and then followed that up with the highly publicized domination win over CM Punk.  What do all three of his opponents have in common?  Not a single one of them have won a professional MMA fight.  In fact, they are even a combined 2-3 in amateur fights.  Gall has literally fought purely fighters who are even below average at the amateur ranks.  Yes, he's looked great, finishing each of his opponents easily, but we still have no clue how he will look against an actual opponent.
Sage Northcutt's hype died down after his loss to Bryan Barbarena and subsequent uninspired decision win over Enrique Marin, but the difference is that these are legitimate quality fighters.  Barbarena especially has proven he is no joke, having now gone 3-1 in the UFC with another massive win over a highly touted prospect in Warlley Alves after his win over Sage.
Sage is now 8-1 in his MMA career and 3-1 in the UFC and you could argue that the majority of these wins have been against fighters with more experience than Gall.
The only hesitation I have with going all out betting Sage in this fight is the fact that Gall is training at TriStar for this fight.  Firas Zahabi is one of the best game planners in MMA and he should be able to put together a solid strategy for Gall in this fight, especially considering he had Sage training up in Montreal for a few weeks this past year.
That said, I still think Sage will by too dynamic on the feet for Gall and I'm not convinced that Gall's jiujitsu is that much superior to Sage's.  I'm big on Sage in this fight, but Gall is basically a complete unknown so it's difficult to be too confident in this outcome.
Play: Northcutt 2.10
Urijah Faber vs Brad Pickett
This is Urijah Faber's retirement fight.  It's in his home town and you have to think he wants to go out with a win and this is an ideal fight for him to do that.   Faber does have two losses in a row, but one was against Cruz for the belt and the next was against highly touted prospect Jimmie Rivera.  In this fight he's up against another old and shop worn fighter in Brad Pickett.  Pickett has lost 4 of his last 5 fights and the only win was a split decision victory that could have gone either way.
Even though Faber's skills have regressed over the past few years he should still easily be able to out wrestle Pickett and perhaps land his big overhand right that could end this fight early and allow Faber to go out with a big win.
Play: Faber 1.25
Mike Perry vs Alan Jouban
Platinum Perry has burst onto the scene this year with a couple of very impressive finishes over high end fighters in Hyun Gyu Lim and Danny Roberts.  I don't see any signs of him slowing down, in fact I really do consider him a legitimate prospect at Welterweight.  He throws every punch with the intention of finishing the fight and his pure power is very hard for guys to deal with.
Jouban is a very solid, technical fighter, but in his last fight with Belal Muhammad he was able to pick Muhammad apart in the first round, but really had difficulty in the third when Muhammad just started to come forward throwing bombs because he knew he had to finish the fight.  I'm expecting Perry to fight similar to how Muhammad did in that third round for the entire fight and I just don't think Jouban will be able to handle the onslaught.
This is a fight I'm very much looking forward to, and I expect we will see yet another finish by Mike Perry, who is quickly becoming a fan favourite.
Play: Perry 1.80
The main card gets underway at 8pm on TSN 4 & 5, while you can catch the prelims on Fight Pass.
Tagged With : UFC betting • UFC picks