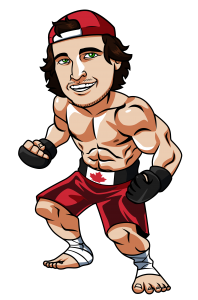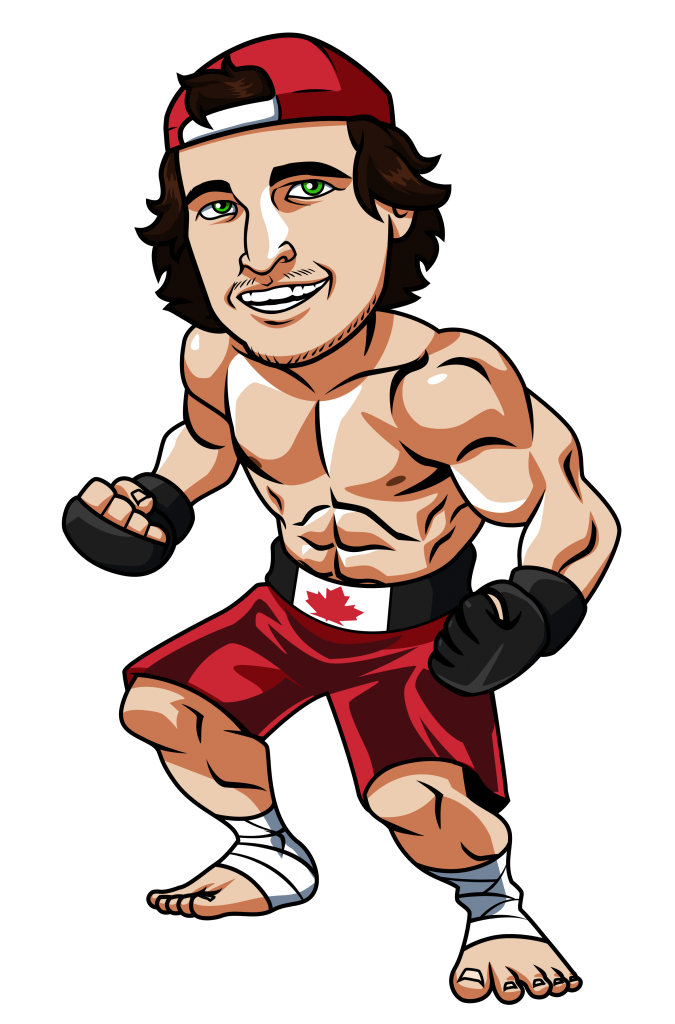 A UFC pay-per-view is coming to the Air Canada Centre in Toronto this coming Saturday.  As is often the case with UFC PPV events, cards that follow really big, premier events such as UFC 200 or UFC 205 are often fairly thin and UFC 206 is no different.  That said, it's still a UFC pay-per-view card here in Canada, there is plenty of Canadian talent featured on the card and there are still big names such as Max Holloway, Anthony Pettis, Donald Cerrone and Tim Kennedy fighting on this card.  I also see some great betting opportunities here, so even though we don't get the Cormier vs Johnson rematch we were hoping for, this is still a very intriguing card for Canadian mixed martial arts fans.
I'll be giving my picks below for each of the main card fights, as well as some others I feel strongly about.  I will be using the best odds I can find for my pick from any our top betting sites for Canadians.
Sportsbook
Features
Bonus
Rating
Bet Now
1
Licensed and regulated in Canada
Easy deposits & withdrawals including Interac
Competitive betting lines
100% up to $500 in Free Bets
2

Exclusive to Canadians
Easy to use deposit options including Interac and Bitcoin
Wide variety of betting lines
Max Holloway vs Anthony Pettis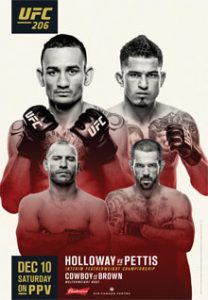 After Daniel Cormier had to pull out of his main event title fight against Anthony Johnson the UFC decided to bump this fight up to an interim title fight in the featherweight division, while stripping Conor McGregor of his belt and bumping Jose Aldo up to champion.  It's definitely some strange maneuvering by the UFC, but let's put that aside and look at this fight, which is now a 5 rounder, instead of a 3.
Max Holloway is riding a 9 fight winning streak in the featherweight division, with his last loss coming to Conor McGregor way back in August of 2013.  He's ran through the who's who of the division taking out Lamas (#3), Stephens (#6), Oliveira (#7) and Swanson (#4) in his last four fights.  Holloway is currently ranked #2 contender in the division behind Aldo and Edgar, so he's basically stomped out everyone under him while the title shot has evaded him.  Anthony Pettis is ranked #5 in the division after one win in this weight class, over Charles Oliveira back in August (he lost 3 lightweight fights in a row before this win).
I see Holloway winning this fight by controlling distance against Pettis throughout the fight and also by simply outworking him and throwing more output at him on the feet.  Holloway lands 5.61 strikes per minute according the FightMetric.com, compared to Pettis' 2.54.  I expect Holloway to be able to stuff any takedown attempts from Pettis, while landing several more punches on the feet, en route to a 5 round decision victory.
Play: Holloway 1.57 @ Bet365.com
Donald Cerrone vs Matt Brown
Cerrone should have no trouble outstriking Matt Brown in this one.  I expect him to be able to keep distance well and land some big time leg kicks, while also being able to takedown Brown if the opportunity presents itself and go to work on the mat.  Cerrone has won 11 of his last 12 fights and has earned the performance of the night in each of his three wins since moving up to welterweight.  He's as good as they come in the UFC, yet is still underrated in my opinion, perhaps because he takes on all comers and fights so often.
Matt Brown is on the opposite career trajectory as Cerrone, having lost 4 of his last 5, including a recent TKO loss to Jake Ellenberger, who is a guy that has lost the vast majority of his recent fights as well.  Brown is still definitely dangerous, but Cerrone should have no trouble dictating where this fight goes.
Play: Cerrone 1.40 @ Bet365.com
Cub Swanson vs Doo Ho Choi
I'm very surprised to see Cub Swanson as a significant underdog heading into this fight.  Yes, Choi is a great prospect having destroyed everyone the UFC has put in front of him within a few minutes in his 3 UFC fights, but he has not faced anyone near the level of Cub Swanson.  This is a massive jump in competition for Choi, as it's the first time he's fighting a ranked fighter in the UFC and it's a massive jump right up to #4 Cub Swanson.  This is an extremely interesting fight where we will get to see just how good the South Korean is, but as a relatively inexperienced and raw fighter I think facing a wily veteran like Cub Swanson may be biting off more than he can chew.
Swanson is 8-2 in his last 10 fights, with the only losses coming to Frankie Edgar and Max Holloway.  That includes wins over Jeremy Stephens, Dustin Poirier and Charles Oliveira.  Don't sleep on Swanson, he's without a doubt one of the best in the division so getting him at this price against a relatively unproven, but talented opponent should be a good spot.
Play: Swanson 2.87 @ Bet365.com
Tim Kennedy vs Kelvin Gastelum
This is a fight that I'm having trouble figuring out.  I really think this could go either way, but there's so many questions marks.  How will Tim Kennedy look after an over 2-year layoff?  How will Gastelum look back up at middleweight after yet against missing weight at welterweight recently.
My lean is towards Gastelum who is the underdog in this fight.  He's only lost twice in his entire career and both were split decision losses.  He always seems to be in close fights that often times could go either way.  That's what I expect this fight to be, so I'm going with the underdog.
Play: Gastelum 2.30 @ Bodog.eu
Nikita Krylov vs Misha Cirkunov
This is a very exciting fight in the light heavyweight division.  Whoever wins this fight will get a huge push towards the title, simply because the division is so thin at the moment.  I agree with the oddsmakers that this is a very tight fight, but I'm leaning towards Krylov simply because he's the much better striker on the feet.  Cirkunov is a very lumbering striker and he also tends to sometimes take damage while shooting for his takedowns, which is a bad idea against a striker as vicious as Krylov.  If Cirkunov can get this to the mat then he has a big advantage, but the fight starts on the feet and I think there's a good chance Krylov rocks Cirkunov early.
Play: Krylov 2.00 @ Bet365.com
Check out our dedicated UFC betting page to learn more about the various wagers you can make on this UFC Toronto event.
Tagged With : UFC 206 • UFC betting • UFC picks • UFC Toronto