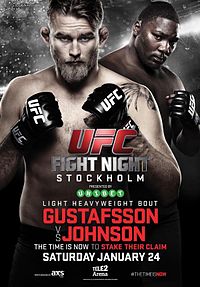 UFC Stockholm is set to be just as good as last week's fight night in Boston.  There are 3 very big fights in Stockholm, while there were only 2 in Boston, but the McGregor show was in full affect with him man handling Dennis Siver before knocking him out in the second round.  If you looked at my UFC picks from last week you'll see my bet on McGregor not finishing in round 1 paid out, but my pick for Henderson to win was a loser thanks to a very suspect decision.
So last week was a break even day for my picks at UFC Fight Night.  This Saturday I'm looking to make a profit.
The main event on the card is a title eliminator fight between hometown hero Alexander Gustafsson and Anthony Johnson.  Gustafsson was in line for a title shot rematch with Jon Jones before an injury he sustained in training forced him out of the fight and allowed for Daniel Cormier to come in and get his opportunity.  Now Gustafsson is being forced to once again earn his rematch with a fight against a very dangerous Anthony Johnson who has yet to lose at Light Heavyweight.
The other big fights include a Middleweight fight between #8 ranked Gegard Mousasi and #9 ranked Light Heavyweight Dan Henderson.  I always thought Henderson was a much better fighter at Middleweight, but Mousasi is a force who is ready to move up the ladder.  Here is the UFC rankings.
The other big Light Heavyweight fight is between #5 ranked Phil Davis and #7 ranked Ryan Bader.  The winner of this fight could be in line to go against someone like Daniel Cormier in their next outing.
Alexander Gustafsson vs Anthony Johnson
This is a very interesting main event fight.  I think Gustafsson has more technical ability than Johnson, but you always have to worry about Rumbles one punch knockout power.  That said, Gustafsson's style of coming in with combinations and then finding his distance should keep Rumble from being able to set up and land his big knockout blows.  I actually see Gustafsson dominating this fight with Johnson finding it hard to close the distance against Gus, who has shown the ability to scramble quickly to keep the distance he wants.  This could be a 5 round fight very easily and I think after the Jones marathon, Gus has the definite advantage if the fight gets into the later rounds.  Even though he's a big favourite and Johnson is dangerous I like Gus to set up the rematch with Jones with a win on his home turf in this one.
Play: Gustafsson 1.36 @ Bet365.com (Check out my full Bet365 review)
Gegard Mousasi vs Dan Henderson
Dan Henderson is 42 years old and he was absolutely rag dolled in his last fight with Daniel Cormier.  Yes, that was at Light Heavyweight and Hendo should look at lot better at Middleweight, but Mousasi might be biting off a little more than the veteran can chew.  Power is the last thing to go for a fighter, so I believe that Henderson still does have the knockout power, but I don't expect him to land the big shot on a veteran like Mousasi.  Gegard has lost two of his last 3, but these were to Jacare Souza and Lyoto Machida, both of who are ranked in the top 5 in the division.  Mousasi is only 29 years old and win over Henderson should earn him another shot at a top 5 Middleweight.  I see him handling Hendo fairly easily.
Play: Mousasi 1.20 @ Bet365.com
Phil Davis vs Ryan Bader
Phil Davis absolutely destroyed Glover Teixeira in his last fight.  He dominated for 3 rounds and Glover barely left the canvas.  It was a great gameplan and it showed me just how strong Phil Davis' wrestling is.  Davis had a slip up against Anthony Johnson at UFC 172, but before that he beat Machida, who is obviously no slouch.  Using some MMA math we also can see that Bader lost to Glover via TKO only a year before Davis fought Glover.  Since then Bader has strung together three wins, but none of these were over top guys in the division.  In my eyes Bader is always going to hover around the #7-10 ranking in the division and in this fight he will once again fail to get over the hump and beat a top guy.
Play: Davis 1.40 @ Bet365.com
Tagged With : Alexander Gustafsson • Anthony Johnson • UFC Fight Night