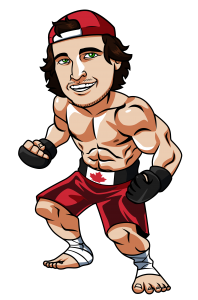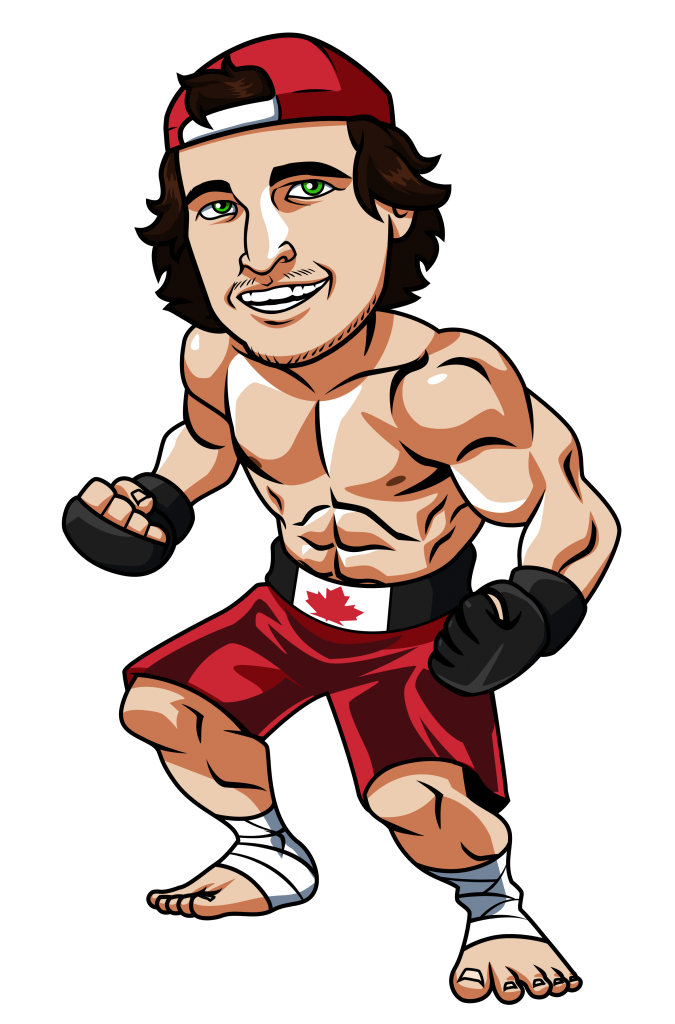 It's been a month full of UFC action and we're about to finish it up with a PPV card this Saturday.  UFC 201 is a pretty weak pay-per-view that is really serving as the calm between the two storms of UFC 200 and UFC 202 with Conor McGregor and Nate Diaz, which takes place in mid August.  That said, it's still a PPV card and there are a few fun fights that I can get behind.
I did very well with my UFC 200 betting picks, going 4-1 on my picks, including taking underdogs Brock Lesnar and Amanda Nunes in the co-main and main events.  I'll look to continue that momentum into UFC 201.
I'll be using the best odds for the fighter I'm taking from our top rated sportsbooks for Canadians for these picks.
Robbie Lawler vs Tyron Woodley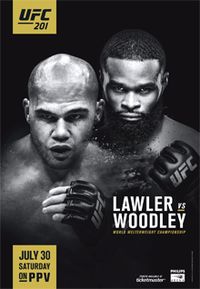 This is a strange fight to me for a lot of reasons.  First of all, as much as Lawler is a warrior, I don't think he's the best Welterweight in the world.  15 of the 20 MMA media members who scored his last fight had Carlos Condit getting the tight decision (3 for Lawler and 2 Draws).  The same can be said for the rematch with Johny Hendricks where 12/16 media scorecards had Hendricks getting the win.  Add in the fact that he was down 3-1 to Rory MacDonald before getting the TKO in that fight and you have to concede that he's fairly lucky to still be the champ.
All of that aside, Lawler is definitely a warrior and lucky for him I think he's set for his easiest title fight to date.  Woodley hasn't fought in 18 months, but somehow got this title shot on the back of a two fight winning streak over the currently #11 and #6 ranked welterweights.  It's a head scratcher for sure, but it's great for Lawler.
If you've seen any of those title fights, Robbie Lawler comes alive in the championship rounds.  Woodley has only been past the third round once and it was a TKO loss in the fourth round to Nate Marquardt in Strikeforce a few weeks back.  A big knock on Woodley is the fact that he tends to fatigue later in fights.  That will be a huge factor in this fight, especially if Lawler can turn it into a five round war.
Woodley's only real path to victory in my opinion is an early KO of Lawler, and considering it's been 12 years and 29 professional fights since Lawler's only ever KO loss I'd say the chances are very slim Lawler gets finished by Woodley.
Look for Lawler to get Woodley tired in the early rounds then bring the war and get the stoppage late.
Play: Lawler 1.61
Rose Namajunas vs Karolina Kowalkiewicz
I really feel like Rose turned a corner after her loss to Carla Esparza.  Her last fight against a very difficult and similar opponent to Carla in Tecia Torres really showed me that Rose has improved and matured in her approach to the game.  She still has her crazy submission attempts, but her boxing base and takedown defense are much better.
In this fight against Karolina, Rose will be the better fighter on the ground and I think her striking is good enough to hang with the Muay Thai fighter in Karolina.  Look for Rose to trade at range and then look for the take down and submission.  Karolina is a great stand up fighter, but she hasn't fought anyone close to the level of Namajunas and I think that experience and maturity that's been added to Rose's game will be enough to get this win and a subsequent title shot.
Play: Namajunas 1.40
Jake Ellenberger vs Matt Brown
I don't know why the continue to give Ellenberger top 10 guys.  He's now 1-5 in his last 6 fights with the only win coming over Josh Koscheck, but they continue to give him top guys.  To be fair, his 5 losses are all to guys currently in the top 15, but that doesn't change the fact that Matt Brown is going to become yet another top 15 guy to dispose of an over the hill Jake Ellenberger.
If he's going to be a gate keeper then at least give him prospects rather than established top 10 guys.  I see Matt Brown, who is also on a bit of a losing streak himself, making quick work of Jake Ellenberger with his dangerous striking and clinch work.
Play: Brown 1.34
Ian McCall vs Justin Scoggins
I was thoroughly impressed with Justin Scoggins in his last fight against another top prospect in Ray Borg.  Scoggins was the first to strike in that fight and you could just see his footwork and speed giving his opponent fits.  I'm expecting more of the same in this fight against an ageing Ian McCall who hasn't fought in 18 months.
Don't get me wrong, McCall is alwasy a game fighter, but it's time for some prospects like Scoggins to make that jump and I expect the 24 year old Scoggins to make a big move in the rankings and potentially be an opponent for Demetrious Johnson in the near future.
Play: Scoggins 1.42
Eric Perez vs Francisco Rivera
Rivera is over the hill.  He still has punching power, but if he doesn't land in this fight I expect him to be dominated.  He has 4 losses in his last 5 outings and he's now being used as a gate keeper for the prospect that is Eric Perez.
I feel like Perez is ready to turn the corner in his career and a win over Rivera should help with that.  His only two UFC losses are to Mizugaki and Caraway, both ranked fighters who are very game.  I think Perez is ready for another top 10 opponent after this win over Rivera.
Play: Perez 1.80
I'll be getting a DK targets post up for this card later in the week, so be sure to check back for that.
Tagged With : UFC 201 • UFC 201 picks • UFC 201 predictions • UFC betting