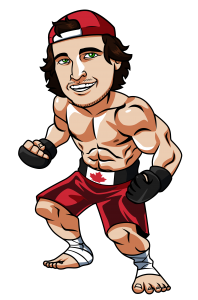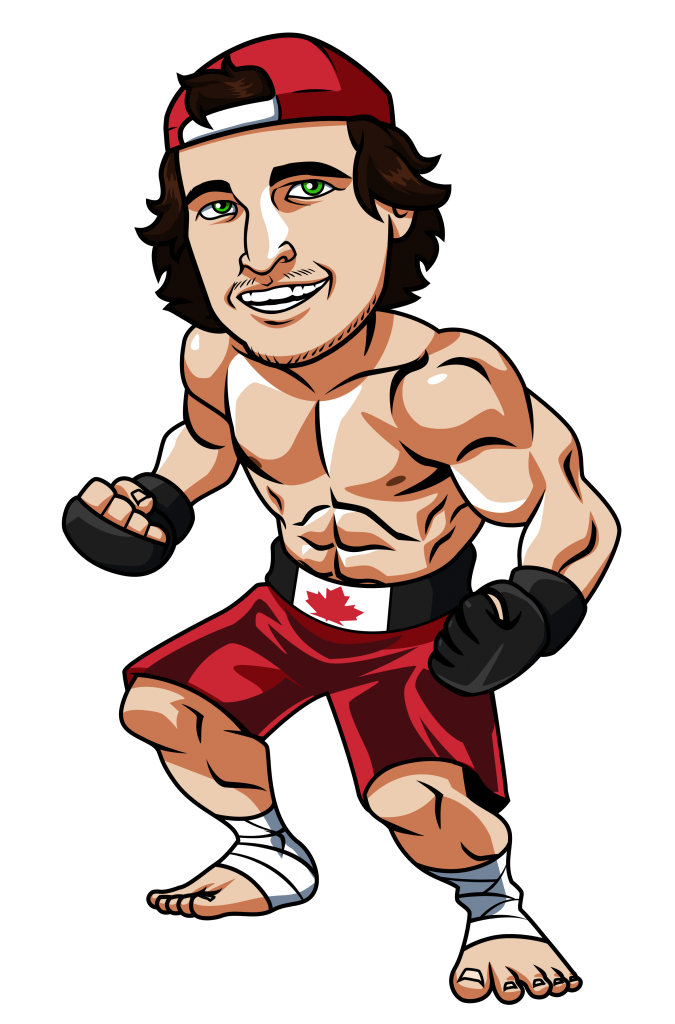 UFC 194 is finally here this Saturday.  I've been looking forward to this card since I sat a few rows up at UFC 189 and watched Conor McGregor knock out Chad Mendes in the second round.  I personally expect this card to be the biggest in UFC history and it really has a lot to offer.  The main card especially has five extremely important fights, including two titles on the line.  I'm going to break every one of these five fights down below and give you my best bet from each one.
I'll be using the best odds I can find among our top rated sportsbooks for Canadians.
Conor McGregor vs Jose Aldo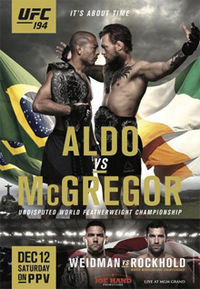 This fight is extremely difficult for me to handicap.  As much as I've bought into the hype that is Conor McGregor and think there is a very decent chance that he adds Aldo to his knockout list I find it very difficult to take him as the betting favourite in this fight.
Aldo hasn't had to do a ton of press to build up this fight, as he did most of that leading up to UFC 189 before pulling out with a rib injury.  This difference in approach I think gives Aldo a much better chance to beat McGregor this Saturday than he may have had back at UFC 189 when I truly believe McGregor was more in Aldo's head than he may be now.
Aldo has had a lot more time to remove himself from the long worldwide press tour that him and McGregor went on to promo UFC 189.  I honestly think that can drastically affect a fighter, especially when you're dealing with McGregor's antics every day.  Having this extra six months to refocus on the task at hand can only be good for Aldo and his personality.  It also seems like McGregor has quieted down a bit heading into this fight, which might have something to do with being worked over a bit before finishing Mendes in their fight, which was something he hadn't had to deal with to this point.
McGregor is a master of movement, but if Aldo can get his leg kicks going we will really see what kind of movement McGregor is able to pull out if he is unable to finish Aldo.
This bet for me is more a lean based on getting a slightly better price than McGregor.  I am a believer in Conor, but I think people forget how dominating of a fighter Aldo is when he's at his best, and I think we see the best Aldo this Saturday, which we may not have seen if they had fought at UFC 189.
Play: Aldo 2.10
Luke Rockhold vs Chris Weidman
I'm very excited about this fight as well because we finally get to see a Middleweight Fighter who deserves to be fighting for the title taking on Weidman.  I can argue that both Machida and Belfort didn't deserve to be in the Octagon with Weidman after Chris defeated Anderson Silva twice in a row.  Rockhold on the other hand definitely deserves this chance.  He just destroyed Machida and as much as Jacare thinks he was skipped over for this title fight, Rockhold beat him in Srikeforce a few years back.
As much as I think Rockhold will be the most difficult win for Weidman in his reign as title holder I think Weidman is still somewhat overlooked because of the guys the UFC was putting in front of him.  I think the odds are pretty spot on with this fight, but I'm leaning towards Weidman here.  He's undefeated and he hasn't really looked in a lot of trouble yet in any of his MMA fights.
Play: Weidman 1.67
Ronaldo "Jacare" Souza vs Yoel Romero
It still bothers me that Romero was allowed to fight the third round against Tim Kennedy after being knocked out and then taking an extra minute to recover on his stool.  I know he's a very dangerous man throwing bombs and a great wrestler to boot, but that picture has just never left my mind, which might be why I give a huge edge to Souza in this fight.
Jacare has strung 8 wins together since losing via decision to Luke Rockhold back in their Strikeforce days.  He has great jiu-jitsu, which allows him to finish fights on the feet or on the ground.  He actually doesn't have many big wins other than submitting Gegard Mousasi a year ago, but he has been making light work of his opponents and I think he will be too much for Romero in this fight.
Play: Souza 1.625
Demian Maia vs Gunnar Nelson
This fight will be the one I have the most action on come Saturday night.  Gunnar is the underdog, but I love his chances in this fight.  Demian Maia is known as a jiu-jitsu master who can control his opponents once the fight hits the mat.  He's coming off a dominant win over Neil Magny at UFC 190, where Maia looked in control of the entire fight before finishing Magny in the second round.  Magny has since gone on to beat Erick Silva and Kelvin Gastelum via split decisions in the last few months, which makes Maia's win that much more impressive.
All of that said, I just can't see Nelson being dominated on the ground.  Gunnar has a black belt in Brazilian Jiu-Jitsu himself and even won gold at the Pan American Championship in the discipline.  Nelson is not the kind of guy who Maia will be able to dominate via jiu-jitsu.
With jiu-jitsu likely being very even between these two I have to give the striking benefit to the younger Gunnar Nelson.  Gunni showed his improved striking when he popped Brandon Thatch at UFC 189 before quickly taking his back and finishing him in the ground.  I think after another 6 months of training Nelson's striking is only going to have improved.
Maia is 38 years old and if he can't win the grappling battle, I don't give him much of a chance in this fight.
I'm all over Gunni as an underdog in this fight.
Play: Nelson 2.25
Max Holloway vs Jeremy Stephens
The opening fight of the main card is sure to be full of action.  Max Holloway throws a ton of punches on the feet and I expect Stephens to also be willing to stand with the Hawaiian.  I do think that will be a mistake though because Holloway has shown himself to be one of the best strikers in the UFC.  He's riding a 7 fight winning streak after his loss to Conor McGregor and I've liked everything I've seen from Holloway.
Stephens on the other hand had a very good fight against Dennis Bermudez at UFC 189, connecting with a flying knee to win the fight, but I don't think he will be as successful against another striker who will look to keep things standing.
Holloway will definitely be the more active fighter, so unless he gets clipped by something in this fight (which I don't see happening) I fully expect him to win.
Play: Holloway 1.18
So there you have it.  My five picks for the main card at UFC 194.  This is one of the best main cards the UFC has every put together.  Good luck winning some money while also taking in the fights on Saturday!
Tagged With : main event • UFC 194 • UFC betting