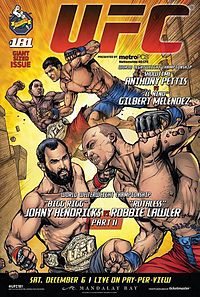 I'm very excited about the upcoming UFC 181 PPV card that is taking place in Vegas this weekend.  This is one of the best cards of the year in the UFC and it comes at the perfect time when we've been struggling for a decent card since maybe UFC 175 when we had Weidman and Rousey each defend their titles.  In my opinion this is the biggest card of the year because it's showcasing two of the most interesting divisions, and both titles haven't been defended in quite some time due to injuries to the champs.
Both Champions actually haven't defended their belts yet.  Hendricks won the Welterweight title over Lawler back in March and hasn't fought since.  Similarly, in the lightweight division, Pettis hasn't fought since beating Benson Henderson way back in August of 2013.  Both of these fights have been a long time coming and for them to both be on the same card gets me amped up.
Let's get on to my picks for the fights.  I've added a couple UFC videos to get you amped up.
Anthony Pettis vs Gilbert Melendez
Let's get one thing straight.  Anthony Pettis is an absolute killer.  There's a reason they call him Showtime and a reason why he is one of, if not the most dangerous finisher in the UFC.  He finished Joe Lauzon, Donald Cerrone and Benson Henderson in his last 3 fights and none of those guys were even able to get out of the first round against Pettis.  Lauzon and Cerrone are known as two of the toughest guys in the UFC and Benson Henderson had only been finished once in his life going into that fight and had defended the UFC Lightweight belt 3 times already before that fight.
Pettis is extremely dangerous, but Melendez is a durable fighter that is also known for his toughness and his ability to push the pace in absolute brawls.  Melendez was the Champion in the WEC before coming to the UFC since April of 2009.  9 of his last 10 fights have been 5 round Championship Fights and this will only help Melendez.  He's been in this position before and he knows what it takes to win a Championship Fight.  For this reason I think Melendez could take this fight if he gets out of the first round against Pettis.
Pettis will become less dangerous as the fight goes on and Melendez can score points and win the later rounds to pull out a decision.  For the odds I like Melendez in this one.
Play: Melendez 3.25
Johny Hendricks vs Robbie Lawler
Hendricks and Lawler are back with a rematch of their March title fight that was an absolute stand up battle.  It was one of the best fights of the year in my opinion, with Johny squeaking out a decision by winning the 5th round.  I'm excited to be treated to a rematch between these brawlers.
Hendricks tore his bicep early in that fight and he says that limited his ability to both go for takedowns and also to effectively block punches.  What we ended up seeing was a stand up war, with both men trading punches.  Stand up is supposed to be where Lawler's strength lies.  Hendricks has also become one of the best strikers in the division with a steel fist of a left hand, but he's also a Division 1 wrestler and he may come into this fight with a different game plan to take the fight to the mat at some point.  He should have the advantage on the mat, so if he can take the fight there he could win some rounds.
I like Johny in this one.  If he's being honest about how much the torn bicep affected him last fight, he should have the upper hand going into this one.  I think his stand up is just as good as Robbie's, if not better and then on the ground he will definitely have the advantage.  Lawler destroyed a couple competitors after losing to Hendricks, but I don't consider Ellenberger a top fighter in the division and Matt Brown hadn't fought anyone near Lawler's or Hendricks level before in the UFC.
I'm not sure how he will win, but I think Hendricks either gets a knockout or gets another decision win.
Play: Hendricks 1.48
As a bonus play at SportsInteraction.com you can pick which fight will win Fight Of The Night Honours.  It's definitely going to be one of these two.  Lawler vs Hendricks has odds of 2.81, while Pettis vs Melendez has odds of 3.51.  I'm gonna throw a few bucks on Pettis vs Melendez, because if Melendez can survive the first round that fight is going to be a barn burner.
Tagged With : Anthony Pettis • Gilbert Melendez • Johny Hendricks • Robbie Lawler • UFC betting