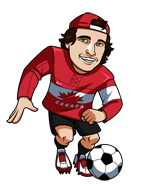 Toronto FC really put themselves in a tough spot after losing their home leg of these 2018 CONCACAF Champions League Finals.  Guadalajara Chivas was able to score just 2 minutes into the game and although TFC leveled the score in the 19th minute, a late goal gave Guadalajara the win and another away goal that makes it a very large hole for Toronto FC to climb out of in their away leg in Mexico.
Toronto FC vs Guadalajara Chivas Leg 2 Odds
Here are the odds for the final leg from SportsInteraction.com:

As you can see, Toronto FC is a big underdog to win the game, and the odds of them winning the Champions League Finals on aggregate are even longer because a 1-0 victory would not be good enough seeing as Guadalajara Chivas already has two away goals to their name.
**To find these odds and bet on this game at Sports Interaction you must select 'Soccer' -> 'International Clubs' -> 'CONCACAF League'.
My Pick
Unfortunately, I think the sharp money has to be on Guadalajara Chivas to actually win this game.  Toronto FC seemed to have some real difficulty figuring out the Guadalajara defensive scheme.  Chivas played primarily man to man defensively, with defenders quick to jump up and intercept forward passes.  This aggressive defensive style really seemed to disrupt the Toronto FC offense because it made it very difficult to get the ball to either Giovinco or Altidore in space.
Guadalajara Chivas has now only conceded 2 goals against in 7 matches in the Champions League and it seems their defensive set up has worked very well against their MLS opponents.  It's very interesting that Guadalajara Chivas is so successful defensively against their MLS opponents, while not having much success in league play currently sitting in 17th of 18 teams in Liga MX.  Perhaps the Mexican club teams have solved the unique defensive scheme.  This gives me some hope for Toronto FC if they can make adjustments now that they've played one match against Chivas, but I still believe it's unlikely.  As I said above, Guadalajara Chivas has only given up 2 goals in Champions League play and have not conceded a goal in their 3 home matches to this point in the tournament.
I could see Toronto FC getting caught looking for the elusive away goals and Chivas capitalizing on the counterattack.  Pizarro looked great last game and I would not be surprised at all if he found the back of the net again on Wednesday.
Hopefully, Toronto FC can pull off the remarkable, but I think the smart money is on Guadalajara Chivas.
Play: Guadalajara Chivas 1.86
Tagged With : CONCACAF Champions League • Toronto FC