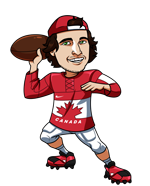 It's always a lot of fun betting on some of the more weird and wacky prop bets that sportsbooks offer for the Super Bowl. Every year it seems like the bookies try to outdo each other with more off-the-wall prop bets. I think these type of bets add an extra layer of excitement outside of the actual football game and in certain cases they can even provide some good value as a wager.
Below I will look at a few of the novelty Super Bowl prop bets offered by one of our recommended sportsbooks that has a massive selection of prop betting options for Super Bowl 56.  I'll give my pick for each of the props, but I do not advise placing a bet based on my picks because I do not have any inside information on any of these props.  This article is instead meant to show you some of the more interesting non-game related bets you can make on Super Bowl 56.
Sportsbook
Features
Offers
Rating
Bet Now
Length of National Anthem
Over 1 minute 35 seconds (1.76)
Under 1 minute 35 seconds (1.90)
To start off the broadcast Mickey Guyton will be singing the USA National Anthem. The over/under is set at 1 minute and 35 seconds, which is extremely low compared to historic Super Bowl National Anthem lengths. The last time a Super Bowl National Anthem concluded in under this amount of time was back in 2012 when Kelly Clarkson sang the Anthem in 1 minute and 34 seconds.
I'm not very familiar with Mickey Guyton's singing style, but this total seems low. The last country singer to perform the National Anthem was Luke Bryan 2017 and rendition lasted 2 minutes and 4 seconds.
I like the over on this prop.
Half Time Show – First Artist To Be Shown
The Half-Time show will be headlined by a star-studded lineup that includes Snoop Dog, Dr. Dre, Eminem, Mary J. Blige and Kendrick Lamar. You can bet on which performer will start the show (the above prop), which song will be performed first, what colour shoes Snoop Dogg will wear and much more.
Who Will Be Shown First During FTX Commercial?
The popular cryptocurrency exchange, FTX, that has signed some major athletes to sponsorships is expected to run a commercial during the Super Bowl. I actually like Shohei Ohtani to be shown first with Curry or Brady ending the commercial.
There are a huge selection of commercial props for the Super Bowl including which beer brand commercial will run first, what NFT will be shown first, what celebrity will be shown first in Rakuten's Casino Royale commercial, and more.
Winning Coach Gatorade Shower
Last year Bruce Arians was doused with a blue gatorade shower after winning the big game. That cashed in at odds of around 7-1. Two years ago, Chiefs coach Andy Reid was splashed with orange gatorade, which is the most common color gatorade shower in the past 21 years.
I personally like taking the water/clear bet on this prop because I just don't like the thought of the coaches having to go through all of the on field interviews and trophy presentation covered in a sticky liquid. At least if it's water the coach is just wet, not wet and sticky. That said, the gatorade shower has not been clear in over 10 years, so it's probably not a great bet.
As you can see there are some pretty outrageous prop bets available for the Super Bowl.
Tagged With : Super Bowl prop bets • Super Bowl prop betting • Super Bowl props