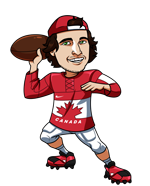 It's always a lot of fun betting on some of the more weird and wacky prop bets that sportsbooks offer for the Super Bowl. Every year it seems like the bookies try to outdo each other with more off-the-wall prop bets. I think these type of bets add an extra layer of excitement outside of the actual football game and in certain cases they can even provide some good value as a wager.
Below I will look at a few of the novelty Super Bowl prop bets offered by SportsInteraction.com, our top rated betting site for Canadians. I'll give my pick for each of the props, but I do not advise placing a bet based on my picks because I do not have any inside information on any of these props. This article is instead meant to show you some of the more interesting non-game related bets you can make on Super Bowl 53.
Length of National Anthem
Over 105 seconds (1.63)
Under 105 seconds (2.15)
To start off the broadcast Gladys Knight will be singing the USA National Anthem. The over/under is set at exactly 1 minute and 45 seconds, which is a much lower time total than last year, when Pink had an over/under of 2 minutes. Pink did go under last year with a time of 1 minute and 53 seconds, but I still think 1 minute and 45 seconds for Gladys Knight is very short.
Of the last 10 Super Bowl national anthems, only 1 has been under 1:45, which was Kelly Clarkson with a time of 1:34. Add in the fact that R&B/Soul singers have been by far the longest and I think the smart money has to be on the over.
I did find an old video on YouTube of Gladys Knight singing the National Anthem at a sporting event way back in 1991 fairly quickly (around 1 minute 30 seconds), so I assume that's where the low total comes from. There is also concern that at 74 years old she may not have the ability to hold notes extra long.
That said, I think the trend is there and it's expected for National Anthem singers to put their own spin on things and lengthen the song even if it's not through holding notes.. I don't expect Knight to curb the trend and rip through the song quickly.
Maroon 5's First Song
The next big performer is Maroon 5 who will be headlining the half-time show.  I'll be honest, I have absolutely no clue what Maroon 5 will open their performance with, but I'll go ahead an guess 'Sugar' simply because I just noticed it has the most plays on Spotify.
I'm surprised 'What Lovers Do' isn't one of the options as well (their second most played song on Spotify).
Winning Coach Gatorade Shower
Lime/Green/Yellow 3.25
Orange 4.20
Water/Clear 4.55
Blue 4.60
Red 5.35
Purple 11.00
Last year Eagles coach Doug Pederson was doused with a green gatorade shower after winning the big game. Two years ago, Bill Belichick somehow managed to avoid a gatorade shower. That said, the oddsmakers are once again out with gatorade celebration props and the odds are very similar to last years.
I personally like taking the water/clear bet on this prop because I just don't like the thought of the coaches having to go through all of the on field interviews and trophy presentation covered in a sticky liquid.  At least if it's water the coach is just wet, not wet and sticky.
Donald Trump Props
It wouldn't be a massive event in the USA without Donald Trump somehow becoming part of the story. Sports Interaction has three props related to Trump:
I doubt Trump will be at the game, and I would expect at least some of the winning team to visit the White House, so I don't see much value in either of those bets.
I do expect Trump to congratulate the winners via Twitter, so I like that bet at odds of 1.31. Trump seems to have a good relationship with Tom Brady, so if the Pats win I'd fully expect him to congratulate him and Belichick. If the Rams win, I also don't think he'd miss the chance to get some brownie points from the second largest city in the country.
As you can see there are some pretty outrageous prop bets available for the Super Bowl. I've included just four, there are a ton more you can check out at SportsInteraction.com.
Our other recommended sportsbooks Bodog.eu and Bet365.com have a ton of props of their own, so check those out if you want even more variety.
Tagged With : Super Bowl 52 • Super Bowl prop bets • Super Bowl prop betting • Super Bowl props