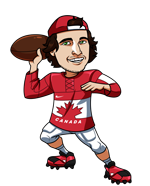 The Bengals came up big for me this past week, going up by 4 in the fourth quarter and then shutting down the Bills offense to cover the 3 point spread.  It was a big win because my other play on the Lions -3 did not win with the Lions getting down early and not having quite enough time to mount the comeback.  That 1-1 week brings my season record to a weak 4-8.  Last year I was doing very well at this point, so hopefully we can turn things around.
I said last week I may start to add my picks later in the week if I didn't turn things around, but I've decided against that.  I like getting right after the NFL lines on a Tuesday, and let's face it; there's not much else to research on a Tuesday in the sports world.  I'm going with 2 plays again this week.
I'll be using SportsInteraction.com for all of the spreads and predictions below.  You can see our full Sports Interaction review here.
Sportsbook
Features
Offers
Rating
Bet Now
Tampa Bay Buccaneers @ Arizona Cardinals
Tampa Bay -2
Arizona +2
The Bucs weren't able to get their offense going against the Pats in Thursday Night Football this past week.  That said, they will have a long week to stew on that loss and get ready to put it behind them with their trip to Arizona this Sunday.  I do still believe that this Bucs offense has the ability to put up big games, especially now that Doug Martin is back and looking explosive out of the Bucs backfield.
I expect the Bucs to score early and often against this Cardinals team that has given up 125 points through 5 games this season.  Carson Palmer has been forced to throw a ton because they've been significantly behind in a lot of games and his performance has been inconsistent at best.
This should be a high scoring game and I expect Mike Evans to play a big factor.  He's been fairly quiet this season and I expect a breakout game with a couple TD's early to give the Bucs a big lead, which they won't relinquish.
Play: Bucs -2
Pittsburgh Steelers @ Kansas City Chiefs
Pittsburgh +4
Kansas City -4
The Chiefs have been the best team in football to this point in the season.  They are 5-0 and have defeated some very solid teams such as the Pats, Eagles, Redskins and Texans very handily.  I expect the same this week against the Steelers.  Alex Smith has been playing like the best QB in the league and Kareem Hunt has been an absolute monster as a rookie.  I don't see any reason why these trends won't continue with the Chiefs being able to move the chains consistently against this Steelers defense.
On the other side of the ball, Ben Roethlisberger has been downright awful to start this season.  He had a QB rating of 37.8 last week at home against the Jags and looked almost visibly shook on the field.  If his confidence is at all in question then heading into KC to throw the ball against this very solid KC defense is a lot to ask.  If Big Ben is playing poorly at home, his road splits are traditionally far worse so I'm not exactly expecting a bounce back game here.
I expect the Chiefs to rip through another team considered to be a contender and further cement themselves as the team to beat this season.
Play: Chiefs -4
Tagged With : NFL betting • NFL Picks