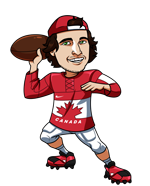 My week 13 Sunday got off to a great start with the Texans easily covering the 6 point spread while hosting the Browns.  I then fell asleep at half time of the Steelers game with Pittsburgh up 23-7 and feeling very good about my -3.5 Steelers spread bet.  When I woke up, I saw the Steelers blew it in the second half, leaving me at just 1-1 for the week.  That brings my season record to 11-18-2 against the spread with only a few weeks remaining to try to get back to .500.
I will be using SportsInteraction.com for all of the spreads and odds this NFL season.  You can see our full SIA review here.  I'm sticking with just two picks again this week.
Carolina Panthers @ Cleveland Browns
Carolina -1.5
Cleveland +1.5
The Browns had a rough game last week in Houston, with Mayfield throwing three interceptions in the first half allowing Houston to build a 23-0 lead at half time.  That said, the Browns gathered themselves and played a solid second half.  I do think this Browns team is decent this year and I think playing at home should help them put together a solid 60 minutes this week against the Panthers.
Carolina has lost four in a row and I'm not convinced they are going to be able to stop the bleeding in Cleveland.  The Panthers have been awful away from home this season going just 1-5 on the road and that includes recent losses in Detroit and Tampa Bay, two teams who I think are weaker than Cleveland at this point in the season.
Look for the Browns defense to contain Newton and McCaffrey, and for Mayfield and company to put up a good amount of points against the Panthers team that has not been good defensively of late.
Play: Browns +1.5
Philadelphia Eagles @ Dallas Cowboys
Philadelphia +4.5
Dallas -4.5
The Cowboys have won four straight and look like the real deal.  Last weeks 13-10 win over the high powered Saints really showed that this defense is for real.  There may be some worry about a let down after that game against the Saints, but the fact the Cowboys are on a long week and this game against the Eagles is for top spot in the division, I expect another big time effort from the Cowboys.
The Eagles have won two straight to stay in the hunt, but those were home wins over a weak Giants team and a depleted Redskins team.  They really didn't impress me in either outing and I'm not convinced the Eagles can turn things around to really salvage this season.
The Cowboys beat the Eagles by a touchdown in week 10 to start their winning streak, and I expect them to beat them again this week in Dallas to secure the top spot in the division.
Play: Cowboys -4.5
Tagged With : NFL betting • NFL Picks • NFL Week 14