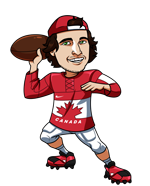 I took two underdogs this past week.  Both teams lost by under a touchdown and more than a field goal, but only one beat the spread for a 1-1 week.  The Jaguars looked in control of the game against the Steelers, but gave up 14 points in the fourth quarter to lose by 4.  Luckily they were 5.5 point underdogs so my spread bet still won that one.  The Vikings lost by 5 points in Chicago and unfortunately they were only 3 point underdogs, so that pick goes in as a loss.  Those two plays from last week bring my season record to 10-15-2 against the spread.
I will be using SportsInteraction.com for all of the spreads and picks below.  You can see our full SIA review here.  I'm going with just 2 picks once again this week.
I'm staying away from the American Thanksgiving games this year.  I will be watching them all day tomorrow, and likely making small bets just for fun, but I don't love any of the plays on those three games.
Cleveland Browns @ Cincinnati Bengals
Cleveland +3
Cincinnati -3
I like the Bengals to get a big home win against the Browns in this game.  The Bengals are now just 5-5 after losing their past two games and it's time for them to get rolling if they want to make the playoffs this year.  Cincinnati lost in Baltimore last week and they've actually had a pretty tough schedule recently, losing to the Saints, Chiefs and Steelers (as well as Ravens) in their recent 1-4 span.  This is not an elite Bengals team, but I still think they are a solid NFL team that could make the playoffs.  That starts this week by taking advantage of a winnable game against the Browns.
In their next 6 games, the Bengals play the Browns twice, the Broncos at home and the Raiders at home.  These are the four very winnable games they will need to take advantage of to finish at 9-7, considering the other two games are on the road against the Chargers and Steelers.
The Browns are a decent team and they had a good game last week against the Falcons, but they are 0-4 on the road this year and I still think they have a lot to tighten up both on offense and defense if they hope to contend next year.
Play: Bengals -3
Green Bay Packers @ Minnesota Vikings
Green Bay +3.5
Minnesota -3.5
The Packers are 4-5-1 so it's time to put together a winning streak for Rodgers and company.  I really don't think the Packers are playing badly this year.  They really should have won in Seattle last week, and they had a tough schedule with road games against the Rams and Patriots in their weeks 8 and 9 games out of their bye week.  That said, I think the offense is playing fairly well and the defense is doing ok in tough spots.  This is another tough spot for the Packers playing against a very good Vikings team, but if they can go into Minnesota and pull out a win I believe it will turn their season around.
The Packers have some very winnable games down the stretch, so if they win this game they should be able to get on a roll going into the playoffs.
The Vikings are another good team that missed an opportunity in Chicago this past week.  This may actually be more of a must-win game for Minnesota because they have the tougher schedule down the stretch.
That said, I think a spot like this is when Rodgers is going to step up and lead his team to victory.  I like the Packers in this game.  Even if Xavier Rhodes shadows Davante Adams this week I think the Packers will be able to move the ball with Aaron Jones, Marquez Valdes-Scantling and Randall Cobb returning from injury.
Play: Packers +3.5
Tagged With : NFL betting • NFL Picks