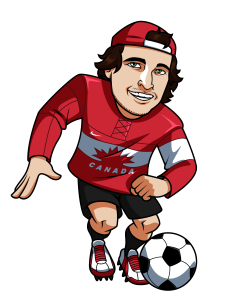 I've been following the Euro 2016 tournament closely from the outset and now that we are down to 8 teams I'll be adding my betting picks until the European Champion is crowned on July 10th.
The quarterfinal matches get started on Thursday with Poland battling Portugal, followed by quarterfinal games one a day throughout the weekend.
I'll be using Bet365.com for my Euro 2016 picks for the remainder of the tournament.  Here's a full Bet365 review if you'd like to learn more about our top rated sportsbook.
Poland vs Portugal
Poland 4.00
Draw 3.00
Portugal 2.25
To Advance:
Poland has had a very successful tournament thusfar, that was capped off by going 5 for 5 in the penalty kicks to advance over Switzerland in the round of 16.  Poland has looked great in this touranment, except for some parts of the second half against the Swiss where it looked like the Polish fell asleep at times while trying to keep their one goal lead.  That said, the wins over both Ukraine and Northern Ireland, as well as the 0-0 draw with Germany in the group stage showed some very solid soccer out of the Polish.
Portugal on the other hand is very lucky to have got to this point in the tournament.  They weren't even able to get a win in the group stage in a group that included Hungary, Iceland and Austria.  They were then severely outplayed by a strong Croatia team, but they were able to maintain a clean sheet and a goal in the 117th minute was enough to send Portugal through.
I've not been impressed with Portugal in this tournament, and I think Poland should actually be the favourite in this match up.  I'll be tossing some coin down on Poland to win this match in regulation.
Play: Poland 4.00
Wales vs Belgium
Wales 6.00
Draw 3.60
Belgium 1.72
To Advance:
Belgium seems to have turned the corner after their 4-0 win over Hungary in the round of 16.  After kicking off the tournament with a 2-0 loss to Italy, Belgium has strung together 3 wins and you can really see just how much talent this Belgium team has.  If they can continue to mesh I don't expect them to have much difficulty scoring a couple regulation time goals to win this game against Wales.
Play: Belgium 1.72
Germany vs Italy
Germany 2.25
Draw 3.00
Italy 4.00
To Advance:
Here we have a game that could have easily been the championship match.  Italy really earned a tough road to the finals after finishing atop their group.  They were able to get past Spain, showing some great football, but now they have a very tough match against the co-favourites of the tournament at this time.
Germany has yet to concede a goal in their four games in this tournament and they look like a great unit that is generating offense, but not giving up any chances.  They are playing close to perfect soccer and as good as Italy is playing I just expect the skill and experience of the World Champions to be enough to get through to the next round.
I'm not 100% confident that Germany will take the game in regulation, but I expect them to have the advantage in extra time and also in a penalty shootout.
Play: Germany To Advance 1.53
France vs Iceland
France 1.40
Draw 4.75
Iceland 10.00
To Advance:
France had arguably the easiest group in the tournament and then they got a decent round of 16 draw against the Republic of Ireland.  France has been doing enough to get the wins in 3 of these 4 games (draw against Switzerland), but they really haven't been too impressive.
Iceland is coming off that huge 2-1 win over England in the round of 16 and that win was not a fluke.  Iceland has played very well all tournament, finishing with a win and 2 draws in the group stage, followed by that win over England.  So Iceland has yet to lose this tournament.
I think Iceland actually has the ability to compete with France in this match.  Whether they are able to pull off another huge win in regulation or they hang on and give themselves a chance in penalties, I don't expect France to dominate the small nation and we could see some more fireworks from this Cinderella story.
Play: Iceland To Advance 5.50
There you have it.  I'm on two underdogs and two favourites in the quarterfinals.  If everything goes as I'm expecting we are headed for a Germany vs Belgium clash in the finals of Euro 2016.
Check back for my semi-final picks next week!
Tagged With : Euro 2016 • Euro 2016 betting • European Championships