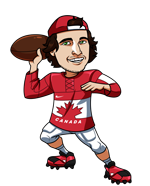 After several 3-1 weeks in a row, week 12 unfortunately went the other direction and I finished the week 1-3 with my spread picks.  The Lions got the job done for me in the Friday Night game, but that's when it fell apart with the Riders, Redblacks and Stamps all failing to cover their spreads as favourites.  That losing week brings me to 26-20 on the season, so I'm still in the black, but I need to get back to the winning weeks quickly.
I'll be using SportsInteraction.com for my CFL picks all season long.  They're our top rated sportsbook and they are an in-game sponsor of the Hamilton Tiger-Cats this season, which shows their commitment to the CFL.  You can check out our full SIA review here.
Saskatchewan Roughriders @ Hamilton Tiger-Cats
Saskatchewan -5.5
Hamilton +5.5
I'm not buying this Ti-Cats team after a couple wins.  They beat a weak Argos team that was heading into the bye week and then squeaked out a win over the Redblacks who lost Trevor Harris in the third quarter.  The Roughriders were brought back down to reality with a big loss in Winnipeg last week, but I still think this Saskatchewan team is for real and I fully expect them to be able to put up a big point total in Hamilton.  Saskatchewan has put up an average of just over 40 points per game over their last four, and those were against better defenses than Hamilton.
The Roughriders should come into Hamilton and serve the Ti-Cats a nice reality check while running up the score.
Play: Roughriders -5.5
Edmonton Eskimos @ Toronto Argonauts
Edmonton -1.5
Toronto +1.5
The Argos are coming off a bye week, which should normally help them perform well, especially playing at home, but I think the gap in level between these two teams is simply too large for the Argos to overcome, even with the benefits of the bye and home field.  Edmonton has now lost 4 games in a row after starting the season 7-0, and they will be chomping at the bit to play an East Division team again and get back in the win column.  The four losses were mostly due to a tough schedule against either top or hot West Division teams and the fact that the Eskies kept the game within a field goal against the Stamps last week tells me that they are still performing decently well, they just need a game against an easier opponent.
The Argos are likely just what the doctor ordered for the Eskies and I fully expect Edmonton to win this game by a touchdown or more.
Play: Eskimos -1.5
BC Lions @ Calgary Stampeders
BC +9
Calgary -9
BC put together a nice performance, winning 41-18 against the Alouettes coming out of their bye week.  That said, the Stamps on the road are an entirely different animal.  Calgary has now won 7 games in a row and they are 5-0-0 against West Division opponents.  Calgary is also 5-0 at home this season and they've won each of their last 4 home games by 16 points or more.
I simply can't go against the Stamps in Calgary, even as the spreads continue to get higher.  This is actually a manageable spread compared to what we might see against an East Division team, and I think the Stamps cover it without much challenge, winning by at least two touchdowns.
Play: Stampeders -9
Ottawa Redblacks @ Montreal Alouettes
Ottawa -2
Montreal +2
Ottawa lost at home to Hamilton last week, which is about as low as it gets in the CFL this season.  They have also lost QB Trevor Harris to injury, and while Drew Tate looks to be a very capable back up, you can't expect the offense to click as well as when they have Harris under center.
The Alouettes have their own drama at this point in the season with the team firing head coach Jacques Chapdelaine and defensive co-ordinator/assistant head coach Noel Thorpe on Wednesday.  Now you would think that would mean the team should struggle moving forward, but with GM Kavis Reed taking over as the interim coach I expect this to actually be a jolt to the players on the roster.  The players will now know they are playing for their jobs and I expect a big effort for the GM this weekend.  A fresh voice and mind making decisions from the sideline should help this team moving forward as well.
So I'm personally taking the news out of Ottawa of Harris as a negative, and the Alouettes move firing the head coaches as a positive.  For this reason I'm taking the points and expecting Montreal to have a big game this weekend.
Play: Alouettes +2
Tagged With : CFL betting • CFL picks • CFL predictions