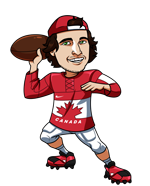 I went a perfect 3-0 with my spread betting picks for the CFL last week.  That brings my season record to 14-7, which is a great start to the season.  Hopefully we can keep it rolling with another perfect week here in week 10.
I will be using the odds from SportsInteraction.com for my CFL picks throughout the season.  They are our top rated sportsbook for Canadians.  Check out our full SIA review here.
I've also added a 3 step tutorial explaining how to bet on the CFL, so check that page out if you want to get some action on these games this week.
Ottawa Redblacks @ Winnipeg Blue Bombers
Ottawa +6.5
Winnipeg -6.5
Ottawa was able to find a way to comeback and avoid a disasterous home loss to Montreal this past Saturday outscoring Montreal 13-0 in the 4th quarter to win the game by a touchdown.  Ottawa's poor second half in Toronto the previous week seemed to extend into this game with Ottawa only managing 11 points through the first 3 quarters.  That said, they were able to find the end zone when they needed to and should take some confidence with them to Winnipeg this week.
The Blue Bombers are a quality team, but they only managed to beat Hamilton by 6 points this past week.  I have a feeling that Winnipeg's high powered offense will have a tough time putting up big points against Ottawa's D.  I see this game being a tight one.  Winnipeg will likely win in the end, but from a betting perspective I think the sharp money is on Ottawa +6.5.
Play: Redblacks +6.5
BC Lions @ Toronto Argonauts
BC -1.5
Toronto +1.5
The Argos had a big home win 42-41 over the Redblacks in week 8.  That win involved a massive comeback after being down 28-7 at half time.  This determination showed me a lot about this Argos team and I still believe they are better than their 2-5 record indicates.  That week 8 game against the Redblacks was Toronto's first game against an East Division opponent, which shows just how difficult Toronto's schedule has been to this point.  In this game they are welcoming who I believe is the weakest West Division team and I think they have the edge based on confidence from their week 8 game and the extra week of preparation compared to BC who played last week.
The Lions were able to pull out a big win at home against the Eskimos last week, but I've been saying in all of my picks articles that I believe the Eskies are overrated.  It was still a good win for BC, but I also believe it was a massive game for BC and they could have a let down as they get back on the road to the East with this game against a well prepared Toronto team.
Play: Argonauts +1.5
Montreal Alouettes @ Edmonton Eskimos
Montreal +16.5
Edmonton -16.5
The Montreal defense showed up in Ottawa last week and the offense also showed glimpses of life.  Like I said above I think the Eskimos are the most overrated team in the CFL.  They lost in BC last week and I believe they've had the easiest schedule in the CFL to this point.
Edmonton beat the Alouettes in Montreal 44-23 in week 7, but Montreal now has Johnny Manziel and based on last weeks game in Ottawa they are starting to figure things out on both sides of the ball.  Montreal has been far better on the road this season.  They've been blown out in most of their home games going 0-4, while being outscored 178-62 at home.  On the road they've been much better.  They beat Saskatchewan and have battled in fairly close games in their other losses (outscored only 88-58).
I think Montreal continues their strong defensive play on the road, while adding some offense this week to keep this one close and possibly even win.
Play: Alouettes +16.5
Calgary Stampeders @ Saskatchewan Roughriders
Calgary -7
Saskatchewan +7
I'm going to take the Stampeders by a touchdown against pretty much any team in the CFL this season, regardless of if they are at home or on the road.  The Roughriders are an enigma of a team that can be very good, but also can make some bonehead plays that cost them games.  They arguably outplayed Calgary in their week 7 game in Saskatchewan, but they still managed to lose that game by 12 points after spotting the Stampeders a 24-0 lead in the first quarter.
I'm not convinced that the Roughriders can play at their best for a full 60 minutes, which is why I'm comfortable laying the 7 points and expecting Calgary to win by a large margin.
Play: Stampeders -7
Tagged With : CFL • CFL Football CFL Betting • CFL picks • CFL Week 10