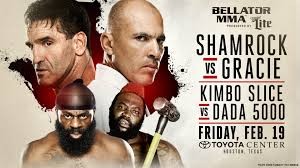 It's not often that I follow the Bellator Fighting Championship promotion, but this weekends Bellator 149 has been set up with a couple of very interesting and entertaining main event fights.  In the co-main event we have a couple of old street fighters in Kimbo Slice and Dada 5000 who have built up a bit of a beef over the years and are not getting the chance to settle things in the cage.  The main event is what some people are calling a "legends" fight between Ken Shamrock and Royce Gracie, the first two fighters inducted into the UFC hall of fame and a couple of fighters who have a rivalry dating back to UFC 1.
Some MMA critics are saying these fights are making a mockery of the sport, but I say why not.  These are entertaining fights that people want to see and Bellator is giving people these fights.  Dana White has brought in CM Punk, a guy with 0 MMA experience in the name of entertainment so I find it pretty hypocritical of him to complain that these fights are not good for the sport.
SportsInteraction.com is taking bets on these two main fights, as well as a good portion of the other fights on the Bellator 149 card.  It's going to be televised on Spike TV tonight, and I for one will be tuning in.
Dada 5000 vs Kimbo Slice
Dada 5000 2.60
Kimbo Slice 1.48
Kimbo's MMA career never really took off, but he at least has some MMA experience.  He's 5-2 in MMA and he trains at American Top Team, which is one of the top MMA gyms in the world.  Compare this experience with Dada 5000 who is 2-0 in MMA, but it's been over 5 years since his last fight and if you watch those fights it looks like he was set up to win both of them.
Play: Kimbo 1.48 @ SportsInteraction.com
Ken Shamrock vs Royce Gracie
Royce Gracie 1.87
Ken Shamrock 1.87
Here we have a pick'em fight between a couple of UFC legends.  Gracie beat Shamrock at UFC 1 en route to winning the first tournament in UFC history.  At UFC 5 the two had a rematch, but it was declared a draw after nobody was able to finish the fight.  It is widely agreed that if there were judges Shamrock would have easily won the rematch.
I'm expecting Shamrock to finally get his revenge tonight.  The only way he loses is if Gracie submits him and with Shamrock's wealth of MMA experience since their last fight, I just don't see him getting caught.  Shamrock should use his superior wrestling to win this fight.
Play: Shamrock 1.87 @ SportsInteraction.com
There's a lot of other fights on the card, but these are the two that are going to bring in the viewers.  I think these legend fights will take off after the press that this card has received.  Not all fights have to be about moving up in ranking.  Sometimes it's just fun to see who would win between a couple of guys that everyone knows.
Tagged With : Bellator 149 • MMA betting