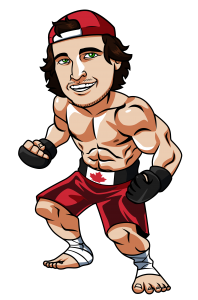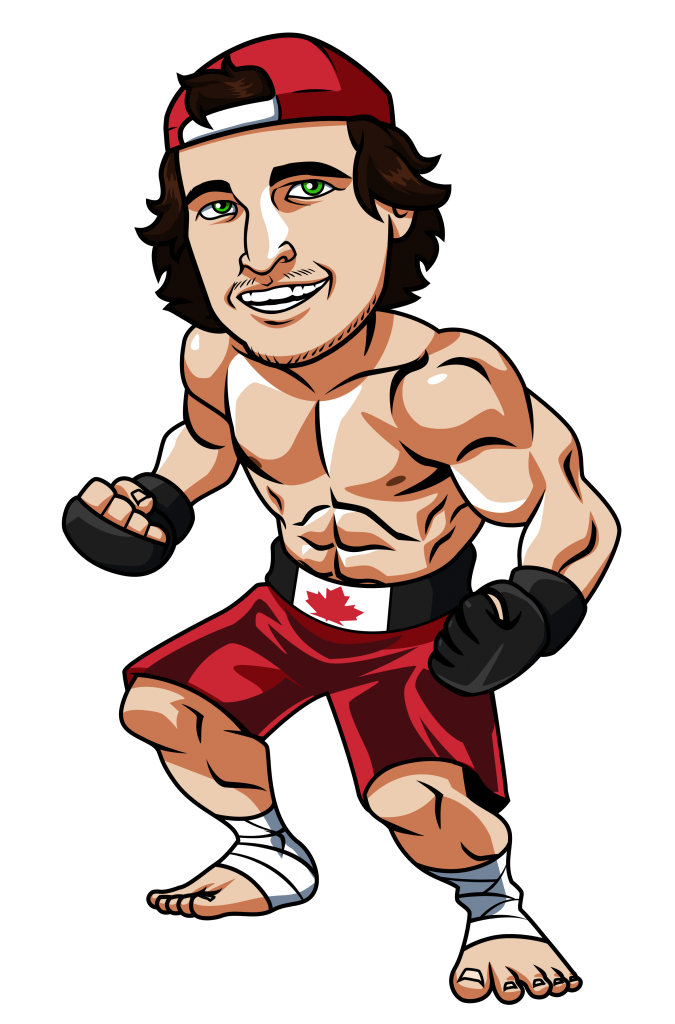 It's been a couple weeks since the huge UFC 198 card in Brazil where Stipe Miocic KO'd Fabricio Werdum to take the UFC heavyweight title in amazing fashion.  That card was a lot of fun to watch and this Sunday the UFC is putting on another fun card that hardcore fans are going to love.  Thomas Almeida vs Cody Garbrandt as the main event is a battle between a couple undefeated 24-year old prospects that have very bright futures in the UFC.  This is the first time in UFC history that a non-title bantamweight fight is headlining a UFC card and one of these guys is going to propel themselves right into a top contender position with a win on Sunday.
There are a few other big fights on this card as well that I will give my picks for below.  Renan Barao is moving up to the featherweight division to take on Jeremy Stephens in the co-main event, while another big bantamweight fight between Aljamain Sterling and Bryan Caraway is set to headline the UFC Fight Pass prelim card.  There's a lot of other big interesting fights for UFC fans to sink their teeth into on this card, but I'll focus on those three main fights in this article.
I'll be using the best odds I can find for my picks from our top rated sportsbooks for Canadians.
To learn more about the various MMA bets you can make, check out our dedicated UFC page.
Thomas Almeida vs Cody Garbrandt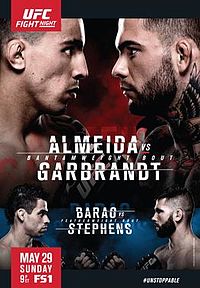 This is going to be a great fight.  Both of these guys are finishers, with Almeida on a 3 fight knockout streak in the UFC and Garbrandt having won via TKO in two of his three UFC fights thus far in his career.  With this being a five round fight I expect one of these guys to find an opening and finish the fight.
When I look at these guys I see Thomas Almeida as the more explosive fighter with greater finishing ability.  He takes bigger risk, but his talent and explosiveness makes him the favourite in this fight in my eyes.  Add in the fact that Almeida is a massive step up in competition for Garbrandt and you have to give the nod to Almeida as only a slight favourite in this fight.
Garbrandt has 3 fights and 3 wins in the UFC, but his last two opponents are relatively unknown in the UFC (they don't even have Wiki pages).  Almeida on the other hand has torn through Anthony Birchak, Brad Pickett and Yves Jabouin in his last 3 UFC fights.  These are all legitimate UFC fighters with Pickett and Jabouin especially being veterans who are used to wars.  He finished all of these guys early and his skills have really impressed me to this point in his career.
Play: Almeida 1.63
Renan Barao vs Jeremy Stephens
Renan Barao, the former UFC bantamweight title holder, is moving up to featherweight after losing his rematch to TJ Dillashaw in devastating fashion back in July of 2015.  I'm very surprised that Barao isn't a bigger favourite in this fight.  This guy absolutely destroyed the bantamweight division for two years and has really only lost to Dillashaw in his pro MMA career.  Dillashaw's footwork, speed and strike variety is just a very bad match-up for Barao, who has shown the ability to beat top end talent such as Urijah Faber and Eddie Wineland.
Jeremy Stephens has lost 3 of his last 4 fights and his only win came from a crazy flying knee TKO against Dennis Bermudez.  He's fought tough guys, but I just don't see him as being on the same level as Renan Barao.
Barao should get this win easily and quickly turn into an interesting contender in the featherweight division.
Play: Barao 1.53
Aljamain Sterling vs Bryan Caraway
It's funny that this is the UFC Fight Pass main event, because the combined ranking of these two fighters (Sterling #4 and Caraway #8) is much higher than that of the Almeida vs Garbrandt main event.  Sterling has been calling Caraway out for a while with a lot of attacks on his manhood as the boyfriend of Miesha Tate, and he will now get his wish.  I think he might be regretting asking for Caraway though because I don't see Sterling's style matching up that well against Bryan.
Caraway is a very smart and technical fighter who is also very good on the ground.  He doesn't give his opponents much to work with using a fairly safe striking style to pull out decisions on the feet, while also being very technically sound going for submissions on the ground.
Caraway won a decision over Eddie Wineland in his last fight, but before that his previous 6 wins all came via submission.  Sterling also won his last couple fights over some quality opponents via submission, so this will be a very interesting fight if it goes to the ground.
Based on the odds, I think Caraway is a good bet here.  He's not as talented or athletic as Sterling, but he's a very smart fighter and if Sterling gets too aggressive looking for a takedown or trying some creative striking, Caraway could make him pay.  This is my underdog pick to kick off the card.  Perhaps Miesha Tate's recent success has rubbed off on Caraway in a positive way.
Play: Caraway 4.50
**I should also note that this card is taking place this Sunday.  The card gets underway at 6pm EST with the Fight Pass prelims, and then you can catch the undercard on either the Fight Network or UFC Fight Pass at 7pm and that will be followed by the main card on TSN 5 at 9pm EST.  This is some great Sunday evening viewing!
Tagged With : MMA betting • UFC betting • UFC Fight Night