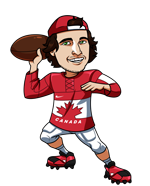 The regular season is in the books.  There are now just 12 of the 32 NFL teams still alive and battling for the 2018 Super Bowl.  This week we are treated to 4 Wild Card games with teams looking to advance to the Divisional Round of the playoffs and move one step closer to the championship.
I'm excited to put that season behind me from a betting perspective.  I finished the season going 1-1 against the spread in week 17, which brought my season-long record to 15-22-1.  This has been my worst NFL spread betting season since I started running this site, but hopefully I can turn things around in the playoffs.
I'll be using SportsInteraction.com for all of the spreads and predictions below.  You can see our full Sports Interaction review here.  I have plays on 2 of the wild card games which I've outlined below.
Sportsbook
Features
Offers
Rating
Bet Now
Tennessee Titans @ Kansas City Chiefs
Tennessee +9
Kansas City -9
I'm still not sold on the Chiefs.  Yes, they were able to turn their season around in the nick of time and win 4 straight games to win the AFC West, but I cannot forget that awful midseason stretch that saw the Chiefs lose 6 of 7 games between weeks 6 and 13.  Some of these losses were to very weak opposition as well including losses to the Giants, Bills and Jets in the 3 weeks out of their week 10 bye.  Even this four game winning streak has not impressed me much considering it was 3 home games over non-playoff teams followed by a week 17 win over an awful Broncos team.  I also cannot overlook the fact that the Chiefs padded their record by going 5-1 in the weak AFC West Division.
Now don't get me wrong.  The Titans have not looked great of late either.  They were able to pull out a must-win game in week 17, but this was against a Jaguars team that had already locked down top spot in the AFC South, and had nothing to play for considering they could not finish top 2 in the Conference anyways.
Marcus Mariota has been close to awful for several weeks now.  He only through for 134 yards in week 17's must-win game against the Jags, and only threw for over 300 yards twice this entire season.  He was able to gain some yards on the ground against the Jags though, and this mobility could pay dividends moving forward as Mariota largely did not use his legs this year after an early season injury.
The Titans backed into the playoffs winning only 1 of their last 4 games, but I still don't think they should be 9 point dogs in this game.  Even in their recent three losses the Titans did not lose a game by more than 5 points and I'm not convinced the Chiefs defense will be able to keep the Titans out of the endzone if Mariota is able to play to his capabilities.
I give the Chiefs a slight edge in this game, but the smart money has to be on the Titans +9 in this spot.
Play: Titans +9
Atlanta Falcons @ LA Rams
Atlanta +6.5
LA -6.5
The Falcons are back in the playoffs and looking to put last seasons Super Bowl collapse behind them.  After that playoff run last season, it was always going to be hard for the Falcons to rediscover the commitment to make the playoffs this year, but they were able to pull it off with a big win over the Panthers in the final game of the season.  Now that the Falcons are back in the playoffs I expect them to do some damage.
First of all, the Falcons were able to finish 10-6 and qualify for the playoffs out of arguably the most difficult division in the NFL.  They had to battle through Matt Ryan not having an MVP calibre season like last year, and losing Devonta Freeman for a few games after a week 9 injury.  Freeman is back, and Ryan has picked up his game in the last couple weeks, so I expect this offense to be ready, and the Falcons team as a whole to make another run.
The Falcons are 5-3 on the road this season, while the Rams are actually only 4-4 at home.  The Rams have been very impressive this year going 11-5 in a season with a pretty tough schedule.  That said, I'm just not sure this team is ready to make a run in the playoffs.  Jared Goff has been impressive, but he's stumbled at times against strong defenses.  The Falcons D has left a lot to be desired this year, but the squad has experience and I expect them to step up now that they can see the finish line.
I'm going with the experience and proven talent of the Falcons in this spot.  I expect a big game from both Devonta Freeman and Tevin Coleman, against a team in the Rams that has consistently given up 100+ yard games to running backs this year.
Play: Falcons +6.5
Tagged With : Atlanta Falcons • Kansas City Chiefs • LA Rams • NFL betting • NFL Picks • NFL wildcard • Tennessee Titans