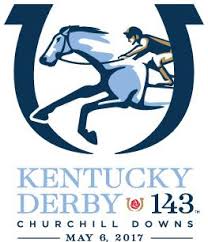 **Check out my 2018 Kentucky Derby picks here.
The morning line odds and post positions are out for the Kentucky Derby, which means we can really start to dig into the information on our favourite bets for the 143rd running of the Kentucky Derby this Saturday.
The first thing I notice when looking at the odds is that there is no consensus favourite this year, which is in contrast to the last two years when Nyquist (3/1) and American Pharaoh (2/1) were both significant favourites and ended up going on to win the race.  This year there are 4 horses with starting odds of 6/1 or better, with Classic Empire as the slight favourite in this bunch with odds of 4/1 to win the race.  The fact there is no clear cut favourite makes the process of finding your favourite horses that much more interesting, so let's get into it!
Top Kentucky Derby Betting Site in Canada
Sportsbook
Features
Offers
Rating
Bet Now
2017 Kentucky Derby Morning Line Odds
Below I will list the morning line odds for the Derby.  This is the odds that each horse will begin the day at when betting opens on Saturday.  The odds will change throughout the day depending on the amount of money being wagered on each horse.  Basically all of the bets on the Kentucky Derby will go into a betting pool and the odds will be determined by the amount wagered on each horse.  Check out our parimutuel betting system page for more information on this type of betting, which is commonplace in horse racing.
Classic Empire 4/1
Always Dreaming 5/1
Mccracken 5/1
Irish War Cry 6/1
Girvin 15/1
Gormley 15/1
Gunnevera 15/1
Hence 15/1
J Boys Echo 20/1
Irap 20/1
Lookin at Lee 20/1
Practical Joke 20/1
Tapwrit 20/1
Thunder Snow 20/1
Battle of Middway 30/1
Patch 30/1
State of Honor 30/1
Untrapped 30/1
Fast and Accurate 50/1
Sonneteer 50/1
There are 20 horses expected to participate in the race and it will be interesting to see how these morning line odds move throughout the day.  The Kentucky Derby futures odds (fixed betting odds) are already quite a bit different than these morning line odds, so you should not expect these lines to remain the same throughout race day.
Kentucky Derby Top Picks
Below I will give you my two favourite picks for the 2017 Kentucky Derby.  I'll be tossing a decent amount of action on both of these horses, as well as a couple exacta bets that would be a hefty pay day if my horses come in the top two spots, which would be quite the day.
Always Dreaming 5/1
Of the four favourites, my pick to win the race is Always Dreaming at 5/1.  He's coming off a big win at the Florida Derby where he put up a time of 1:47.47 over 1 1/8 miles, which included taking down a couple Derby hopefuls in State of Honor and Gunnevera who finished 2nd and 3rd respectively.
Always Dreaming has won both of his races in 2017 and seems to be coming into his own at the right time.  I think the extra eighth of a mile will actually help him as well because he always seems to have a lot left in the tank.  Check out his race at the Florida Derby below:
Hence 15/1
My favourite horse outside of the big four is Hence at 15/1.  He's a bit of an inconsistent horse, but he has the speed to get the job done, as you can see from him coming from way back to win the Sunland Derby by four lengths below.  His time of 1:48.10 is strong and if he can stay closer to the field and still have that finishing kick I think he has the ability to pull off the upset and win this race on Saturday.  Hence has had some bad races in the past, but his top end ability makes him a potential winner on the right day and his post position of #8 should help him reach that peak performance.
Where To Bet On 2017 Derby
I will be placing my Kentucky Derby bets at SportsInteraction.com. They are our top rated sportsbook for Canadians and this does include their racebook. You can check out our guide to betting on the 2017 Kentucky Derby in Canada if you have more questions about how to get your bets placed online.
I also suggest that you check out our horse race betting section to learn about the different bets you can make on the Derby, as well as some of the different racing terms you should know when placing your horse racing bets.
Ready to bet on the Kentucky Derby? Click here to visit SportsInteraction.com.
Tagged With : Bet On The Kentucky Derby • Kentucky Derby • Kentucky Derby betting • Kentucky Derby odds • Kentucky Derby picks