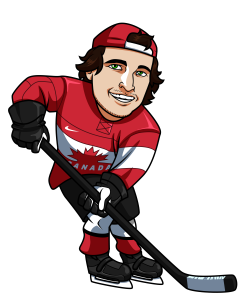 After going 4 for 4 in my second day of the quarterfinals, I followed it up with another 4 for 4 in the Semi's.  The two women were big favourites and each of them did exactly as was expected disposing of their opponents fairly easily.  That leaves us with a Sharapova vs Serena final on the Women's side and it doesn't get much better than that.
My Men's picks were a little tougher.  I had Murray beating Berdych, showing why he was the favourite in that match.  In my other pick I took Wawrinka +5.5 and that play just barely hit after Djokovic won the last set 6-0.  Luckily for me Wawrinka lost the first set in a tie break so he had a two game lead heading into that set.  Novak has another test in the Finals now against an Andy Murray who looks to be on form this season.
Serena Williams vs Maria Sharapova
It's the dream final for tennis fans between the two top seeds at the tournament and the two most accomplished tennis players in the women's game.  Sharapova continued her dominant run to the finals by steam rolling through fellow Russian Makarova in the semi-finals, while Serena looked to be in some trouble in the first set before winning the tie break and taking control with an easy two set win.
This is an intriguing match for a lot of reasons.  First of all these two players don't really like each other.  They've made some personal jabs at one another through the media in the past and you can expect there to be no love lost in this finals.
Serena has had by far the better of their head to head record.  It was ten years ago that Sharapova played Serena in the semi-finals of this tournament and had two match points on her racket.  Sharapova actually had a 2-1 record against Sharapova at this point and looked like she was going to make it 3 wins in a row against the top American.  But Serena saved the match points and she's never looked back winning the last 15 matches between the two.  In the last 14 matches since that Aussie Open semi-final Sharapova has only won one set from Serena (in Miami in 2013 she won the first set before losing 6-3, 6-0 after that).  Looking at the match record Serena usually beats the Russian pretty easily actually.
This absolute dominance by one player can be very hard to overcome, but it is possible.  We saw Berdych beat Nadal after a 17 match losing streak and you can argue that Sharapova is much closer to Serena's level than Berdych is to Nadal.
Serena Williams 1.42
Maria Sharapova 3.23
I'm a little bit surprised that Serena isn't a bigger favourite given her dominance of Sharapova in the past.  But if you've been watching the tournament you know that Sharapova is on form.  She's playing some of the best tennis I've seen from her and that's saying a lot.
That said, I worry about the psychological factor of playing against someone who has beaten you your last 15 matches.  It's not quite the same as Berdych either because he can go out and swing for the fences as the big underdog in a match against Nadal with out a ton of fanfare before the match.  With this match Sharapova has been asked about her confidence playing Serena in the finals and that doubt could creep into her head, especially if she has a bad run at any point in the match.
I think Sharapova could win, but she has to stay consistent throughout the entire match.  As a bettor I see Serena being able to string a few big points together, which could rock Sharapova's confidence for the rest of the match.  I think this one goes to Serena.
Play: Serena Williams 1.42
Novak Djokovic vs Andy Murray
In the Men's Final the top seeded Novak Djokovic got the job done in a 5-set thriller against recent rival Stan Wawrinka, while Andy Murray stormed through Berdych and looks to be in very good form heading into this final.
Novak has won the last 4 matches that these two have played, but each of these losses came during 2014, when it's safe to say that Murray was not playing the best tennis of his career.
Novak is the obvious favourite, but the form of Murray makes this a tricky play.
Novak Djokovic 1.458
Andy Murray 3.04
As good as Murray looks to this point in the tournament he has had a relatively easy road to a Grand Slam Final.  He was in the bottom half of the draw that included both Federer and Nadal, but each of these elite players was eliminated before their potential collision with Murray.  I'd go so far as to say that Raonic and Wawrinka, Novak's last two opponents, pose a much bigger threat and are much more talented than any of the last three opponents that Murray faced in this tournament (Dimitrov, Kyrgios, Berdych).
For that reason, I'm sceptical of just how strong Murray really is playing right now.
Novak did just have a 5 set match a day after Murray played, but the day off on Saturday should give him plenty of time to recover for the Final.  Not to mention that Djokovic is the most fit player on the Tour.  I just see Novak winning this Final in 3 or 4 sets and adding another Aussie Open title to his growing collection.  I'm taking the spread on this one because I think he wins the match easier than some may think.
Play: Djokovic -5 2.42
A couple wins here will cap off a very lucrative Australian Open for me where most of my betting was done in the second week.
Tagged With : Andy Murray • Australian Open betting • Maria Sharapova • Novak Djokovic • Serena Williams