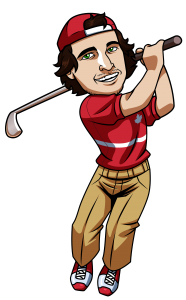 The WGC-Dell Match Play tournament (official site) is one of my favourite tournaments to watch each year.  It's great seeing the top players in a different format than strokes play and pitted head to head against some of their rivals.  I also find it's a good tournament for betting because there is a certain strategy to match play golf, which some players excel at while others, who may be great in regular tournaments, can struggle with.
My strategy this week will be looking for golfers with long odds in groups that I think they can win.  If the golfers are able to pull off a win in their group then you can hedge later on to guarantee yourself a profit (or let it ride if that suits you).  It's been big names winning the last three years (Day x2 and Rory), but this is not always the case with Kuchar and Mahan who were ranked in the 20's winning the two previous years and players ranked between 18th and 52nd finishing runner up in each of the past four years.  Obviously the top players have an advantage, but it's definitely possible to find some good value bets in the long odds range.
I will be referring to the match play records of players often throughout this article.  Here's a full list of each player in the fields match play records.
Below I'll provide my 6 top outright winner picks for the week.  I'll be using the best odds available from any of our top rated sportsbooks which you can see in the table below.
Sportsbook
Features
Offers
Rating
Bet Now
1

Licensed and regulated in Canada
Easy deposits & withdrawals including Interac
Competitive betting lines
2

Licensed and located in Ontario
Entirely focused on Canadian betting market
Easy deposit/withdrawal options, including Interac
Jason Day 17/1
I did say I was going to be targeting players with long odds, but I'm making an exception for Jason Day.  His form is off, but he has 3 of 4 decent rounds last week at the Arnold Palmer Invitational and that blow up round in each of his last three starts seems to be why he hasn't finished as well as we expect from him of late.
That said, some match play golf may be just what the doctor ordered for Jason Day's game.  The head to head nature of the tournament puts Day right in his element of trying to outdo his opponents.  I expect it to result in a more confident approach for Day because he's attempting to win holes rather than win a golf tournament, which can give you a fresh start if you do happen to put up a big number.  Day has won this tournament in two of the past three years and is in a very winnable group 3 with Leishman (3-4-1), Westwood (15-18) and Perez (1-2).  Each of these players have losing record at past WGC Match Play events, while Day has a record of 21-6 lifetime at this event.
If Day gets out of his group having found his game I think he could become the favourite in the sweet sixteen so for odds of 17/1 I really like him as a value play at the top.
Rafa Cabrera Bello 60/1
Cabrera-Bello is another golfer with a great record at this event and match play in general.  Cabrero-Bello is 6-3-1 at WGC Match Play events and 11-4-1 in match play in his career.  Tyrell Hatton is his big competition in group 10, but I think the experience of playing match play on this course will give the edge to Cabrera-Bello.  Wang is another player in this group who will be making his first appearance in this event and Charles Howell III is the fourth player in the group and he has a record of 5-8 in this tournament.
Caberero-Bello has been playing solid golf coming top 40 in each of his last 9 starts in touranments around the globe and I don't think he will be a significant underdog regardless of who he plays later in the tournament.
Bill Haas 104/1
Haas has found himself in a group with players who are not currently in form.  Russel Knox is the groups favourite to move on, but he's been cut in 4 of his last 5 events and he finished +12 at the no-cut WGC-Mexico Championship in that span.  Danny Willett is another guy who is far from his top form with plenty of missed cuts and high scores in his recent finishes.  The other player in the group is K.T. Kim who is 0-2 at this event and really shouldn't be much of a threat.
Over 100/1 for a guy I think has the best chance of advancing from his group is a no brainer to me.
Thongchai Jaidee 235/1
Jaidee is a golfer with long odds who I think is in a very winnable group.  Jaidee is up against Molinari, Noren and Wiesberger in his grouping and I think it's really anyone's group for advancement to the sweet 16.  Molinari is in the best form of these golfers, but his 2-7 record at this event in the past leaves a lot to be desired.  Noren (1-2) and Wiesberger (1-5-1) have also struggled in the past.
Jaidee is 5-6-1 at WGC Match Play events, but comes into this tournament in decent form having finished T15 and T12 in his last two tourneys on the Euro Tour.  If he gets out of this grouping he will be a great player to hedge against and guarantee solid profits moving later into the tournament.
William McGirt 290/1
McGirt at 200/1 is a great flyer bet in my opinion because I think his grouping with Snedker, Grace and Sullivan is really anyone's to win.  None of Snedeker (5-7-1), Grace (4-5) and Sullivan (3-3) have great record at this event and Snedeker is the only one of that three that's really coming in with decent form.
McGirt is new to match play, but at this price I think he's worth a look.
K.T. Kim 315/1
See my rant about his groups recent quality under my Bill Haas pick above.  Haas is only 5-7 at this event, so I don't think it's out of the question that Kim could get out of that grouping considering how poorly both Willett and Knox have been playing of late.  This pick is purely a fade on that group and I would look to hedge off of Kim later in the tournament if he does manage to earn a spot in the sweet sixteen, but at these odds I think he's worth a flyer.
Tagged With : Golf betting • WGC Match Play