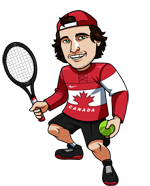 The best players in tennis are heading to Flushing Meadows in the upcoming weeks for the final Grand Slam of the year.  Roger Federer is the favourite to win the Men's title at this years US Open after already taking down the two Grand Slams he participated in this year, while Rafa Nadal has also had a career resurgence with another French Open win this year.
In terms of Canadian content, Milos Raonic will look to have the best US Open of his career seeing as the furthest he's gotten is the fourth round in New York, and Denis Shapovalov will look to continue with his momentum from the Rogers Cup, but first he'll need to get through qualifying.
In this article I will look at the outright winner odds for the Men's singles tournament, give you my favourite betting pick on the board and then provide a quick three step guide to getting a bet placed for Canadians who are new to betting online.
US Open Outright Winner Odds
Here are the odds for every player with a reasonable (20/1 or better) chance to win the US Open.  The odds are taken from Bet365.com, which is the best sportsbook for betting on tennis for Canadians.
Roger Federer 2.37
Rafael Nadal 3.50
Andy Murray 7.50
Alexander Zverev 8.00
Nick Kyrgios 15.00
Marin Cilic 15.00
Grigor Dimitrov 17.00
Milos Raonic 21.00
Juan Martin Del Potro 21.00
Dominic Thiem 21.00
These odds may not be the best available online so be sure to compare odds before placing your bets.
My Pick
Federer deserves to be the favourite heading into this tournament, especially considering how he has performed so far this season, but these are very short odds for a 36 year old, who did just lose in the finals of the Rogers Cup to Alexander Zverev, and took the following week off with nagging injuries.  He had odds of 3.00 heading into Wimbledon with better recent form from winning a tune-up tournament on grass without dropping a set, and grass is his favourite surface.  I do think he has a great shot at winning this tournament, but I can't back him at this price.  He just is not as dominant on hard courts as he is on grass and I would not be surprised to see him lose here.
Nadal's price is way too short as well.  He lost to Shapovalov in Montreal and then to Kyrgios in Cincinnati.  He's playing pretty good tennis, but it's still a defensive style that will fail against an aggressive player who brings his A-game on the given day.
Murray is interesting at 7.50, but who I'm really looking at is Alexander Zverev at 7/1 odds.  This 20 year old is the real deal and I fully expect him to be world #1 sooner rather than later.  I think that starts with him getting his first Grand Slam win this week.  He was able to beat Federer at the Rogers Cup and then followed that up with a loss in his first match at Cincinnati.  I think that loss was actually good for him because it gave him an extra week of rest heading into the US Open.
Zverev is really turning the corner in terms of playing intelligent tennis and picking his spots.  He feels comfortable both controlling a point, as well as playing defensively and waiting for his moment to take control.  I think this patience will pay big dividends this week and Zverev looks to break through into the conversation as the best player in the game today.
Play: Zverev 7/1
How To Bet On US Open From Canada
Follow this three step guide to placing a US Open wager if you're new to betting online.
In my opinion Bet365 is the best place the wager on tennis online, and that is especially true if you live in Canada.  Clicking on the link above will bring you to the Bet365 homepage.  From there you should click on 'Join Now' in the top right corner of the screen and fill out the registration form to open an account.  Bet365 is the largest and most popular betting site worldwide and a great site for new Canadian bettors.
Click here to join Bet365.com….
Step 2. Deposit
Bet365 accepts Visa, MasterCard, iDebit, InstaDebit, paysafecard, Entropay and wire transfer deposits from Canadians.  Deposits and withdrawals are both very easy and quick.
Step 3. Place Your US Open Bets
To place your US Open wagers click on 'Tennis' from the left sidebar once at the Bet365 website.  The US Open matches will be shown at the top of the 'Match Coupon' section at the top of the screen, but you can also scroll down to 'US Open' to find specific matches or to select 'To Win Outright' to bet on the tournament winner.
If you have any questions regarding placing your US Open wagers shoot me an email.  You can also check out our tennis betting section for a more detailed breakdown of the various tennis bets you can make on any event.
Are you ready to bet?  Click here to visit Bet365.com.