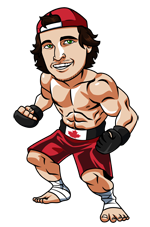 The UFC is headed back up here to Canada this Saturday with a very solid Fight Night card in Winnipeg that features a main event between Robbie Lawler and Rafael Dos Anjos that a lot of people expect to be a title eliminator fight, especially if GSP is on the sidelines for a while.  Canadian, Misha Cirkunov will also look to bounce back from a rough knockout loss to the now title contender Volkan Oezdemir, when he takes on UFC veteran Glover Teixeira, with other big names on the card including Ricardo Lamas, Mike Perry and Santiago Ponzinibbio.
This card is a UFC on Fox card in the States, which shows why it's on the stronger end of typical Fight Night cards.  Here in Canada the main card will begin at 8pm EST and be shown on CTV TWO, while the prelims will begin at 5pm on TSN 5.
I'll be using the best odds being offered from any of our recommended bookies for each of my picks on this card.
Sportsbook
Features
Offers
Rating
Bet Now
1
Licensed and regulated in Canada
Easy deposits & withdrawals including Interac
Competitive betting lines
2

Licensed and located in Ontario
Entirely focused on Canadian betting market
Easy deposit/withdrawal options, including Interac
Robbie Lawler vs Rafael Dos Anjos
This is a very tough main event to call.  I likely won't have a very large bet on this fight at all, but I will still give you my breakdown and pick, even though it is more of a lean.
The reason this fight is so hard to call is because Lawler always finds a way to get the judges to give him the close rounds.  Even in his last fight with Cerrone, rounds 1 and 3 were both pretty close and could be given either way in my opinion, but every judge gave both rounds to Lawler.  In round 2, Lawler completely took the round off, barely throwing a punch for an obvious Cerrone round.  If that fight was scored on the total 15 minutes, Cowboy wins easily, but Lawler knows how to point fight and get the nod from the judges in tight rounds, while being smart enough to conserve energy if he doesn't think he will win the particular round (round 2 against Cowboy).
In this fight, I think it goes to a decision and I think RDA lands more strikes and wins the fight while looking at the total 25 minutes.  The problem is, I could see Lawler picking 3 rounds to really go hard, and get aggressive with his intense face that seems to always get the judges nod.  If you look at MMADecisions.com the vast majority of media members had Lawler losing his title fights to both Carlos Condit and Johnny Hendricks #2, but Lawler came out with split decisions both times.
On the flip side, I still don't really know how good Dos Anjos is at welterweight.  He is 2-0 in the division, but he hand picked the 2 worst fighters ranked inside the top 15 for his first two fights in the division, so I'm not surprised that he easily beat both Saffiedine and Magny.  Lawler is a big step up from these two, even if he too is overrated.
So, to sum up, I think both of these guys are overrated.  I don't think either one is dangerous enough to finish the other, and I think Lawler could weasel out a decision like he has done so many times in the past.  That said, I'm still going with RDA here as a lean because I think he's the better fighter and because he's a pressure fighter I'm not as convinced that Lawler will be able to steal the close rounds.
**Even though I think this is a hard fight to call, and I'm not high on either guy, I still think this is a great main event that will be very exciting.
Play: RDA 1.91
Ricardo Lamas vs Josh Emmett
Ricardo Lamas is the definition of a gatekeeper at featherweight.  He only loses to the very best in the division.  He's 8-3 in his career with his losses coming to Jose Aldo, Chad Mendes and Max Holloway.  So basically he beats everyone who isn't the very elite in the division.
Josh Emmett is a decent prospect, but I don't think he's anywhere near the same level as Lamas.  Emmett's path to victory is going to be getting takedowns, while avoiding submissions.  This is easier said than done because Lamas has a great guillotine that he used to submit both Dennis Bermudez and Charles Oliveira, two of the better wrestlers in the division.  I think the same thing will happen to Emmett if he goes that route.
On the feet, Lamas is the far superior fighter.  He showed his hands fly in his last win, a knockout of Jason Knight.  Lamas should get this win and I still think there is value at these odds.
Play: Lamas 1.40
Mike Perry vs Santiago Ponzinibbio
Everyone seems to be very high on Santiago Ponzinibbio after his big knockout win over Gunnar Nelson in July.  He did get the better of Gunnar on the feet in that fight, but let's not forget that an eye poke set up the final flurry that put Nelson out.  Before that fight, the level of competition was solid, but not amazing.
Mike Perry is an absolute killer who throws everything with the intention of putting his opponent out.  He's 4-1 in the UFC with four knockout wins.  His loss came against Alan Jouban, who used smart technical striking to maintain distance while getting shots in on Perry.  I think Ponzinibbio will have this same strategy, but he doesn't have the length or kicks of Jouban, and he is hittable.  Two fights ago, against Nordine Taleb, who is one of the weaker fighters in the division, Ponzinibbio only won a 29-28 decision with Taleb having some moments in that fight.
Ponzinibbio's last loss was a knockout loss to Lorenz Larkin back in 2015, and I could see this fight ending the same way.  Perry is going to go forward and look to land big shots.  He's willing to eat one to land one as well, which will be important against a guy like Ponzinibbio on the feet.
If this goes to decision, Ponzinibbio probably gets the nod, but I'm not convinced it makes it to the judges.  At these odds, I think Perry has value.
Play: Perry 2.62
Glover Teixeira vs Misha Cirkunov
I was surprised when I saw that Teixeira was a significant underdog in this fight.  Like Lamas, Teixeira is also a veteran gatekeeper in the light heavyweight division who only loses to the very best in the division.  He's 9-4 in the UFC with his losses coming to Gustafsson, Anthony Johnson, Jon Jones and Phil Davis.  The best of the best.  I'm not willing to put Cirkunov in that group just yet, so I'm taking the value play on Glover in this fight.
Cirkunov has great potential, but his stand-up game is still very robotic and needs some work.  His wins over both Cutelaba and Krylov were impressive, but Teixeira is a big step up.  Cirkunov usually has a big jiu-jitsu and strength advantage over his opponents and I'm not convinced that's the case against Teixeira.  Glover should have the advantage on the feet and the strength to keep it there.  I expect this to end in a knockout for Glover.
Play: Teixeira 2.35
Tagged With : UFC betting • UFC picks • UFC Winnipeg