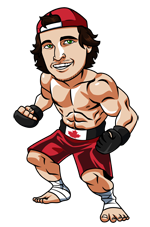 The UFC is heading to Canada this Saturday for a Fight Night card in Moncton, New Brunswick.  Pretty much every Canadian on the UFC roster is either on this card in Moncton or the big UFC 231 PPV taking place in Toronto in early December.
Overall, this Fight Night card heading to Moncton is pretty solid for a Fight Night card with some solid fighters spread throughout the card including Arjan Bhullar, Calvin Kattar, Alex Garcia, Misha Cirkunov, and more.  The main event between Volkan Oezdemir and Anthony Smith is a huge fight in the thin light heavyweight division, and if you're into Conor McGregor storylines, Artem Lobov is in the co-main event against Michael Johnson.  Lobov has a losing professional MMA record, but he still headlines shows or fights in the co-main spot in the UFC because of his connection to McGregor.
The card takes place Saturday with the early prelims beginning at 6:30pm EST.  The prelims will be shown here in Canada on the Fight Network at 8pm EST and then TSN 5 will show the main card at 10pm.  It's a 6 fight main card, so the main event will likely be taking place at close to 1am EST.
Sportsbook
Features
Offers
Rating
Bet Now
1

Licensed and regulated in Canada
Easy deposits & withdrawals including Interac
Competitive betting lines
2

Licensed and located in Ontario
Entirely focused on Canadian betting market
Easy deposit/withdrawal options, including Interac
Anthony Smith vs Volkan Oezdemir
Smith looked good in his last two fights earning two first round knockouts over a couple of MMA legends in Rashad Evans and Shogun Rua.  That said, he was fighting the ghosts of these two fighters, each of which is far past their prime.  That said, I can't take too much away from Smith, because he did exactly what he was supposed to and go into both fights and quickly finish the fight.  That said, those two fights are Smith's first venture into light heavyweight and I think this is a massive step up in competition at this weight class to Oezdemir.
Volkan has some big power in his hands, but he's also still relatively unproven.  He fought to a split decision win against OSP, where he looked solid, but OSP is so inconsistent it's hard to get a good read from his fights.  Volkan then went into his next two fights and scored very fast and somewhat strange KO's of Misha Cirukonv and Jimi Manuwa.  These were two top 5 fighters in the division, but each guy lost next fight as well, and the wins were so fast, that it's hard to say how impressive the wins truly were.
Volkan then fought DC for the belt and was outclassed from the opening bell, eventually losing to ground and pound in the second round.
Both of these guys have plenty of power, but they're also both still somewhat unproven as elite light heavyweights in the UFC.
That said, I'm going with the underdog Anthony Smith.  I don't think his two first round wins are much less impressive than Oezdemir's first round KO's of Cirkunov and Manuwa, just based on the style of each of the KO's.  Add in the fact that Anthony Smith also had some nice wins at middleweight and I'm siding with Smith.
Play: Smith 2.62
Calvin Kattar vs Chris Fishgold
Kattar showed his ability in his UFC wins over Andre Fili and Shane Burgos.  He just ran into an elite fighter in Renato Moicano in his most recent UFC fight.  That said, Kattar is as good of a boxer as you will see in the UFC and I think he will easily be able to outclass Fishgold on the feet.
Fishgold does have a strong submission grappling game that Kattar will have to be careful of, but Kattar is such a smart and careful striker in terms of keeping his opponents at the ends of his punches, that I expect him to be able to keep this fight at boxing range and piece up Fishgold.
Play: Kattar 1.36
Arjan Bhullar vs Marcelo Golm
Arjan Bhullar came into the UFC with a lot of hype, but after an uninspiring decision win over the lowly Luis Henrique and a submission loss to Adam Wieczorek, Bhullar finds himself on the Fight Pass prelims of a card in his home country.  That said, I don't think all of the hype was unwarranted and I fully expect Bhullar to get a win in this fight.  Let's not forget that Bhullar is an olympic level wrestler and he's apparently put in a lot of work improving his striking of late.
Golm is really a sloppy fighter who I haven't been impressed with.  He earned a nice first round finish in his UFC debut, but that was over Christian Colombo, who may be the worst fighter to compete in the UFC in the past few years.  Golm followed that performance up by being defeated by a measured performance from Timothy Johnson.
I think Bhullar will actually have the better stand up in this fight and he will be able to get the fight to the mat whenever he chooses if he's losing the exchanges on the feet.  That said, Golm does have some slick submissions for a big man, so if Bhullar is winning on the feet he will likely want to just keep it there.  However he does have his wrestling to fall back on, so long as he has improved his submission defense and will avoid another submission loss.
I expect an improved Bhullar to show up and I see a few different paths to victory for the Canadian depending on how the fight plays out.
Play: Bhullar 1.45
Tagged With : UFC betting • UFC Moncton • UFC picks