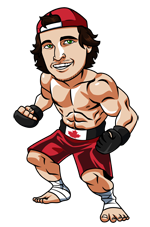 This past Saturday's UFC 218 (here were my plays) was incredible.  Max Holloway overwhelmed Aldo in an even more clean 3rd round TKO win than their first fight, and Francis Ngannou emerged as the clear contender to challenge Miocic for the heavyweight belt after sending Overeem flying with a knockout punch.  And let's not forget the absolute mayhem that went down in the Eddie Alvarez vs Justin Gaethje, and Yancy Medeiros vs Alex Oliveira fights.
This weekends Fight Night card is Fresno will look to continue the momentum from that Detroit show.  The main event is an intriguing match-up between Cub Swanson and Brian Ortega, while Aljamain Sterling and Marlon Moraes will also be battling it out to move into the top echelon of the bantamweight division.  The card really isn't anything to call home about and I will be focusing on my picks for those two main fights in this write-up.
I'll be using the best odds being offered from any of our recommended bookies for each of my picks on this card.
Sportsbook
Features
Offers
Rating
Bet Now
1
Licensed and regulated in Canada
Easy deposits & withdrawals including Interac
Competitive betting lines
2

Licensed in Ontario and Malta (accepts bettors from across Canada)
Competitive betting lines
Easy deposit/withdrawal options, including Interac
Cub Swanson vs Brian Ortega
This is a really interesting fight and I'm actually glad the UFC gave Jose Aldo the title shot last weekend, so that we these two could keep this fight as the main event in Fresno.
Cub is on a 4 fight winning streak since his most recent loss, which was an absolute thrashing at the hands of current champion, Max Holloway.  Cub has always been able to beat the second tier in the division and has made a solid career as a gatekeeper while not being able to quite get past the top guys.
Ortega is an interesting guy because he's often losing fights before pulling out some big late finish.  In fact, in his last four fights Ortega finished his opponents in the third round.  The crazy thing is that Ortega was probably down 2-0 on the judges scorecards in each of those fights.  Ortega just continues to snatch victory from the jaws of defeat.
Swanson will be the more active and more effective fighter on the feet.  He really should win this fight, but Ortega is such a high level submission grappler that if Swanson makes a mistake this fight will more than likely be over.  And the problem is that the way Swanson fights he can often find himself in bad positions.
I don't think Swanson will finish this fight.  His last 5 wins have all been decision victories and he just doesn't seem to have the power to really put guys away, as was shown in both his recent Dooho Choi and Artem Lobov fights where he was teeing off on both guys without getting the finish.  That means Ortega will have 5 rounds to finish Swanson.  Ortega isn't very active and is easily hittable, but he has finishing power in his hands and if you get sloppy at all, he will choke you out (as Carneiro learned with a sloppy takedown in Ortega's last fight).
I'm not going to have a big play on this fight because I do think Swanson is the better fighter and should win if he plays it safe.  But 25 minutes is a long time to play it fairly safe and with Ortega's finishing ability late in fights, I think giving him an extra two rounds to find that opening will allow him to get this win.
My real play will likely be on Ortega inside distance because I don't think Ortega will win if this goes to decision.  In fact, and even better bet might be a live bet on Ortega inside distance after Swanson tunes him up for a couple rounds.  Keep that in mind while watching the fight on Saturday.
Play: Ortega 1.91
Aljamain Sterling vs Marlon Moraes
Moraes has not impressed me in his two UFC fights.  He lost a close split vs Assuncao and then won a close split decision over Dodson.  I personally thought he lost both fights and have not been impressed with his overall lack of activity.
On the flip side I was very impressed with Sterling in his  recent win over Renan Barao.  Sterling absolutely starched Barao on the feet and his game has evolved significantly in that area.  Sterling used to primarily be a grappler, but in his last two wins he has easily won the standing exchanges with both Barao and Augusto Mendes.  I even thought he won his fight with Raphael Assuncao, but like normal Assuncao won his split in that one.
I'm going with Sterling in this one and at these odds.  Moraes has not looked good in the UFC and I don't think he's at the level everyone expected when he came over as the WSOF Champion.  Sterling will continue his rise in the division.  I expect him to be more active on the feet and also the better grappler.  If he can avoid a big shot, I see him getting the win.
Play: Sterling 2.50
Tagged With : UFC betting • UFC picks