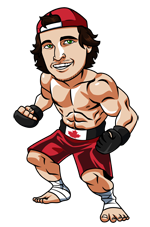 The UFC is headed to Detroit this Saturday for UFC 218, which is headlined by a rematch of the UFC 212 main event between featherweight champ Max Holloway and Jose Aldo.  The fight was originally supposed to be Holloway vs Frankie Edgar, the top contender in the division, but a late pullout opened the door for Aldo to get a rematch due to not other clear cut contender being available in the division.
The entire main card of UFC 218 features some big fights including Overeem vs Ngannou as the co-main in a likely title eliminator heavyweight tilt.  Pettis vs Cejudo is also likely a title eliminator fight at flyweight, while the Gaethje vs Alvarez lightweight fight is sure to be a barn burner.  The opening fight on the PPV is actually my main bet for this card between Tecia Torres and Michelle Waterson.
There are 13 fights in total on the UFC 218 card.  The first four fights begin at 6:15pm EST and can be seen on UFC Fight Pass.  The show will then move to TSN 2 here in Canada for four prelim fights before the PPV event gets underway at 10pm EST.
I'll be using the best odds being offered from any of our recommended bookies for each of my picks on this card.
Sportsbook
Features
Offers
Rating
Bet Now
1

Licensed and regulated in Canada
Easy deposits & withdrawals including Interac
Competitive betting lines
2

Licensed and located in Ontario
Entirely focused on Canadian betting market
Easy deposit/withdrawal options, including Interac
Max Holloway vs Jose Aldo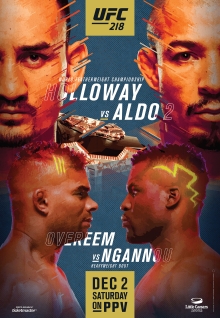 ***At the current odds I don't think I will personally be placing a bet on this fight, but I still wanted to give my prediction as a lean.
I like Holloway to win this fight, but I don't love the current odds that have him around a 3/1 favourite.  In the first fight between these two, Aldo actually won the first two rounds before being caught in the third.  Yes, Holloway looked like he was easing himself into the fight and picked up the pace in round 3, but you can't say that he went out there and starched Aldo, like so many people seem to falsely recall.  Aldo's skills were at least on par with Holloway's and he wasn't even using leg kicks, which could be a real weapon if he deploys them in this fight.
All of that said, I still think Holloway will find a way to win, with the main reason being durability.  Holloway is one of the most durable fighters in the UFC and I really cannot see Aldo finishing him in this fight.  That means for Aldo to win he has to win a 5 round decision, which means he has to survive Holloway for 5 rounds.  Ever since McGregor knocked out Aldo it seems like his durability is not quite what it was when he was the reigning champ.  Even when Holloway caught him in the last fight it wasn't like a monster punch that put him to the canvas.  All it might take Holloway in this fight is to land a couple clean shots to drop Aldo, and I do think those shots will land at some point in this fight.  Holloway has a high output and is a very good boxer who will get some clean shots through on Aldo.  I expect they will drop Jose and Max will win.
That said, if Aldo can survive to the final bell I think he has a legitimate shot at winning the decision.
Lean: Holloway 1.40 @ SportsInteraction.com
Michelle Waterson vs Tecia Torres
This is my favourite play on the card, but you might need to get your plays in quickly because the line on Torres contiues to shorten.
Waterson is a good martial artist, but she really only has a win over Paige VanZant in the UFC, and that win shot her right up into title contention, which it probably shouldn't have.  We've come to realize that although Paige is a star, she's an average UFC fighter at best.  That win was dominant, but it shouldn't have made us think Waterson was this title contender.  In her next fight with Rose, which was basically a title eliminator fight, Waterson was thoroughly outclassed by the current champ, eventually being submitted.
Torres is like the flip side of the equation from Waterson.  Torres has put in strong performances, but was not pushed by the UFC and did not get contender fights right away, while Waterson was put into a showcase fight with Paige and then shot right up to an eliminator fight.  Torres though, has quietly won 5 of 6 UFC fights, with her only loss being a razor thin decision loss to Rose Namajunas, which was split right down the middle on who won at MMADecisions.com.
Torres is actually going to be the larger fighter in this bout, which is something that is very unusual for her.  I think she will be able to get off her flurries of punches very easily on the hittable Michelle Waterson and rack up strikes, while keeping this fight standing from the outset.  Torres has never been finished and I really think that's the only way Waterson could win this fight.  I expect Torres to cruise through this fight, clearly outstriking Waterson by double in each round.
Play: Torres 1.54 @ SportsInteraction.com
Amanda Cooper vs Angela Magana
This is a complete fade on Angela Magana who is not anywhere near a UFC calibre fighter.  She has lost 5 straight fights, including 2 UFC fights.  She hasn't fought in 2.5 years and I've heard she's been doing her best to not fight, while staying on the UFC roster.  It will be interesting to see if she has anything left in the tank in this fight, but I would be extremely surprised if she does.
Cooper has a record of 2-3 in her professional MMA career, but that doesn't include three victories on TUF last year, including a nice win over UFC fighter Jamie Moyle on the show.  She was also thrown right to the wolves in her UFC fights, losing in the TUF finale to Tatiana Suarez, who is already a strawweight contender after returning from injury.  She then beat Anna Elmrose in her second UFC fight before losing to Cynthia Calvarro, another fighter who has emerged as a title contender with 3 straight big UFC wins.
What I'm trying to say is that Cooper has faced far tougher competition than Angela Magana in her UFC career, and her record does not indicate her ability.  This is an absolute must-win fight for Cooper, and I'm expecting a walk in the park for her, en route to an easy win.
Play: Cooper 1.28
Main Card Leans
The other fighters I like from the main card include Ngannou 1.40, Pettis 3.15 and Gaethje 1.57.  These are all leans.
Tagged With : Jose Aldo • Max Holloway • MMA betting • UFC betting • UFC picks